Angel Lane office map
Address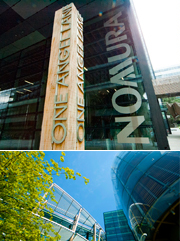 1 Angel Lane London EC4R 3AB
Tel: +44 (0) 20 7521 2000
Nomura International plc. Regulated by the Financial Services Authority. Member of the London Stock Exchange.
Registered in England No. 1550505 VAT No. 447 2492 35.
Welcome to our offices at Angel Lane in the City of London. This location reflects our confidence in the future and also in London as one of the world's preeminent financial centres.
Our offices are located by the river Thames between Cannon Street station and London Bridge. The building has won a number of awards for its design and small environmental footprint.