Nomura Funds Research and Technologies Co., Ltd.
Company Outline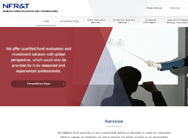 President
Yasuhiro Yokota
Address
Nihonbashi Hamacho F-tower 16F,
3-21-1 Nihonbashi Hama-cho, Chuo-ku, Tokyo 103-0007, Japan
Telephone
81 (0)3-6367-3260
URL
http://www.nfrt.co.jp/nfr-t/en/
Capital
400 million yen
Nomura Funds Research and Technologies Co., Ltd. (NFR&T) searches for superior investment products (funds, etc.) from across the globe using our proprietary analysis/evaluation process, which focuses on future reliability and expected performance. Our focus is on continually improving this process.
We also manage "funds of funds," new investment products that pool a number of high-quality funds into a single package, and offer risk-return characteristics that are difficult to achieve through a single fund. Portfolios are constructed based on results of stringent analysis and evaluation. We leverage proprietary financial technology to determine individual fund weightings, and effectively employ superior risk management processes to provide value-added products.
We also focus on emerging areas in the asset management industry, and strive to be a leader in analysis, evaluation in Japan.
To understand our focus, one needs look no further than our name: FUNDS + RESEARCH + TECHNOLOGY