Employee-Friendly Work Environments
The Nomura Group recognizes the importance of maintaining decent, comfortable working environments. We offer employee benefits programs, such as childcare, family nursing care and employee healthcare to ensure employees can complete their work confidently and enthusiastically on an ongoing basis.
Occupational Health and Safety
We support working conditions that allow each employee to fully concentrate on his or her work in a healthy condition, with both good physical and mental health. We have shifted our emphasis to early discovery and intervention. Our occupational health physicians periodically visit our worksites for health monitoring and conduct face-to-face interviews with supervising managers. Improvement measures are being introduced to departments where many employees work long hours, and employees who work such extended hours are recommended to consult with and receive the guidance of physicians. Based on the Industrial Safety and Health Act, Nomura Group has formed a Health Committee, which meets once a month. This committee discusses issues related to the status of the workplace environment and health and gives its attention to preventing all employees, including temporary and contract workers, from injuring their health.
Mental Healthcare
To safeguard the mental health of our employees, we provide access to psychiatrists and an employee counseling room staffed by a dedicated professional. We also offer consultation services provided by medical staff at our Health Management Center. Furthermore, we are committed to helping employees with a mental illness return to the workplace.
Listening and Heeding the Voices of Employees
Our people are critical to our success and we believe that a positive work environment that encourages active involvement is essential to make them happy. We assess employee engagement through regular surveys, and use the results to enhance ongoing initiatives to help our employees achieve a good balance between work and home and family responsibilities.
Safety and Health Initiatives
In accordance with the Industrial Safety and Health Act, the Nomura Group in Japan holds monthly meetings of the Occupational Health and Safety Committee, which comprises the head of occupational health and safety, occupational health and safety compliance officers, industrial physicians and general employees.
This committee discusses issues concerning the workplace environment and employee health and gives due consideration to helping all employees working in the Group, including those dispatched employees, avoid work-related health problems. The committee also examines the need to make improvements and issues recommendations for the Company when necessary.
Initiatives in FY2014/15
For employees who have been ill and are returning to work, Nomura Securities prepared a return-to-work program to assist them in continuing their jobs. This initiative aims to create a workplace environment where employees are able to work without anxiety by clearly showing the process for returning to work and setting up an internal advisory service.
At the employees cafeteria in the head office in the Nihonbashi district of Tokyo, Nomura Securities provides a "Helsapo*" lunch to assist employees in keeping themselves in good health. Nomura's proactive firm-wide efforts to promote employee health were highly appreciated and last year Nomura won the "2014 Ministry of Health, Labour and Welfare Award Given for Excellent Meal Facilities."
Helsapo is an abbreviation of "health support." The Helsapo lunch is a healthy menu designed to promote employee health. Under the "TABLE FOR TWO" program, a portion of the price of the meal is donated to provide school meals to children in developing countries.
Realizing Work Practices that Allow for Flexibility and Diversity
Reducing Long Working Hours and Providing for Flexibility in Work Styles
Management and labor are monitoring hours that employees work to reduce excessively long hours and, thereby, maintain the physical and mental health of employees and enable them to conduct work efficiently. Specific initiatives include not only abiding by the provisions of the Japanese Labor Standards Act but also setting the joint management and labor objectives of having employees leave work at the set time on Wednesday and no later than 8 pm on other weekdays. Also, in some departments, since the nature of the work may require working into the night hours and on holidays, Nomura is working to optimize total hours worked by giving consideration to the actual conditions in each department and having managerial staff exercise flexibility regarding hours worked, including such measures as adopting a work shift system and encouraging employees to use their allotted vacation days. Moreover, Nomura provides for flexibility in work styles to provide employees with work security for the long term. In specific terms, Nomura has endeavored to provide improved arrangements that allow employees to take half day paid vacation time, take leaves for childbirth and rearing children, and time off for providing nursing care for seniors and others. In fact, all of the benefits provided by Nomura are above the legally requirement minimum. These include leave for giving birth to children and aftercare, leave time for rearing children, time off when a dependent gives birth to children, time off for childrearing, time for nursing sick children, supplements for child day care center expenses, and time off as well as leaves for nursing family members back to health. (Data: Nomura Securities, Co., Ltd.)
Introduction of a New Job Category and System for Changing Work Location
To provide employee-friendly workplace environments where employees can continue to work for a longer number of years, Nomura extended the retirement age for the existing financial advisors in the Retail Division ("FA Shain") until the age of 65 and introduced a new employee category called "FA Shoku" with the same retirement age. Nomura made a further amendment which allows employees, subject to permission, to work until the age of 70. Nomura Securities expects that these arrangements will enable employees to make better contributions based on their sophisticated skills and abundant experience.
Also, Nomura introduced the "Work Location Change" regime whereby general career type B Employees may, upon request and subject to approval, change their place of work within the branch network and continue to work for Nomura. General career type B Employees, who were not supposed to transfer among different regions under their employment contracts previously, were obliged to leave their jobs against their wishes if, due to personal reasons, such as marriage, transfer of their spouses, or need to care for family members, they were required to move out of the area where they were able to commute to their offices. The new regime makes it possible for such employees to continue their careers without conflict with their personal life events. In addition, Nomura has made more flexible the reemployment process of ex-employees who hope to come back to Nomura.
Focusing on disability
Nomura Group aims to support career development for every employee. For employees with disabilities, assignments are decided through open discussions and by identifying opportunities suited to individuals' capabilities.
Helping Employees Balance Work and Childcare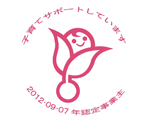 The Nomura Group has developed a wide range of programs based on Japan's Act on Advancement of Measures to Support Raising Next-Generation Children.
Helping male employees in taking leave of absence for child caring purposes is one of the many examples that exemplify Nomura Securities' continuous efforts to support employees balance work and childcare. As a result of these initiatives, we have been certified as a 'childcare-friendly company' under this Act since 2007 (known as "Kurumin accreditation").
Action Plan for the Act on Advancement of Measures to Support Raising Next-Generation Children
(Term: April 1, 2018 to March 31, 2020)

Objective 1

Maintain the following standards regarding childcare leave during the action plan period:

Male employees: Ensure childcare leave is taken by at least one eligible male employee
Female employees: Ensure childcare leave is taken by 80% or more of eligible female employees

<Measures>

Inform employees of the entitlements regarding childcare leave on the intranet.

Objective 2

Promote acquisition of special leave during and after spouses' or partners' childbirth within the action plan period.

<Measures>

Inform and promote acquisition of the special leave during and after their spouses' or partners' childbirth to eligible employees and their managers.

Objective 3

Ensure smooth return to work and support employees balance work and childcare by providing information to employees who plan to take pre- and after-childbirth maternity leaves and provide work life management training to managers.

<Measures>

From April 2018, provide information on how to balance work and childcare leave to employees who plan to take pre- and after-childbirth maternity leaves and provide work life management training to managers.
Nomura Securities Childcare and Family Nursing Care Supports
(as of April 1, 2017)
Pre- and post-natal leave

Female employees are entitled to take six weeks leave before delivery (14 weeks for multiple births), and eight weeks after delivery.

Special leave during and after spouses' or partners' childbirth

Employees whose spouse or partner gives birth can take five days leave in addition to annual paid leave. A split acquisition of the leave is available.

Childcare leave

Employees are entitled to take total two years of leave until their child turns two. The leave can be taken in two installments (once when a child is younger than one and once when a child is over one and under two years of age). Employees will be reinstated to their original or equivalent positions upon their return to work.

Childcare time

Employees are eligible to shorten working hours maximum of two hours per day to care for children until third year of elementary school.

Special work hours during childrearing years

Employees are entitled of an exemption of overtime and holiday work and choose to work six hours per day, reducing their working hours upon their application until their child turns three.

Leave to care for sick or injured children

Employees with elementary school children and younger receive up to five days of paid leave per year to care for sick or injured children, have them take medical checkups or vaccinations, and to attend school events (up to ten days for multiple children). The leave can be taken starting from an hour.

Subsidy for daycare expenses

Company will bear half the cost (up to ¥20,000 per child, per month) of day-care services for employees' preschool children.

Corporate contracted nursery schools

Nomura provides corporate contracted nursery schools to help employees' smooth return from maternity/childcare leave.
Family Nursing Care Support
Family nursing care leave

Employees are entitled to take leaves to care for parents, spouses or children in need of nursing care. The leave can be taken as a maximum of three installments per family member who needs care. Employees will be reinstated to their original or equivalent positions when they return to work.

Reduce working hours for family nursing care

As an alternative to take family nursing care leave, employees can shorten working hours twice a day up to two hours, twice in three years from their initial application.

Paid leave for family nursing care

Employees are eligible to take up to five days of paid leave per year to care for one family member in need of nursing care (ten days maximum to nurse multiple family members). The leave can be taken starting from an hour.
Helping Employees Balance Work and Long-term Family Nursing Care

Nomura Group has a wide range of support programs for employees to balance work and long-term family nursing care obligations.
Nomura Securities has been granted official use of the "Tomonin" logo from the Ministry of Health, Labor and Work, for efforts in establishing a work place that enables employees to pursue their career, while balancing their work and long-term family nursing care.
Relationships with Labor Unions
More than half of the employees of Nomura Securities are members of the Nomura Securities Employees Union, and Nomura Securities has standing labor agreements with the union. To maintain sound and healthy relationships between labor and management, discussions are conducted with the union on a wide range of topics, not only when changes are to be made in various systems, such as employee welfare benefits and personnel management, but also on day-to-day issues, including respect for employee rights and management issues. Through these discussions, management and labor share views, and employees in the workplace have the opportunity to make their views known.