The proper management of climate change risk and the promotion of measures to deal with global warming will lead to solutions to social problems and will contribute to maintaining and increasing corporate value. Nomura Group, as a multinational corporation with offices around the world, is making every effort to help resolve climate change issues through its business activities and to reduce the impact of its business activities on the natural environment.
We collect and disclose environmental information, and, since FY2009/10, we have introduced third-party assurance verifications to ensure the reliability of this information. Moreover, Nomura participates in the "Committee for Considering and Assessing Information Disclosure for Encouraging Green Investments" and the "Project for Improving the Basis for Disclosure of Environmental Information." Nomura also engages in initiatives aimed at appropriate environmental information disclosure. In each region, based on the regulations established by local governments, we prepare plans for dealing with global warming and submit these to the government authorities.
Reducing power consumption
We are reducing power consumption at Group-owned buildings under an ongoing program of replacing electrical equipment and air-conditioning equipment with energy-saving models and managing these with greater efficiency. For example, we are encouraging the replacement of air-conditioning units with more efficient models and implementing energy-saving operations by reducing hours of usage and adjusting room temperature settings. We are also actively working to reduce power consumption from lighting, as Nomura Asset Management changed over all of its lighting at its head office building and the Daiichi Edobashi Building to LED in fiscal 2011. We are also lowering emissions from our heating systems by replacing oil-fuelled models with gas-powered units.
Expanding the use of green energy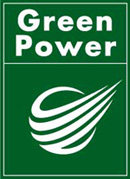 Nomura Group is working to lighten the impact of its activities on the environment through the purchase of green power. Our purchases of green power began domestically in 2006, and these reached a cumulative total of 60.76 million kWh. Beginning in 2014, we have set a goal of continuing these purchases of green power (from biomass power generation and other green sources) for three years, and it will be allocated to our principal domestic offices (located in Nihonbashi in Tokyo, Osaka, and Nagoya). In addition, in several of the EMEA offices, most of the electric power is generated by renewable energy sources, including hydroelectric power.
Responding to Regional Regulations and Policies for Energy
In each region, based on the regulations established by local governments, we prepare plans for dealing with global warming and submit these to the government authorities.
Environmental Security Regulations of the Tokyo Metropolitan Government
Plan for Responding to Climate Change
Under its Environmental Security Regulations, the Tokyo metropolitan government has prepared a Plan for Responding to Climate Change, which is based on the Requirements for Overall Emissions Reduction and Emissions Trading.
Report on Climate Change Policies
Under its Environmental Security Regulations, the Tokyo metropolitan government has prepared and submitted this report since fiscal 2010 based on the System for Reporting on Climate Change Activities of Small and Medium-Sized Companies, which covers stipulated business establishments within the City of Tokyo.
Carbon Reduction Commitment Energy Efficiency Scheme (CRC Scheme)
Under the CRC Scheme that Nomura International plc (NIP) joined in 2010, NIP was required to purchase and surrender carbon allowances to a value equal to our CO2 emissions from our energy use. NIP formed a Carbon Working Group to ensure compliance with the scheme, to review our operations and define objectives and targets to reduce our energy use and CO2 emissions.
With the implementation of the EUETS Phase III (see below) NIP now report emissions relating to their emergency back-up generators, exempting the Angel Lane Headquarters from the CRC Scheme.
The United Kingdom Government introduced the CRC Scheme in 2010 under the Climate Change Act 2008, to improve energy efficiency and cut CO

2

emissions. The scheme mandates the reporting and reduction of carbon emissions resulting from the energy use in the business premises of qualifying companies.
European Union Emissions Trading Scheme (EUETS) - Phase III
The EU ETS is the largest multi-country, multi-sector greenhouse gas (GHG) emissions trading system in the world and is central to the EU meeting its 20% emissions reduction target by 2020 and by 80% by 2050, as set out in the Climate Change Act 2008. Under the Regulations, any operator that carries out a "regulated activity" must have a permit. Phase III of the EU ETS came into effect on 1 January 2013 and runs until 31 December 2020. It brings harmonised EU allocation methodologies and covers additional GHGs and emission sources.
As of 1 January 2013, NIP we as a qualifying company and were required to obtain a permit and a monitoring plan for 1 Angel Lane's back-up generators. NIP is required under the EUETS to purchase and surrender carbon allowances to a value equal to the CO2 emissions from our combustion of fuel.
Energy Savings Opportunity Scheme Regulations 2014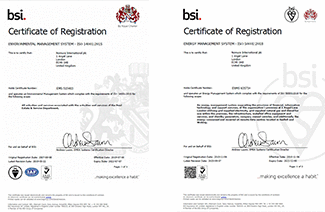 New regulations in Europe require certain organizations to audit their energy use to identify cost-effective energy saving measures. In order to comply with these regulations, the London office implemented various measures and was certified ISO50001 for its Energy Management System in 2015.
The certification demonstrates our commitment to reduce energy use and mitigate the impact our business has on the environment. We have also been able to improve our business operations through the consistent management of our energy usage.
Reducing CO
2

emissions from employee travel

Around 99.9% of company vehicles that we lease in Japan are defined by the Ministry of Land, Infrastructure and Transport as low-emission models. Our fleet also includes 287 hybrid vehicles, an increase from 256 in FY2014/15 All newly introduced vehicles in FY2015/16, were low-emission models. We will deploy more such vehicles as existing leases expire.

In order to promote eco-friendly driving habits, we provide information through our intranet and implemented a system to monitor the driving practices of drivers. We have also adopted a car sharing system as part of our commitment to effectively utilize company-owned vehicles.

To further reduce our environmental impact, we use videoconferencing, effectively utilize IT equipment, and cut vehicle use and employee travel. All our offices in Japan had installed videoconferencing systems by March 2006.

Our German office has also been using a program by Deutsche Bahn, Germany's national railway operator, to run 100% of its trains on renewable energy. As a result, business travel using Deutsche Bahn has been CO2 free since 2011.
Participating in Earth Hour 2016
Nomura Group offices globally participated in the World Wildlife Fund's Earth Hour 2016 on March 19. Lights were turned off for one hour starting at 8:30 p.m., local time, while employees were also encouraged to turn off unnecessary lights at home and in the office, allowing the entire group to share a renewed awareness of the importance of saving energy.
Promoting biodiversity
Plan Bee -Rooftop Beehive project-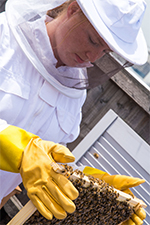 We have hosted beehives on the roof of our offices in London for the past 4 years. Honey bees are vital to sustaining our ecosystem as they pollinate the majority of the fruits, vegetables and crops that end up on our plates. Without the honey bee, our environment could change dramatically. The plight of the honey bee illustrates perfectly the interconnectivity of living things.
We provide personnel the opportunity to learn about the planets eco system by producing honey and honey related products.
Animal encounters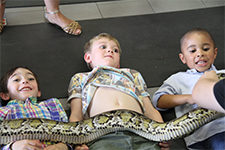 In July 2016, we hosted an Animal Encounters event at the London office with employees' children, including a number of 'wish children' from our charity partner, Rays of Sunshine, which grants the wishes of seriously ill children. Through the Animals Encounters event, we were able to promote the importance of biodiversity and the need for a healthy eco system.