In the regions around the world where Nomura Group conducts its business activities, under a "For Future Generations" theme, we will carry out activities in line with regional needs while forming partnerships with NGOs and other entities.
In Japan, Nomura employees actively participate in a variety of initiatives to contribute to local society, particularly in financial and business education.
Nomura employees plant cherry blossom trees under the "Sakura Project 3.11" for notable cheery blossom viewing spots in disaster zones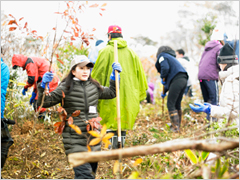 Nomura began supporting the "Sakura Project 3.11" in 2012 to make Tohanayama hill in Yamamoto Town, Watari District, Miyagi Prefecture a notable cherry blossom ("sakura") viewing spot. Yamamoto sustained very heavy damage by the tsunami that accompanied the 2011 Great East Japan Earthquake. Nomura employees have made donations to purchase cherry blossom tree saplings, and employee volunteers from across the country have gathered five times to date for tree planting activities. Over 600 Nomura employees support this project.
Support for sports festivals at disaster-zone elementary and middle schools
The Nomura "School Smile Support Project," a volunteer group made up mostly of Nomura employees, was launched in 2011 to provide support in areas affected by the 2011 earthquake and tsunami in Japan. The support is in line with what local people wanted, and focuses on schools and education. Nomura initiated the "Support Caravan," which supports sports festivals at elementary and middle schools in Ofunato City and Rikuzentakata City, both in Iwate Prefecture. The Group also initiated the "Career Challenge Day" program, which supports second-year students from all middle schools in Ofunato in career education.

Regular visits to children living in a foster home
A volunteer team, a majority of which are Nomura group employees, regularly visits a foster home in Hatagaya, Shibuya, Tokyo, where the volunteers develop supportive relationships with the children who live there. Thirty elementary to high school-aged students who have been separated from their parents for various reasons live in this home. The Nomura group members hold seasonal events, such as sports events and bazaars, with the children, listen to them talk about their school life, and provide advice about their futures as well as psychological support. Nomura has been certified as a "Tokyo Sports Promotion Company", recognized as a company implementing initiatives promoting sports activities in the field of sports as part of the "Tokyo Sports Promotion Company Certification Program created by the Tokyo Metropolitan Government and this program is one of the certified initiatives.

Participation in the "Nihonbashi Cleanup Group"
The headquarters of the Nomura Group is at the foot of the Nihonbashi, a famous bridge in Tokyo. Each year, as part of efforts to contribute to local society, Nomura actively participates in the Nihonbashi Cleanup Group, managed by the Nihonbashi Preservation Society.
In July 2014, Nomura employees and their families, about 250 people in total, joined other participants in cleaning the bridge. Using deck brushes, one year's grime was whisked away from this storied bridge.
This initiative was held in cooperation with the neighborhood association, local companies, the Ministry of Land, Infrastructure and Transport, the police, the fire department, and municipalities across Japan that hold water resources. The Nihonbashi Preservation Society is a non-profit organization that works to bring the Nihonbashi back to prominence. In addition to sponsoring the cleanup group, the Society supports the Hakone Ekiden distance running relay event and spearheads a signature-collection campaign to bring back blue skies over the Nihonbashi by moving an expressway overpass that runs over the bridge.