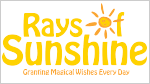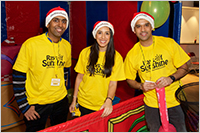 Nomura's Charity Partner for 2015-17, Rays of Sunshine, grants wishes for children aged three to 18 years old, living with serious or life limiting illnesses. Rays of Sunshine believe that every child deserves to experience happiness and put their illness on hold, even if it is just for one day.
Rays of Sunshine do this by
Granting children's individual wishes, however impossible the wish may seem
Granting hospital ward wishes
Organising events and outings for large groups of seriously ill children, such as a trip to Legoland and the Rays of Sunshine Concert
Wishes give a child the chance to forget their illness and do something they could only dream of, they make a child feel extra-special and bring them hope and happiness. Wishes also provide families with treasured memories of happy times to look back on.
During the last 20 months 1,800 Nomura employees from all areas of the bank have taken part in 200 fundraising activities. The partnership has so far raised over £600,000, double the fundraising target set in 2015. Employees have volunteered their time and expertise, and run workshops to improve young people's professional skills, such as CV writing, interview preparation and presentation delivery.
Whether a child wants to be a princess or a fireman for a day, go to Disneyland, visit Santa in Lapland, or meet their favourite pop star, Nomura's support has made it possible to make 305 magical wishes come true.
Partnership Highlights
Teenage Forum
Volunteers from across Nomura gave up their time to help Rays of Sunshine wish children consider the first steps in their careers. The sessions involved presentations from employees and breakout sessions for CV writing, presentations skills and interview techniques. These sessions help prepare young people for the world of work and provide them with an insight into job roles across Nomura.
Beat the Chiefs
This event saw Senior Executives from across Nomura challenge employees to go head to head in a virtual competition to test their stamina, endurance and teamwork. Senior Leaders from across the Investment Banking, Global Markets and Corporate Divisions agreed to take part and pledge a donation for each team of employees who beat their overall time. The challenge involved a 5km run, 10km cycle and a 5km row. The challenge has been run twice and has raised a magnificent £48,698.
The Nomura Challenge
Eight teams competed in a range of mental and physical challenges including canoeing, abseiling, rock-climbing, cycling and orienteering. There were also puzzles and time trials to complete between each physical challenge. The event took place over a long weekend in the stunning Wye Valley. Employees raised a fantastic £65,969.
Additional partnership activities included a Live Music Quiz, marathons, dodgeball tournaments, raffles, bake sales and Nomura's Got Talent show.