The Nomura Group and its Stakeholders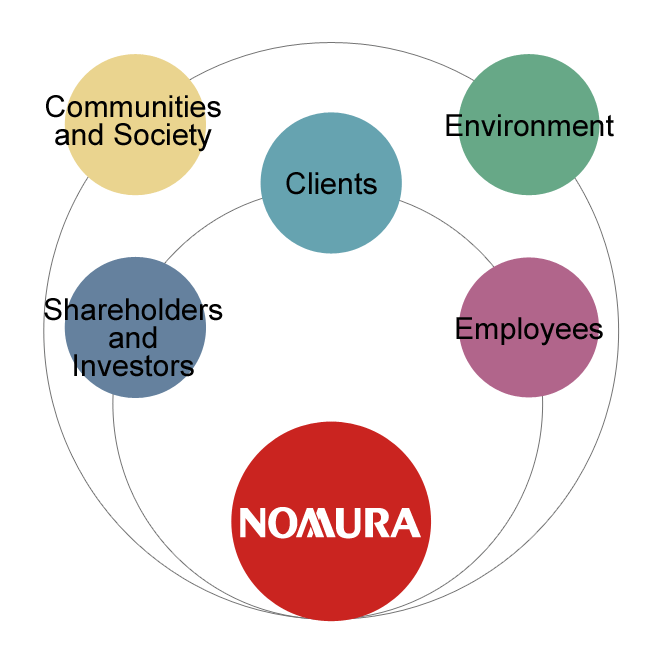 Clients
Our clients include individual investors, institutional investors, and private and public-sector organizations which participate in the capital markets and with whom we do business. We generate value for clients by delivering world-class products in response to their needs.
Shareholders and Investors
Individual shareholders, institutional investors, and creditors provide the group with operating capital. We generate value for shareholders and investors by ensuring the proper and timely disclosure of corporate information and generating returns by pursuing sustainable business growth.
Employees
Our employees work in offices around the world and add value to the Nomura group. We create working environments that optimize the potential of this diverse workforce, and opportunities for personal development, while providing appropriate remuneration for their services.
Communities and Society
We conduct business as a member of the community and of society as a whole. We understand social needs through dialogue with NGOs, NPOs, government agencies and the local communities where we operate. In addition, we contribute to sustainable development through such activities that address social challenges and public-interest policies.
Environment
Our operations directly and indirectly impact the global environment. In addition to reducing the direct environmental impact caused by our consumption of resources and energy, we help protect the global environment by considering the indirect impacts of our finance business and participating in projects that address environmental issues.
Suppliers
To manage its suppliers appropriately, the Nomura Group has prepared its Guideline for Transactions with External Vendors and its Procurement Procedure, When suppliers are selected, Nomura confirms their suitability as transaction partners, and, following prescribed procedures, conducts prior screening.
In addition, Nomura reviews its procurement policy and its relationships with suppliers periodically and makes improvements as necessary.