Overview
FY2011/12 saw a challenging environment amid sluggish market conditions caused by the European sovereign debt crisis and concerns over a global economic slowdown. Nevertheless, Asset Management reported higher income in FY2011/12 on the back of inflows of funds into various products, including actively managed funds, and cost reduction efforts. We will continue to build on this momentum and remain focused on winning greater trust from retail and institutional investors in Japan and abroad, and on delivering on our strategy to build a world-class asset management firm with a strong competitive edge in Asia.
Market Environment
Japan's publicly offered investment trust market declined 5.0% in FY2011/12 to ¥62 trillion due to sluggish market conditions caused by the European sovereign debt crisis and concerns over a global economic slowdown. However, we did see positive inflows of funds from retail investors during the year.
Our investment trust business was able to overcome market price drops thanks to an inflow of funds into a wide range of investment trusts. These include trusts focused on Japanese equities and overseas bonds. Funds managed by an investment strategy tailored for the changing economic climate in FY2011/12 helped us expand assets under management. In addition we focused on ensuring compliance with investment trust regulation. Consequently, Nomura Asset Management's share (net asset basis) of Japan's publicly offered investment trust market stood at 22.1% as of the end of March 2012.
Despite the challenging environment, our investment advisory business steadily increased mandates from institutional investors, including pension funds in Japan and abroad and global sovereign wealth funds, by responding to the specific set of needs that exist in each region and differing fund management objectives.
Assets under management totaled ¥24.6 trillion at the end of March 2012 on the back of inflows of funds into various products including actively managed funds.
Looking Forward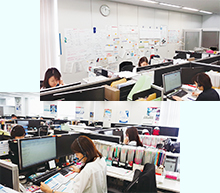 Asset Management is committed to earning even greater trust from investors around the world and growing its business by providing competitive performance of equity and bond funds not only in Japan and other parts of Asia, but globally.
We will further strengthen our management capabilities for Japanese and Asian equity funds where we offer superior experience and results, expand fund management services and research in Emerging Markets, and strengthen emerging equity funds where we anticipate strong returns.
We will provide unique fixed income products like global bond (where we have an established track record) and high-yield bond funds managed by Nomura Corporate Research and Asset Management Inc., high alpha funds by Nomura Global Alpha, and inflation-linked bond funds by Nomura Asset Management Deutschland KAG mbH.
In the investment trust business, we will establish an even stronger presence in Japan's investment trust market. Along with delivering diverse investment opportunities to meet the broad range of retail investor needs, we will strive to grow the overall market by expanding the scale of our existing products while complying with investment trust regulations.
The defined contribution pension plan segment represents an important growth driver for the investment trust market. We will focus on further enhancing our product and our service offering, and providing educational opportunities for participants on how to manage their investments within the schemes.
In the investment advisory business, we will strive to deliver products that reflect the diverse needs of our clients. In Japan, we will fulfill our fiduciary duty and address changes taking place in the employees' pension plan. In terms of product strategy, overall we will aim to deliver return while reducing total risk in the portfolio. We will increase the availability of absolute return, high alpha and RAFI® products*, enabling clients to enhance yield and returns in the context of a balanced portfolio. Outside of Japan, we will strive to provide competitive, actively managed funds, including Japanese equity, Asian equity and global bond funds, to institutional investors like pension funds in Europe and North America as well as sovereign wealth funds in Asia and the Middle East.
In addition to growing revenues, we will continue to closely manage costs and effectively make use of our limited headcount and resources.
Capitalizing on the above initiatives, Asset Management will achieve stable and sustainable growth as an asset management company that is trusted by investors around the world and will contribute to an increase in earnings by expanding the client franchise of the Nomura Group.
RAFI® products: Products that use a portfolio building method where weight is assigned to a stock based on fundamental indicators rather than stock price.