Asset Management | Shaping our Future


Highlights (FY2015/16)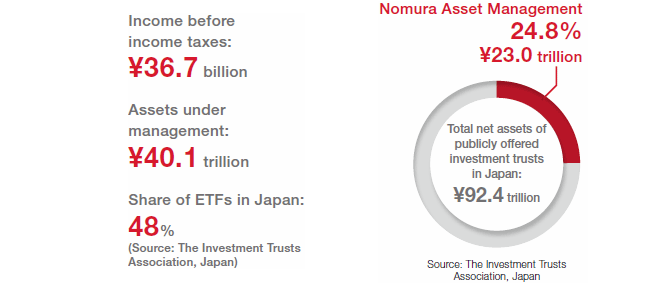 Strengths of the Division
In addition to sophisticated in-house research and investment expertise, Asset Management Division's strengths include its ability to select external managers through its multi-manager fund management system, which works with excellent fund managers outside the Company to augment in-house investment capabilities.
Asset Management Division has been expanding into differentiated investment products such as high-yield bonds, absolute profit-type investment funds *1, smart beta indexes, and exchange traded funds (ETFs) in addition to our traditional foothold in Japanese and Asian equities, where we have extensive experience and track records. Also we promote research and development by pilot funds and mergers and alliances with other companies for complementary global investments.
Another strength is our ability to propose solutions tailored to the various needs of our clients, combining a variety of investment products and services. Not only do we offer investment products to customers including individual investors, institutional investors, intermediary sales companies and financial institutions, we also provide evaluations and analytical information about external asset management companies, a fund wrap management platform, and various consulting services related to asset management.
1 Absolute profit-type investment funds employ an asset management method that seeks to realize profits on investment principal. These funds do not necessarily guarantee a positive return. Absolute profit type investment funds are generally shielded from market trends, but their performance largely depends on the investment capabilities of the fund managers.
Recent Business Conditions and Risks
Reforms being advanced by the Japanese government have provided a tailwind for the asset management industry, such as raising tax exempt amounts in the Nippon Individual Savings Account (NISA) program, introducing a Junior NISA program, and expanding the range of people qualified to contribute to defined contribution pension plans.
Moreover, the asset management reforms by the Government Pension Investment Fund (GPIF), one of the largest pension funds in the world, are bringing about significant changes in the industry. These changes have presented Asset Management Division with many business opportunities.
However, conditions in the industry have become more challenging as a result of industry consolidation, such as moves by major banks and regional financial institutions to strengthen their asset management businesses. Nomura's Asset Management Division aims to reinforce its in-house investment capabilities and its sales network in order to enhance its competitiveness.
The introduction of a negative interest rate policy has had negative consequences as bond funds are losing attractiveness due to declining yields in the money market, but it could have the considerably positive effect of accelerating the shift from savings accounts to investments. Asset Management Division is making every effort to latch onto these trends in the development of new products.
Actions to Shape Our Future
Asset Management Division is focusing on growth in overseas operations. By leveraging UCITS*2, the European criteria for investment trusts, we aim to expand overseas business by offering such products to global institutional investors, private banks, and retail channels.
Moreover, we are reinforcing our business foundation in North America through a strategic business partnership with American Century Investments (ACI), an investment management firm in the U.S.
Our Responsible Investment Committee, in which an Outside Director also participates, has formulated company-wide policies to address issues relating to the environment, social, and governance (ESG). With proxy voting and engagement through investee companies for increasing their enterprise values, we encourage them to strengthen their governance structures to achieve sustainable growth and aim to increase returns on investments for beneficiaries over the medium term. Furthermore, we established the Fund Management Council, of which the majority of members are independent Outside Directors, in order to verify that our fund management activities, such as investment trust product development, redemption and consolidation and policy of investment trust fee level, meet the fiduciary duty standards so that our clients' interests are adequately protected.
2 UCITS stands for "Undertakings for Collective Investment in Transferable Securities" and is a general term referring to funds that meet certain criteria established in European Union Directives. UCITS is part of a basic investment trust framework focused on the EU, but has also been adopted in some countries in Asia and Latin America.
Initiatives to Improve Products and Services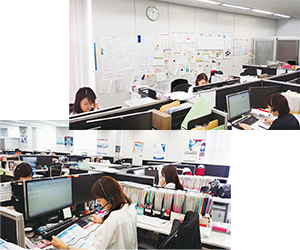 Telephone Support Service
Nomura Asset Management has set up a dedicated telephone support service to field inquiries about investment trusts from individual investors and intermediary sales companies. In the fiscal year ended March 2016, the service responded to 36,922 inquiries. In addition to using this support service to carefully explain our products to clients, the opinions and requests obtained through this channel are a precious information resource that is used to develop new products and services that better fit the needs of our clients, as well as to further raise service quality.
FY2015/16 Financial Results
In FY2015/16, Asset Management Division reported record net revenue of ¥95.4 billion, up 3% from the prior year. Income before income taxes increased 14% year on year to ¥36.7 billion, its highest level since FY2006/07.
At year-end, assets under management (AUM) were ¥40.1 trillion, an increase of approximately ¥800 billion from last year. Despite the impact market factors such as declining stock market indices and ongoing yen appreciation had on AUM, net inflows during the year were ¥4.8 trillion, largely due to our efforts to provide clients with investment trusts and investment advisory services that matched their specific needs.
In the investment trust business, we offered funds to meet clients' needs and worked to increase AUM of existing funds. Net cash inflows continued into discretionary investments and privately placed funds for regional financial institutions. ETF products with unique characteristics, such as leveraged ETFs, drew investor attention as did conventional index-linked ETFs. As a result, inflows for the entire investment trust business amounted to ¥2.7 trillion during the year.
In the investment advisory business, Nomura was selected by the largest Japanese public pension fund to manage four foreign bond mandates. Overseas, Nomura Corporate Research and Asset Management, whose core competency is high-yield bonds, received favorable evaluations for its medium- to long-term performance and also saw inflows from pension funds and other institutional investors. As a result, inflows for the entire investment advisory business were approximately ¥2 trillion during the year.
Initiatives Aimed at Expanding Our Investment Footprint in North America
In December 2015, we formed a strategic partnership and acquired a non-controlling approx. 41% economic interest (voting rights of 10.1%) in American Century Investments (ACI), an independent investment management firm in the U.S. ACI is an active manager of U.S. and global equities for its large client base throughout North America. When coupled with Asset Management Division, with its expertise in Japanese and Asian equities and high-yield bonds and its broad client base in Japan, we believe both companies will benefit from the other's know-how and will deliver broad investment solutions to a wider range of global retail and institutional clients. The acquisition was completed in May 2016.
Net revenue and
income before income taxes