About Our Founder Tokushichi Nomura | 10. Shinnosuke Assumed the Name Tokushichi II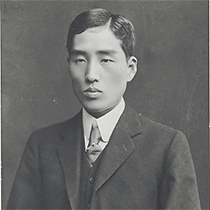 The fierce trading of this period was the source of many a trader's tale in later years, and the attention focused on Nomura's success in avoiding the fall fixed the company firmly in the public eye. There was nothing fortuitous about Shinnosuke's victory: it was based on extensive, distilled market experience supported by the fruits of research. The whole episode reinforced Shinnosuke's convictions about the correct approach to the securities business and strongly affected his outlook in the years ahead.
This period also marked a turning point in the company's affairs for yet another reason. Tokushichi I retired, handing over full control to Shinnosuke, who now assumed the name Tokushichi II.