Risk Management Enhancement
In 2021, as part of the enhancement of risk management, Nomura established the Board Risk Committee as a specialized oversight body to strengthen oversight from an independent perspective.
Role of the Board Risk Committee in the Enhancement of Risk Management
Following an incident in the US in March 2021 that resulted in a significant loss, we considered a broad range of measures to further strengthen its risk management. We established a Board Risk Committee ("BRC") to provide specialized oversight to deepen the oversight functions of the Board of Directors. It will provide an independent perspective with the aim to strengthen oversight and develop more sophisticated, in-depth risk management as part of efforts to carry out rigorous controls and business oversight. To ensure a high degree of independence, the BRC is chaired by an outside director and comprises six members, including five outside directors and an internal non-executive director.
Role of the BRC
Consent to the Risk Appetite Statement
Consent to the main design of the risk management framework
Analysis of risk environment/verification results and future projections
Supervision of overall execution of risk management and medium- to long-term risk strategies
Composition of the BRC
Laura Simone Unger

Outside Director

Chairperson

Noriaki Shimazaki

Outside Director

Victor Chu

Outside Director

J.Christopher Giancarlo

Outside Director

Patricia Mosser

Outside Director

Shoji Ogawa

Outside Director

Non-Executive Director
Management Interview
Risk Management Enhancement
Nomura Group recognizes that enhancing risk management is one of the most important management issues for achieving sustainable growth. To date, on the supervision side we have established the Board Risk Committee mainly comprising outside directors, while on the execution side we have established the Group Risk Management Committee. In addition, we have established the Steering Committee for Enhancement of Risk Management to enable members of senior management to promote initiatives aimed at enhancing risk management. We are also taking concrete steps to strengthen and expand our three lines of defense. (See figure below)
In addition, on top of instilling a Group-wide risk culture, we are closely examining governance, management systems, and business processes, and advancing initiatives that will lead to specific improvements.

Strengthen and Expand the Systems for the First Line, the Second Line, and the Third Line
Strengthening Three Lines of Defense
Implement structure for cross-divisional, cross-regional collaboration to speed up decision making and identify potential risks early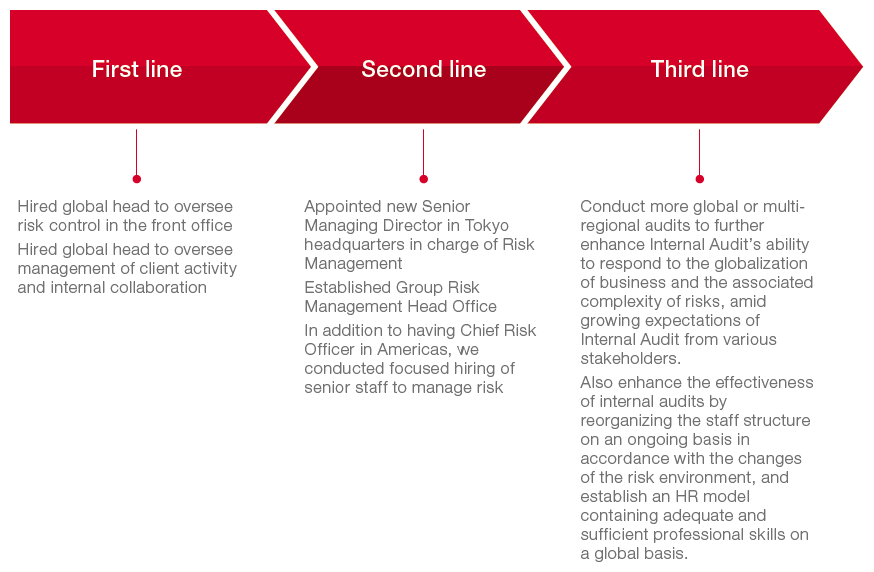 Specific Initiatives to Enhance Risk Management on the First Line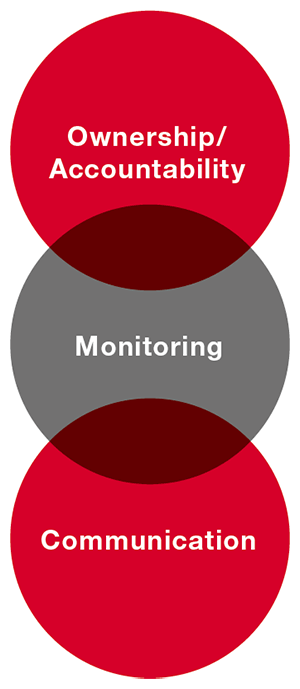 Ownership/Accountability
By conducting various business reviews, ensures consistency between business strategy and the actual business, while cultivating a sense of risk ownership (fully understanding and proactively responding to risks, etc.) and enhances accountability on the business side.
Monitoring
Integrate existing front office risk management bodies into a consolidated front office risk and control function to allow for integrated monitoring of financial and non-financial risks at a global level as the first line of defense.
In addition to bolstering the counterparty credit risk monitoring framework, enhancing client management practices by making clear the roles and responsibilities of sales personnel
Communication
Increase direct communications from management by using town hall meetings and video messages to deliver initiatives and contents such as business strategy and risk culture.
Specific Initiatives to Enhance Risk Management on the Second Line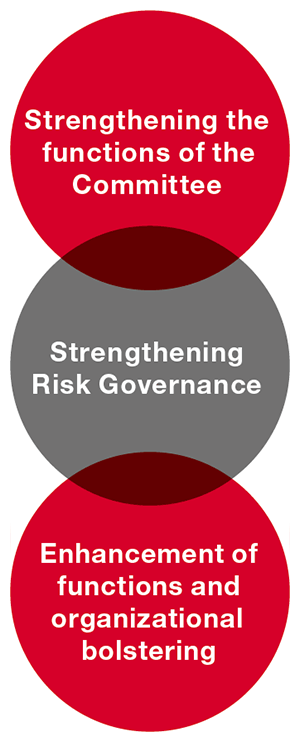 Strengthening the functions of the Committee
As part of its efforts to enhance risk management, a committee consisting of senior management as its members has commenced regular reviews of all Wholesale businesses with financial risk.
Conduct annual portfolio reviews of individual businesses to confirm that business operations are conducted in line with risk appetite within the framework of the first and second lines of defense.
Strengthening Risk Governance
The Risk Appetite Statement was revised to clarify the description about the management system based on three lines of defense.
Quantify risk appetites for various risks, review the framework of limit management, including escalation
Enhancement of functions and organizational bolstering
Improve risk methodologies in order to measure each risk more appropriately Expand and strengthen risk management systems by strengthening organizations and increasing personnel. In addition, we are promoting the enhancement of employee expertise through various training programs.
Internal Audit Structure and Specific Initiatives on the Third Line
In order to ensure the effectiveness and appropriateness of internal controls, the firm has established dedicated internal auditing departments in the Company and its major subsidiaries that are independent from the execution of business operations, and these departments conduct internal audits across the Nomura Group.
To ensure the independence of the Internal Audit department from business execution functions, the formulation of the audit plan and budget for internal audits are subject to the approval of the Audit Committee or the Audit Committee members appointed by the Audit Committee.
The firm is working to strengthen and enhance its internal control system. This is to ensure appropriate corporate behavior throughout the Group in an effort to (i) deliver management transparency and ensure efficiency, (ii) comply with regulations, (iii) manage risks, (iv) maintain the reliability of business and financial reports, and (v) encourage appropriate information disclosure. Internal Audit independently evaluates the effectiveness of such internal controls.
Internal Audit is enhancing its capabilities and promoting audits more globally in the risk management audit areas. This is to better evaluate emerging risks and changes in the environment, as well as the firm's business strategies.
Internal Controls Committee deliberates on important matters in regard to areas such as internal controls, audit activities and risk management relating to the Nomura Group's business. The Committee shall consist of the Group CEO, person(s) appointed by the Group CEO, member(s) of the Audit Committee designated by the Audit Committee and a director(s) designated by the board of directors.