Employee-Friendly Work Environment
Fundamental Approach
Nomura Group recognizes the importance of maintaining a positive and comfortable work environment. We offer employee benefits programs, such as childcare, family nursing care and employee healthcare, to build enthusiasm and motivate our employees to consistently do their best.
Promoting Health and Productivity Management
Nomura Group adopts a management approach to the health and wellbeing of our employees, and promotes "health and productivity management" to encourage employees to take the initiative in addressing their individual health issues. Under the leadership of our Chief Health Officer, we proactively implement initiatives aimed at helping our people improve their health, towards realizing our Group management vision to "Achieve sustainable growth by helping solve social issues."
In 2017, we launched the Nomura Work Style Innovation initiative, which promotes both work style reforms and health and productivity management. We are committed to creating a workplace and culture that helps diverse employees cultivate their talents and achieve success.
Health and Productivity Management Declaration Statement
Nomura Health & Productivity Declaration Statement
Our employees are Nomura's greatest asset. In order for each of them to fully utilize their capabilities and personalities, it is important to be healthy both mentally and physically. Based on this corporate vision, Nomura group proactively pursues employees' health and wellbeing from a management perspective.
Health and Productivity Management Framework
The Health and Productivity Management Promotion Committee comprises our Chief Health Officer, health professionals such as occupational health physicians, as well as representatives from Human Resources and the Nomura Securities Health Insurance Association. The committee convenes regularly, and works to promote the health and wellbeing of employees by assessing the health issues that affect them and implementing various improvement measures, and also works to strengthen the occupational health and safety framework.
Health and Productivity Management Initiatives
The Health and Productivity Management Promotion Committee recognizes health risks such as obesity, blood glucose levels, and liver function among employees, as well as lifestyle habits such as lack of exercise, dietary issues such as eating too fast or excessive drinking, and smoking as health issues, and is advancing a variety of initiatives to help employees improve their health.
Nomura Group's key initiatives in Japan to promote the health of employees are as follows.
Health Checkups and Comprehensive Medical Exams
In order for employees to detect and treat illnesses at an early stage, we have set a target to have 100% of our employees undergo health checkups and comprehensive medical exams. The firm and the Health Insurance Association fully subsidize the costs of health checkups for employees in their 20s and comprehensive medical exams for employees age 30 and above, and subsize the costs of cervical cancer screenings for women age 20 and above and breast cancer screenings for women age 30 and above. The firm also allows employees to take paid leave ("comprehensive medical exam leave") for the time they spend going to receive a comprehensive medical exam.
Encouragement for Follow-Up Visits After Health Checkups
We send notifications to employees who our supervising occupational health physician has determined to be in need of follow-up examinations, asking them about the outcome of the follow-up visit. Our target is for 100% of employees to undergo follow-up examinations so that their condition does not worsen. In addition, the Health Insurance Association recommends that employees who require detailed examinations undergo cancer screening. In all cases, employees can take paid "follow-up examination leave" when undergoing testing at a medical facility.
Smoking Cessation Measures
The CHO sends out messages to all employees in an effort to prevent unwanted passive smoking and to support employees who want to quit smoking. The firm has set the 22nd of each month as a non-smoking day, and fully subsidizes the cost of treatment and support for employees who try to stop smoking. We are also aiming to reduce the percentage of employees in the firm who smoke to the national target of 12% by 2025.
NOMURA Health Challenge
Since 2017, Nomura Securities has been holding the "NOMURA Health Challenge," in which departments and individuals engage in health-related initiatives. In FY2019/20, approximately 80% of the departments in the company participated by identifying and making improvements to health issues related to exercise, BMI, breakfast habits, smoking cessation, and drinking. Departments' efforts are posted on the company's "WellGo" health platform, where other employees can "Like" or comment on the person's action, thereby expressing support and boosting employees' health awareness.
In November 2019, we held the "NOMURA Challenge Walk" in which we donated 10,000 yen per day to TABLE FOR TWO for each day that the average number of steps taken by all employees exceeded 7,000 steps per day. We achieved the target each day, and donated a total of 300,000 yen to TABLE FOR TWO.
Health Point System
"My Health Points" is a system that supports employees who make an effort to stay healthy. Points are awarded to employees when they take actions that are good for their health, such as recording the hours they sleep in their lifestyle log, or undergoing a comprehensive medical exam without delay. Accumulated points can be exchanged for prizes such as Amazon gift certificates or donations.
Women's Health
To encourage the early detection and treatment of diseases specific to women, we offer breast cancer screening to women employees age 30 and above, and cervical cancer screening for all women employees. In addition, Nomura Securities is working to improve women's health through efforts such as providing training using videos explaining health issues specific to women and appointing women occupational health physicians.
Helping Employees Balance Work and Treatment
Nomura Group supports employees balancing work and treatment for illnesses such as cancer.
We are working to foster an environment supportive of employees who are balancing work and medical treatments. We published a "Treatment & Work Coexistence Assistance Guidebook (Employee Version and Manager Version)" for employees battling illnesses such as cancer, as well as for their managers. We also follow the real-life experiences of employees working while undergoing treatment on our intranet website. In addition, we provide "Follow-Up Examination Leave," which is paid leave employees can use to do follow-up tests after their health checkup. Employees needing time off to undergo chemotherapy or other types of treatment at a hospital can take annual paid leave in hourly increments. Employees battling illness also have access to consultation services provided through collaboration among the firm's occupational health physicians, nurses, and nutritionists. By consulting with our internal specialists, employees get advice on how to best approach work while receiving treatment for their illness.
"WellGo" Health Platform
We are using the cloud-based health management platform "WellGo" provided by WellGo Co., Ltd. "WellGo" was created through a business contest held by Nomura Holdings and Nomura Research Institute. This health platform uses AI and big data to support employees' health, allows employees to view personal health information such as their individual healthy life expectancy and step count, and offers an incentive program in which employees earn points by engaging in health-related activities.
Mental Healthcare
Since FY2016/17 we have been conducting annual stress checks for all employees and providing mental health training as a part of our safety and health training program with the objective of preventing mental illness and creating positive work environments. We also strive to help employees on leave due to mental illness make a smooth return to the workplace. Such efforts include a support framework that provides access to various specialists and an employee counseling room staffed by dedicated professionals, as well as a return-to-work support plan and a system that allows employees to work shortened hours.
Safety and Health Initiatives
Nomura Group manages the health of its employees with an emphasis on prevention as well as early detection and treatment of illnesses. Our occupational health physicians periodically visit our workplaces to monitor the health of employees and meet with supervising managers. We also provide improvement guidance to departments where people work long hours, including recommending that employees working extended hours consult with a physician. In accordance with the Industrial Safety and Health Act, Nomura Group has an Occupational Health and Safety Committee which meets once a month. The committee discusses issues related to workplace environment and health concerns to ensure that everyone working in Nomura Group, including temporary staff and contractors, stay healthy as they work.
External Assessments of Our Health and Productivity Management System
Recognition as a "Certified Health & Productivity Management Outstanding Organization (White 500)"
Nomura Holdings (Nomura Securities) and Nomura Asset Management were both certified as a "Health & Productivity Management Outstanding Organization (White 500)" by the Ministry of Economy, Trade and Industry (METI) and the Nippon Kenko Kaigi. Nomura Holdings has been recognized three times since FY2016/17, while Nomura Asset Management has been recognized twice over this same period. This program recognizes large companies as well as SMEs implementing exceptional health and productivity management initiatives, including efforts addressing health issues in their respective regions as well as the initiatives being advanced by the Nippon Kenko Kaigi to improve people's health.
Received Award at the Ministry of Health, Labour and Welfare Prizes for Companies Promoting Cancer Control
Nomura Securities was awarded the Minister of Health, Labour and Welfare Prize in the FY2019/20 Awards for Companies Promoting Cancer Control as a part of the Action Plan for the Promotion of Cancer Control, a project commissioned by the Ministry of Health, Labour and Welfare. The Action Plan for Promotion of Cancer Control is a national project aimed at increasing the ratio of people in workplaces who undergo cancer screenings with the aim of promoting the early discovery and treatment of cancer. The Minister of Health, Labour and Welfare Award is given to organizations that are making the best overall efforts to control cancer.
Received Gold in Gan-Ally-Bu Award
Nomura Securities won the Gold award for the third year in a row in the Gan-Ally-Bu Award, a non-governmental project organized by Gan Ally Bu. Gan Ally Bu's aim is to create workplaces and a society where cancer patients can thrive while receiving treatment. Gan means cancer in Japanese.
Related Data*1
* Please scroll horizontally to look at table below.
| | FY2015/16 | FY2016/17 | FY2017/18 | FY2018/19 | FY2019/20 |
| --- | --- | --- | --- | --- | --- |
| Health Checkup Rate | 96.6% | 96.9% | 99.4% | 99.4% | 99.4% |
| Comprehensive Medical Exam Rate(Employees 30 and Older) | 95.7% | 96.1% | 99.3% | 99.3% | 99.3% |
| Percentage of Employees Who Did Not Undergo Required Follow-Up Exam*2 | 42.0% | 18.3% | 23.9% | 10.4% | 19.9% |
| Percentage of Employees Who Exercise Regularly*3 | 43.5% | 26.9% | 22.5% | 24.5% | 25.4% |
| Percentage of Employees Who Smoke | 22.1% | 22.0% | 21.4% | 20.8% | 20.0% |
| Stress Test Response Rate | - | 92.6% | 88.1% | 94.9% | 96.0% |
1 Covers Nomura Securities employees.
2 Percentage of employees requiring a follow-up exam who did not undergo a follow-up exam.
3 Percentage of employees who exercise regularly among those employees who underwent a comprehensive health exam.
Status of Receiving Health Medical/Health Exams
Percentage of Employees Receiving Medical/ Health Exams
Both the percentage of employees who receive medical/health exams and the percentage of employees receiving medical/health exams before the end of the year have increased significantly since FY2017/18, when we started providing paid leave for comprehensive medical exams and recommending that employees receive medical/health exams before the end of the year.
Ratio of Employees That Received Medical/Health Exams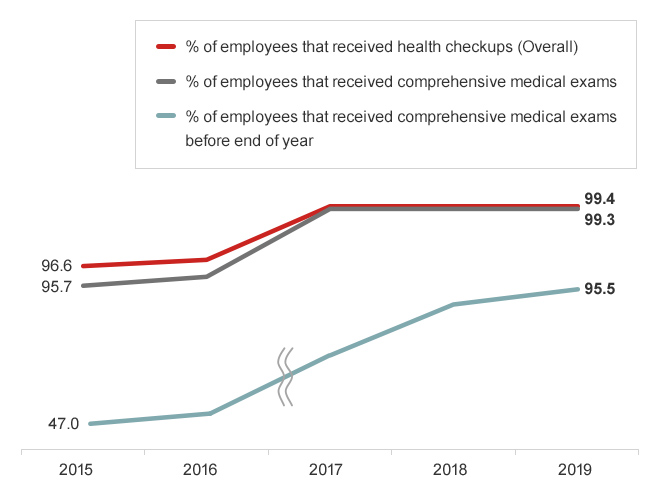 Lifestyle Habits
Smoking
The ratio of smokers is gradually declining
Regularly Exercising
The number of people who regularly exercise is gradually increasing
Ratio of People Who Exercise Regularly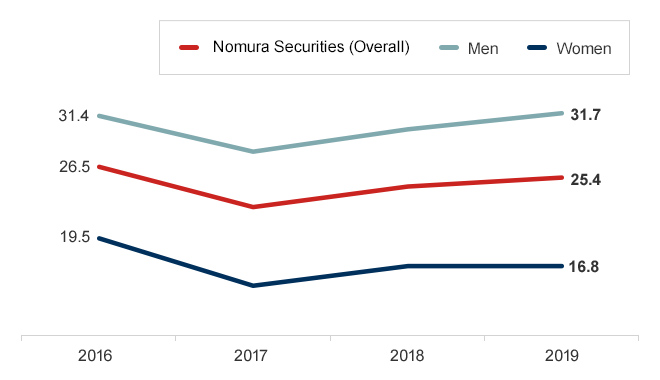 Regular Walking
The number of people who walk regularly is consistently increasing, partly due to initiatives such as the WellGo health platform and the company-wide NOMURA Health Challenge
Ratio of People Who Walk Regularly
Realizing Work Practices That Allow for Flexibility and Diversity
Reducing Long Working Hours and Providing for Flexibility in Work Styles
Management and labor are monitoring hours that employees work to reduce excessively long hours and, thereby, maintain the physical and mental health of employees and enable them to conduct work efficiently. Specific initiatives include not only abiding by the provisions of the Japanese Labor Standards Act but also setting the joint management and labor objectives of having employees leave work at the set time on Wednesday and no later than 8 pm on other weekdays. Also, in some departments, since the nature of the work may require working into the night hours and on holidays, Nomura is working to optimize total hours worked by giving consideration to the actual conditions in each department and having managerial staff exercise flexibility regarding hours worked, including such measures as adopting a work shift system and encouraging employees to use their allotted vacation days. Moreover, Nomura provides for flexibility in work styles to provide employees with work security for the long term. In specific terms, Nomura has endeavored to provide improved arrangements that allow employees to take half day paid vacation time, take leaves for childbirth and rearing children, and time off for providing nursing care for seniors and others. In fact, all of the benefits provided by Nomura are above the legally requirement minimum. These include leave for giving birth to children and aftercare, leave time for rearing children, time off when a dependent gives birth to children, time off for childrearing, time for nursing sick children, supplements for child day care center expenses, and time off as well as leaves for nursing family members back to health. (Data: Nomura Securities, Co., Ltd.)
Introduction of a New Job Category and System for Changing Work Location
To provide employee-friendly workplace environments where employees can continue to work for a longer number of years, Nomura extended the retirement age for the existing financial advisors in the Retail Division ("FA Shain") until the age of 65 and introduced a new employee category called "FA Shoku" with the same retirement age. Nomura made a further amendment which allows employees, subject to permission, to work until the age of 70. Nomura Securities expects that these arrangements will enable employees to make better contributions based on their sophisticated skills and abundant experience.
For General Career employees, we have the Area type contract that allows people to work without any change in their work location. If circumstances change, employees may, upon request and subject to approval, change between the General Career (Area type) and General Career (Non-Area type) contracts. In addition, while General Career (Area type) employees usually work within a specific region, in cases where employees need to move for personal reasons such as marriage, transfer of their spouses or to care for a family member, the Work Location Change program makes it possible for such employees to request a transfer to the region to which they relocate. These programs allow our people more flexible ways of working when circumstances arise to ensure that they can continue to build a successful career at the firm. In addition, Nomura has made a more flexible reemployment process of ex-employees who hope to come back to Nomura.
Focusing on Disability
Nomura Group aims to support career development for every employee. For employees with disabilities, assignments are decided through open discussions and by identifying opportunities suited to individuals' capabilities.
Helping Employees Balance Work and Childcare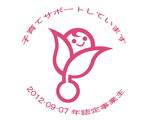 The Nomura Group has developed a wide range of programs based on Japan's Act on Advancement of Measures to Support Raising Next-Generation Children.
Helping male employees in taking leave of absence for child caring purposes is one of the many examples that exemplify Nomura Securities' continuous efforts to support employees balance work and childcare. As a result of these initiatives, we have been certified as a 'childcare-friendly company' under this Act since 2007 (known as "Kurumin accreditation").
Action Plan for the Act on Advancement of Measures to Support Raising Next-Generation Children
Term: April 1, 2021 to March 31, 2023

Objective 1

Maintain the following standards regarding childcare leave during the action plan period:

Male employees: Ensure childcare leave is taken by at least one eligible male employee
Female employees: Ensure childcare leave is taken by 80% or more of eligible female employees

<Measures>

From April 2021, continue to inform employees of the entitlements regarding childcare leave on the intranet.

Objective 2

Promote acquisition and awareness of special leave during and after spouses' or partners' childbirth within the action plan period.

<Measures>

From April 2021, inform and promote acquisition of the special leave during and after their spouses' or partners' childbirth to eligible employees and their managers.

Objective 3

Ensure smooth return to work and support employees balance work and childcare by providing work life management training to employees who plan to take pre- and after-childbirth maternity leaves as well as their managers.

<Measures>

From April 2021, provide useful information on how to further balance work and childcare to employees who plan to take pre- and after-childbirth maternity leaves, and also provide work life management training to managers.
Nomura Securities Childcare and Family Nursing Care Supports
(As of April 1, 2020)
Pre- and Post-Natal Leave

Female employees are entitled to take six weeks leave before delivery (14 weeks for multiple births), and eight weeks after delivery.

Special Leave During and After Spouses' or Partners' Childbirth

Employees whose spouse or partner gives birth can take five days leave in addition to annual paid leave. A split acquisition of the leave is available.

Childcare Leave

Employees are entitled to take total two years of leave until their child turns two. The leave can be taken in two installments (once when a child is younger than one and once when a child is over one and under two years of age). Employees will be reinstated to their original or equivalent positions upon their return to work.

Childcare Time

Employees are eligible to shorten working hours maximum of two hours per day to care for children until third year of elementary school.

Special Work Hours During Childrearing Years

Employees are entitled of an exemption of overtime and holiday work and choose to work six hours per day, reducing their working hours upon their application until their child turns three.

Leave to Care for Sick or Injured Children

Employees with elementary school children and younger receive up to five days of paid leave per year to care for sick or injured children, have them take medical checkups or vaccinations, and to attend school events (up to ten days for multiple children). The leave can be taken starting from an hour.

Subsidy for Daycare Expenses

Company will bear half the cost (up to ¥20,000 per child, per month) of day-care services for employees' preschool children.

Corporate Contracted Nursery Schools

Nomura provides corporate contracted nursery schools to help employees' smooth return from maternity/childcare leave.
Family Nursing Care Support
Family Nursing Care Leave

Employees are entitled to take leaves to care for parents, spouses or children in need of nursing care. The leave can be taken as a maximum of three installments per family member who needs care. Employees will be reinstated to their original or equivalent positions when they return to work.

Reduce Working Hours for Family Nursing Care

Employees can shorten working hours twice a day up to two hours, twice in three years from their initial application.

Paid Leave for Family Nursing Care

Employees are eligible to take up to five days of paid leave per year to care for one family member in need of nursing care (ten days maximum to nurse multiple family members). The leave can be taken starting from an hour.
Helping Employees Balance Work and Long-Term Family Nursing Care

Nomura Group has a wide range of support programs for employees to balance work and long-term family nursing care obligations.
Nomura Securities has been granted official use of the "Tomonin" logo from the Ministry of Health, Labor and Work, for efforts in establishing a work place that enables employees to pursue their career, while balancing their work and long-term family nursing care.
Communication with Employees
Nomura organizes various forums for direct dialogue between management and employees around the world. Town hall meetings and social gatherings are regularly held in each region to provide opportunities for senior management to share the company's vision, strategy, and philosophy, and for employees to engage in active exchange with senior management with the aim to deepen mutual understanding.
As part of our continued efforts to make our employees happy, we periodically conduct surveys of all Group employees to monitor the status of communication within the organization and their level of satisfaction.
We are committed to making improvements and cultivating a healthy, values-driven culture for everyone.
Survey Results
* Please scroll horizontally to look at table below.
FY 2016
FY 2020
Ratio of Employees Who Feel Proud to Work for Nomura
80%
(Male: 83%; Female: 78%)
88%
(Male: 89%; Female: 87%)
Response Rate
84%
90%
The previous survey was conducted in fiscal 2016. The survey will be conducted annually from fiscal 2020.
Listening and Heeding the Voices of Employees
Our people are critical to our success and we believe that a positive work environment that encourages active involvement is essential to make them happy. We assess employee engagement through regular surveys, and use the results to enhance ongoing initiatives to help our employees achieve a good balance between work and home and family responsibilities.
Relationships with Labor Unions
More than half of the employees of Nomura Securities are members of the Nomura Securities Employees Union, and Nomura Securities has standing labor agreements with the union. To maintain sound and healthy relationships between labor and management, discussions are conducted with the union on a wide range of topics, not only when changes are to be made in various systems, such as employee welfare benefits and personnel management, but also on day-to-day issues, including respect for employee rights and management issues. Through these discussions, management and labor share views, and employees in the workplace have the opportunity to make their views known.