Materiality
A rich natural environment and healthy social environment are the foundations of economic and business advancement as well as people's lives. Without such foundations, it is impossible to fulfill Nomura Group's social mission of helping to enrich society. We have been expanding our products and services, and globally expanding our businesses and bolstering our corporate governance based on the recognition that initiatives such as protecting the global environment and promoting the active participation of a diverse range of people are essential for advancing both economic activity and society as a whole.
In May 2020, Nomura Group announced a new management vision to "Achieve sustainable growth by helping solve social issues" ahead of the year 2025, the centennial anniversary of Nomura's founding. In addition to business growth, our management vision incorporates the ESG elements of trust from society and employee satisfaction.
Through partnership with a wide range of stakeholders, we will achieve sustainable growth and help solve social issues.
Material Issues
Since Nomura Group first identified CSR Materiality in 2008, we have conducted regular reviews based on trends in the international community and the expectations of stakeholders. In light of the management vision announced in May 2020, we reviewed the Nomura Group Materiality and identified the 27 material issues including seven highest priority issues. We will continue to make every effort toward our targets by using metrics to monitor how we are progressing.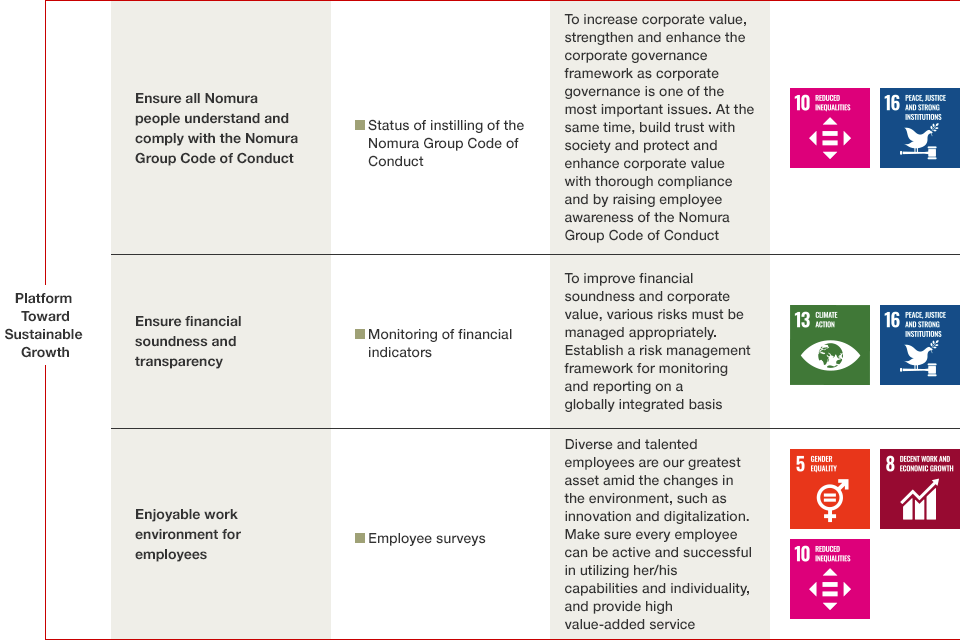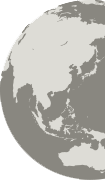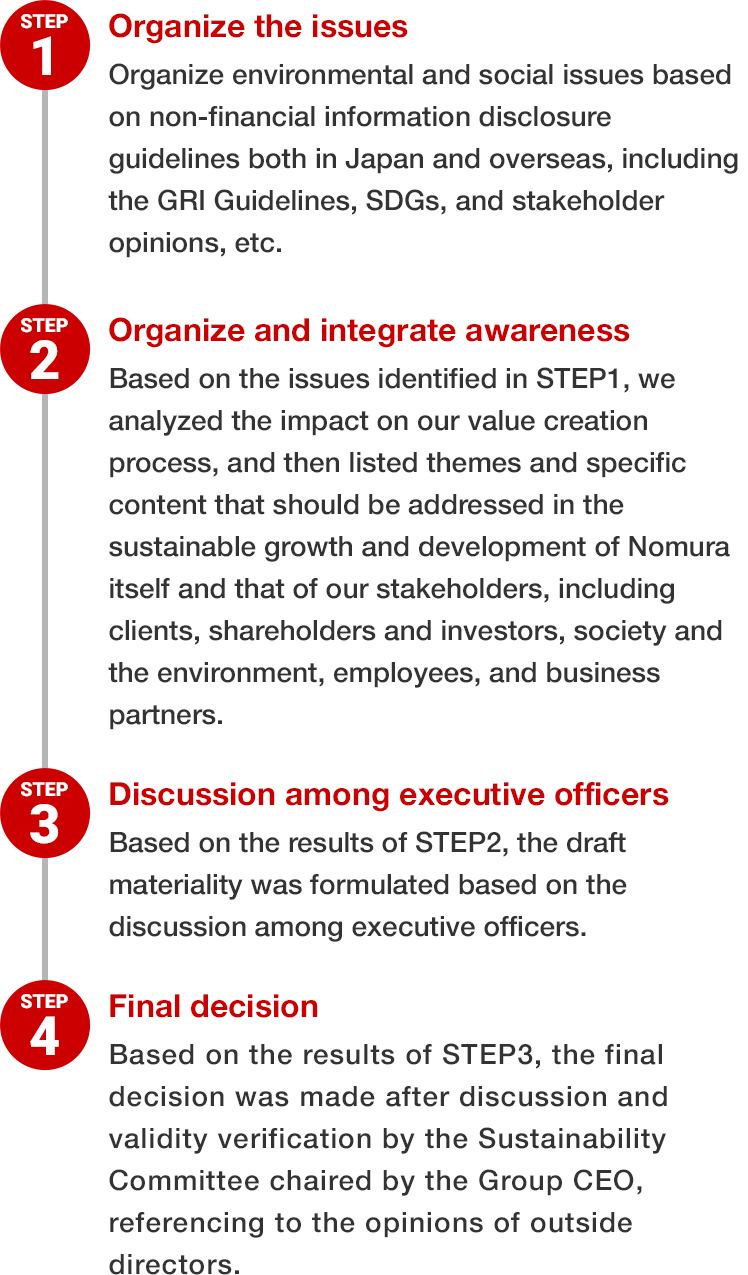 Targets and Progress (Excerpt)
Targets (Medium- to Long-Term Goals)
Progress

Corporate governance

To enhancing corporate value, strengthen and enhance corporate governance structure as one of the most important issues

Promotion of diversity within the Board of Directors

ESG Data: Members of the board (Ratio of Outside Directors / Non-Japanese Directors / Female Directors)

Compliance and Business Ethics

Build trust with society and protect and enhance corporate value with thorough compliance and raising employee awareness of the Code of Conduct

Compliance with the Nomura Group Code of Conduct

Compliance [Fundamental Approach] [Legal compliance measures]

Contributing to sound and sustainable capital markets

Through our core business, create a better future by addressing stakeholders' needs and providing value added solutions

Conduct customer satisfaction survey every year and improve our services based on clients' wishes in a bid to achieve highly satisfactory consultation
Increase the number of financial products and services that help resolve social issues and promote approach to the SDGs
Provide financial and economics education programs to people of all ages and help them with the steady accumulation of assets

ESG Data: Results of customer satisfaction surveys at branch offices

ESG Data: Participants and materials in financial and economics education

Human resources

Diverse and talented employees are our greatest asset amid the changes in the environment, such as innovation and digitalization. Make sure every employee can be active and successful in utilizing her/his capabilities and strengths, and provide high value-added services

Have 20% of female representatives in managers, 10% in branch/department managers by 2025 (Nomura Securities)
Periodically conduct surveys of all Group employees, monitor the status and make improvements

ESG Data: Composition of managers

Contributing to sustainable environment

A healthy global environment is the foundation not only for the economy and society, but also for our sustainable growth.

Reduce greenhouse gas emissions
- FY 2030: Reduce CO

2

emissions by 32% or more from FY2012/13
- FY 2050: Reduce CO

2

emissions by 65% or more from FY2012/13
Expand the use of green energy

Medium/Long-term CO2 Emission Reduction Target

Contributing to sustainable society

Contribute to finding solutions to social and environmental issues through continuous cooperation with stakeholders

Working with all stakeholders to contribute to the creation of sustainable local communities
Actively engage in social contribution activities and promote and improve Group-wide social contribution activities by regularly checking and evaluating the status of each activity
Based on the common theme of "For Future Generations," we will contribute to the achievement of SDGs by engaging in activities, centered on developing future leaders through partnerships

Community contribution (cash donation, time spent, in-kind donations etc.)