Nomura Securities wins Gold in Gan-Ally-Bu Award 2020 for the third year in a row
Nomura Holdings promotes Health and Productivity Management. We adopt a management approach to employees' health and work proactively to improve health outcomes. We also make efforts to ensure that our people can work while undergoing treatment for illnesses such as cancer.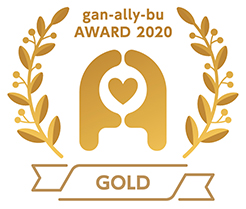 Nomura Securities won the Gold award for the third year in a row in the Gan-Ally-Bu Award 2020, a non-governmental project organized by Gan Ally Bu. Gan Ally Bu's aim is to create workplaces and a society where cancer patients can thrive while receiving treatment. Gan means cancer in Japanese.
At the award ceremony held online on December 2, we presented our initiatives, which have earned us Gold each year since the award's inception.
As part of our recognition for this award, Nomura made a declaration to be an ally to cancer patients and a company where employees can work during treatment. We were also evaluated on specific initiatives. Gold was awarded to 16 companies, 12 companies received Silver, and 2 companies were awarded Bronze.
Nomura Securities' initiatives
Created a "Treatment & Work Coexistence Assistance Guidebook (Individual Version and Manager Version)" for employees battling illnesses such as cancer, and for managers
Real life experiences of Nomura employees balancing treatment and work are featured on our intranet website
Introduction of follow-up examination leave to be used for follow-up exams after the annual medical checkup, and hourly units of annual leave that can be used to undergo chemotherapy at the hospital and other forms of therapy
Collaboration between internal occupational health doctors, public health nurses, HR and other departments to create an environment where employees suffering from cancer and other diseases can continue to work
Broadcast special feature on cancer three times as part of our monthly health program video series to raise employee health literacy
Nomura Securities will continue to ensure that our people are equipped with accurate knowledge about cancer so they can take action as necessary. We remain committed as a firm to providing a work environment where our people can thrive while fighting cancer.