Community Contribution | Americas

Nomura Americas' CSR program aims to support future generations in our New York City community through mentorship, fundraising efforts, and awareness campaigns. Nomura works to improve the literacy of local students through the Read Ahead program. The firm also supports several New York City organizations that benefit communities in need, including the Anti-Violence Project to empower LGBTA and HIV-affected individuals through education, counseling and advocacy, and Toys for Tots for less fortunate children. Fundraising campaigns are also held through the year to increase local awareness and contribute to medical research these non-profits, include the Memorial Sloan Kettering Cancer Center, Autism Speaks, and the National MS Society. Instinet continues to support local youth through its partnerships with Elevate and Operation Backpack.
Everybody WINS (Americas)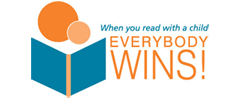 Our program encourages employees to become involved with monthly initiatives focused on the local community. Our educational partnership with Everybody WINS provides mentoring and literacy support for local children, allowing Nomura to focus its efforts on future generations.
Founded in 1991, Everybody Wins! New York is devoted to promoting children's literacy through shared reading experiences with caring adults. Everybody Wins! partners with corporate and community volunteers to increase academic and life prospects for underserved children throughout the New York metropolitan area.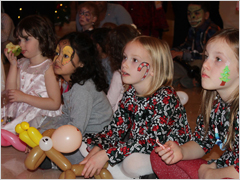 Everybody Wins!' signature program, Power Lunch, pairs volunteers with children in elementary schools for weekly reading and mentoring during lunchtime. In Power Lunch, as in all of the organization's programs, everybody wins! - the students, their schools, the volunteers, their companies and ultimately, society.
Nomura has supported Everybody Wins! since 2013 and regularly encourages its employees to participate in its programs as part of its efforts to raise awareness about giving back to the community.
Elevate New York (Instinet)
A large number of Instinet employees participate in local initiatives, centered on efforts to assist young people. Examples include a partnership with the Make-a-Wish Foundation to assist sick children, work with Operation Backpack to provide disadvantaged youngsters with school supplies, and our high school mentoring efforts with Elevate New York.
Beginning in 2010, Instinet and its employees have supported Elevate New York, both financially and through regular mentoring sessions. With a curriculum based on seven character qualities, which are reinforced through classroom study as well as mentee relationships with professionals in the community and mentor relationships with grade school children, Elevate seeks to build long-term, life-changing relationships for urban youth.

Toys for Tots (Americas)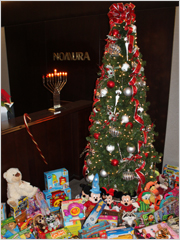 The mission of the U.S. Marine Corps Reserve Toys for Tots Program is to collect new, unwrapped toys during October, November and December each year, and distribute these toys as Christmas gifts to less fortunate children in the community.
Nomura is proud to continue its holiday tradition of participating in the US Marine Corps Toys for Tots Program. Every year we decorate our lobby area with a Christmas tree and solicit donations for the Toys for Tots Program. In December 2012, several hundred gifts were received as donations and given to the program.
Make-a-Wish Foundation (Instinet)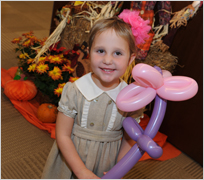 Instinet has long supported the Make-a-Wish Foundation, including in 2009 when it granted 40 wishes in honor of its 40th anniversary. In 2012, the organization approached Instinet with a request: Six-year old Millie wished to see the Macy's Thanksgiving Day Parade, but her illness prevented her from being out in cold for extended periods. As Instinet's headquarters is located along the parade route, Make-a-Wish asked if Instinet could host her wish. Instinet was more than happy to help make her dream come true, and hosted Millie, her parents and two brothers at its annual client parade party.
Supporting Food Banks and Food Drives for the less Fortunate in New York City (Americas)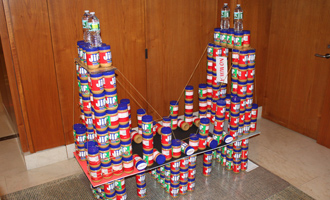 In the United States, food banks are set up to provide the less fortunate with donations of food products made by companies. The food products donated to food banks cannot be sold in stores because of damaged packaging or labeling, but otherwise they have the same quality as food on store shelves. Food drives are also spreading in the US. These involve people donating canned and other packaged food items to those in need. The Food Bank of New York City (FBNYC) procures and distributes food to a network of more than 1,000 community-based member programs citywide, helping to provide 400,000 free meals a day for New Yorkers in need.
In November and December 2012 , Nomura hosted a CANtribution food drive in coordination with the FBNYC, collecting company and employees' donations of canned goods which the FBNYC sorted and distributed to NYC communities in need.
Operation Backpack (Instinet)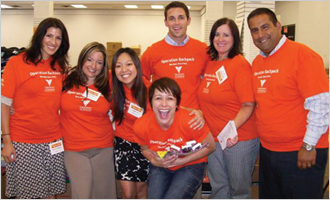 Since 2008, Instinet and its employees have supported Volunteers of America's Operation Backpack. The program's goal is to provide the nearly 11,000 school-aged children living in New York City's homeless shelters with basic school supplies, thereby helping them look and feel no different from their classmates. Over the past five years, Instinet and its employees have donated nearly 250 backpacks and raised almost $30,000. Instinet staff have also lent a hand in the sorting of the thousands of backpacks received.
Related Links