Community Contribution | Asia ex-Japan

In Asia (excluding Japan), an employee volunteer network, Nomura CARES (Nomura Community Affairs Raising Funds and Employee Services), was established by employee volunteers as the focal point for CSR initiatives in Asia ex-Japan. We have charity partnerships with local NGOs in Hong Kong, Singapore, and China that our employees support via various fundraising and volunteering events. In India, we comply with Section 135 of the Companies Act to allocate at least two percent of average net profit for CSR activities. We also support local CSR projects in Australia and Korea. Nomura CARES focuses on four main streams: local charity partnerships, environmental initiatives including annual beach cleanup events, donations to NGOs that our employees are actively involved with, and the Hong Kong Community Connections Program that Nomura helps to organize along with five other industry peers.
Nomura Powai's CSR initiatives focus on the key areas of education and healthcare. These include programs in remedial education, skills development, primary healthcare, and cancer treatment. Current efforts are directed toward creating collective impact by engaging with NGOs who have complementary capabilities to improve the overall welfare of a community. Powai CSR consistently adds value by building a robust employee engagement program and integrating it with its ongoing projects. The volunteering programs leverage core competencies and domain knowledge of our employees in building capacities of partner NGOs and their stakeholders.
In FY2018/19, 6,737 employees put in 7,070 hours participating in 71 volunteering initiatives in Powai.
Nomura Volunteers Hold Teach-in Events at Daycare Centers (Powai, India)
Volunteers from Nomura's office in Powai, India, are providing assistance to children in partnership with NGO Mumbai Mobile Creches*. This NGO operates daycare centers for the children of construction workers in the vicinity of construction sites in the city of Mumbai. Support activities include holding classes and providing instruction related to nutrition, health, and other subjects.
Activities this time included visits of Nomura volunteers to daycare centers and holding educational events especially planned to make learning a pleasure for the children.
Daycare centers for children

Small Grants Program (AEJ)
Designed to support employees that work with charities over and above their professional responsibilities. Employees are required to submit an application which is assessed by the Small Grants Committee (a sub-group of the Nomura CARES committee). The maximum amount available per employee-nominated charity being US$5,000. The grant is paid directly to the charity.
Not-for-Profit Director Program (AEJ)
A partnership between Nomura, Credit Suisse, State Street, Macquarie and CLSA to the program enables employees to explore the essential responsibilities, liabilities and practical challenges of serving on a NFP board or advisory committee, prior to connecting participants with local charities. The program aims to provide employees enhanced leadership skills, engage them with the broader community, strengthen the culture of skills-based volunteering, and connect program graduates with charities seeking Directors.
The 2015 Hong Kong Cleanup (AEJ)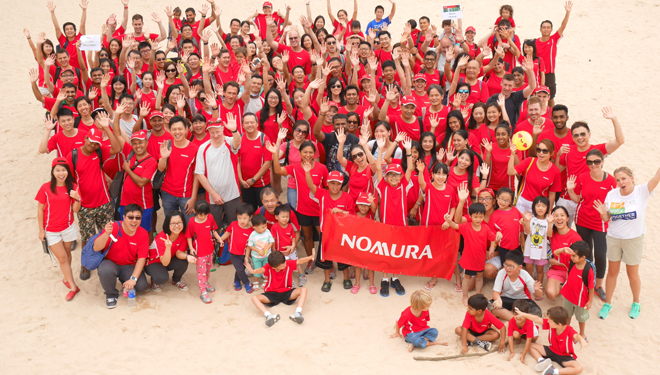 Nomura is the sponsor of the Hong Kong Cleanup for the seventh consecutive year. Up to 200 Nomura employees, their families and friends participated in the cleanup event on October 10, 2015. Volunteers witnessed firsthand the massive amount of trash on the beach and trail, its negative effect on the ecosystem, and got their hands dirty to help the environment. Team Nomura picked up 21,248 pieces of garbage, in a total of 174 bags and weighing 908kg, within two hours at Big Wave Bay and Hong Kong Trail.
For more information about the Hong Kong Cleanup Challenge and ways to help protect the environment, please visit HKcleanup.org or Ecozine.com.
Team of Nomura Visit Young Cancer Patients (Powai, India)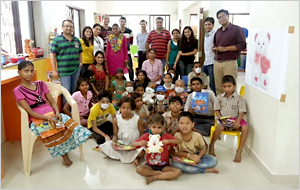 Nomura's activities in Powai, India include initiatives for improving the quality of education for lesser-privileged children through events with our partner NGOs.
Nomura employees organized CSR volunteering activities in partnership with the NGO Impact Foundation. These children are young cancer patients undergoing treatment at Tata Memorial Centre and residing at a shelter home - Shri Ghadge Maharaj Mission Dharamshala Trust associated - with Tata Memorial Hospital through the Impact Foundation. These children from lesser-privileged backgrounds undergo treatment for cancer over a long period of time. During their treatment phase, which may last up to 1.5 years, they lead a very restricted life due to weakness and fear of infection. Our volunteers organized a coloring activity and few games for the children, which filled their day with fun and excitement. The group was so engrossed having a gala time with the children that they lost their sense of time.
Team of Nomura Visit Center for Young Children (Powai, India)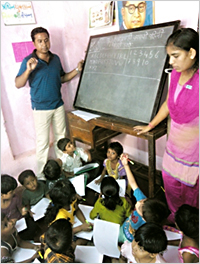 A CSR volunteering activity was organized for newly promoted employees in partnership with the NGO Life Trust. The activity was organized at an Anganwadi (Center for young children) in Kurla, India. Volunteers engaged the 75 children (ages 3 to 7 years old) at the centre in fun-filled activities such as drawing, poetry recitation and one-minute games. Sixteen Nomura employees participated in this activity.
Team of Nomura Helping the Villagers to Build Their Homes (Powai, India)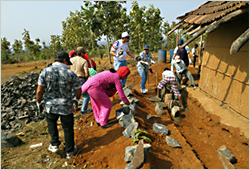 Twenty employee volunteers participated in a CSR activity organized in partnership with the NGO Habitat for Humanity India in a remote village of Karjat. The activity involved helping the villagers build their homes. It was a wonderful opportunity for all the participants to contribute to society, work together as a team, and appreciate each other's strengths.