Community Contribution | EMEA

Nomura EMEA's Community Affairs program aims to support disadvantaged young people in the local communities in which Nomura operates.
Through a developed and focused platform, Nomura support organizations which deliver the most meaningful and sustainable results to everyone involved.
With the support from all levels of Nomura and through embedding activities throughout the business, Nomura have created a range of initiatives which are changing the lives of thousands of young people in neighboring communities. Nomura provide financial contributions, resources and time to have a significant impact on those most in need of support.
In FY2018/19, 611 employees put in 2,672 hours participating in 105 volunteering initiatives.
Nomura Charity Partnership
The Charity Partner initiative is a key component of EMEA's community affairs program. Every two years, employees select a chosen charity through an online vote. The partnership enables Nomura to take a focused approach to our fundraising activities and allows employees to work together in support of a common cause over a two year period.
The search for Nomura's next Charity Partner (2017-19) has started. Employees have nominated a charity of their choice, within the remit of supporting future generations, Click here (PDF 33KB) to find out more about the whole selection process.
Previous Charity Partnership
Rays of Sunshine Partnership 2015-2017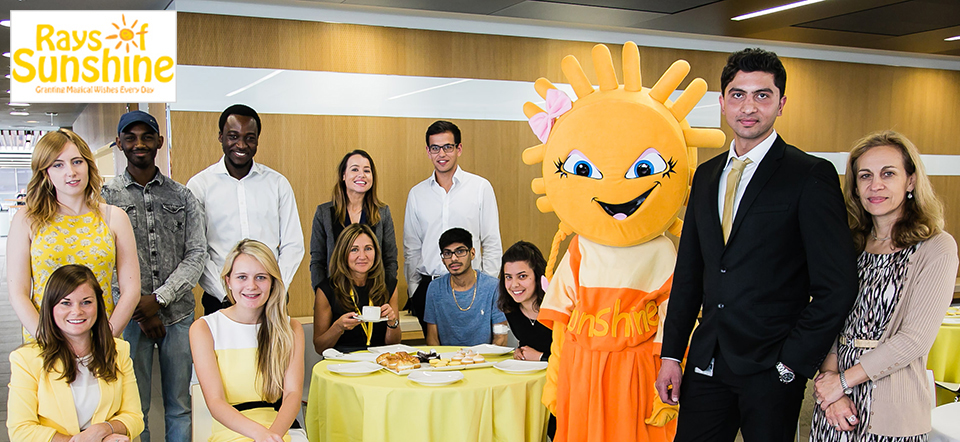 Nomura's Charity Partner for 2015-17, Rays of Sunshine, grants wishes for children aged three to 18 years old, living with serious or life limiting illnesses. Rays of Sunshine believe that every child deserves to experience happiness and put their illness on hold, even if it is just for one day.
Rays of Sunshine do this by
Granting children's individual wishes, however impossible the wish may seem
Granting hospital ward wishes
Organising events and outings for large groups of seriously ill children, such as a trip to Legoland and the Rays of Sunshine Concert
Wishes give a child the chance to forget their illness and do something they could only dream of, they make a child feel extra-special and bring them hope and happiness. Wishes also provide families with treasured memories of happy times to look back on.
During the last 20 months 1,800 Nomura employees from all areas of the bank have taken part in 200 fundraising activities. The partnership has so far raised over £600,000, double the fundraising target set in 2015. Employees have volunteered their time and expertise, and run workshops to improve young people's professional skills, such as CV writing, interview preparation and presentation delivery.
Whether a child wants to be a princess or a fireman for a day, go to Disneyland, visit Santa in Lapland, or meet their favourite pop star, Nomura's support has made it possible to make 305 magical wishes come true.
Partnership Highlights
Teenage Forum
Volunteers from across Nomura gave up their time to help Rays of Sunshine wish children consider the first steps in their careers. The sessions involved presentations from employees and breakout sessions for CV writing, presentations skills and interview techniques. These sessions help prepare young people for the world of work and provide them with an insight into job roles across Nomura.
Beat the Chiefs
This event saw Senior Executives from across Nomura challenge employees to go head to head in a virtual competition to test their stamina, endurance and teamwork. Senior Leaders from across the Investment Banking, Global Markets and Corporate Divisions agreed to take part and pledge a donation for each team of employees who beat their overall time. The challenge involved a 5km run, 10km cycle and a 5km row. The challenge has been run twice and has raised a magnificent £48,698.
The Nomura Challenge
Eight teams competed in a range of mental and physical challenges including canoeing, abseiling, rock-climbing, cycling and orienteering. There were also puzzles and time trials to complete between each physical challenge. The event took place over a long weekend in the stunning Wye Valley. Employees raised a fantastic £65,969.
Additional partnership activities included a Live Music Quiz, marathons, dodgeball tournaments, raffles, bake sales and Nomura's Got Talent show.
For more information please visit Rays of Sunshine
In 2013 colleagues voted for the charity and as a firm pledged to raise £300,000. St Giles Trust's SOS Project is London's most successful gang exit service operating in 10 London boroughs - these funds have helped over 400 of London's most complex and violent gang members break their cycle of offending. As with our previous partnership Nomura provided desk space for the St Giles Trust Account Manager five days per week to truly embed the partnership and spearhead fundraising and awareness raising. In addition the Community Affairs team facilitated a variety of engagement opportunities with key members of senior staff.
Employees raised £525,000 for St Giles Trust through a variety of fundraising events.
Nomura raised over £44,000 through the Nomura Challenge which was supported by teams from across the firm
Nomura raised £38,000 through the 2013 Christmas collection
An outstanding £51,505 was raised through the Sam Bailey concert
Nomura raised over £27,000 through the London to Lands' End challenge
Charles Pitts-Tucker, Senior Managing Director, IBD joined the Trustee board for St Giles Trust
The project has been able to deliver 7,400 positive interventions over the last 2 years and expanded into 14 London boroughs from an initial 4. Overall this has meant that in all the communities that the SOS Project functions in, there were thousands less victims of crime thanks to the partnership between Nomura and St Giles Trust
Rainbow Trust Children's Charity won the Nomura employee vote in 2011 as employees could see the invaluable difference Nomura's support would have. The charity provides emotional and practical support for families who have a child with a life threatening or terminal illness. The money raised funded a brand new Central London team of support workers to provide help to families facing the heartbreaking news their child might die. As a result of this approach employees have raised over £520,000 through a variety of large and small events, both firm-wide and divisional.
Highlights included: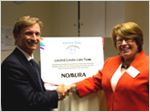 Employees raised £522,000 through a variety of large and small events
Across the two-year partnership 1,500 volunteers contributed nearly 9,000 fundraising hours including 1,163 runners, trekkers and cyclists
Nomura representatives attended a 25th anniversary reception at 10 Downing Street in June 2012 hosted by Samantha Cameron and attended by Heather Wood (Rainbow Trust CEO) and some of the children supported by the charity.
As a result of the partnership Rainbow Trust have recruited a Team Manager, Family Support Worker, Sibling Support Worker and acquired office space for the Central London Care Team as well as training rooms and a drop-in centre for families.
Teenage Cancer Trust won the Nomura employee vote in 2009 because of the charity's remarkable work with young cancer sufferers: people whose needs often go unrecognised. The charity focuses on the needs of teenagers and young adults with cancer, by providing specialist units in NHS hospitals for teenagers. At the start of the partnership, Teenage Cancer Trust needed to expand its offering to fund dedicated treatment pods, and to open a much-needed Day Care Cancer Centre in London's University College Hospital (Europe's first ever). Nomura set about to raise funds to support the construction costs of this new centre. The partnership delivered on a number of levels through a collaborative, high impact campaign. This radical approach has brought remarkable results: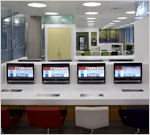 Nomura raised over £1,031,792 – against an initial target of just £100,000 – and Nomura was the lead contributor in the development of the new Day Care Centre at University College Hospital in London
Thanks to Nomura's support, Teenage Cancer Trust has doubled its reach in treating young people diagnosed with cancer in London
Nomura was the first title sponsor of Teenage Cancer Trust's annual concerts at the Royal Albert Hall, helping the charity to raise over £1.4m in 2010 alone
Volunteer Program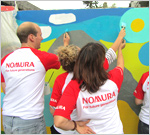 We employ some of the most able people in the financial services industry, so it makes sense to help local communities by allowing them to tap into our people's skills. Through a variety of schemes, employees share their expertise and experiences with the objective of inspiring young people to aim higher and reach their own life goals. By listening to each other and building close relationships, knowledge is transferred in a way that cannot always be learned in a traditional classroom setting. Permanent Nomura employees also receive a two-day entitlement to participate in charitable activities each year.
Meet the Team
Samantha Barnwell
Community Affairs Lead, EMEA