Supporting Regional Economic Revitalization in Mie Prefecture
Nomura Securities is helping to support regional economic revitalization in Mie Prefecture through its involvement in Mie University's Regional Area Strategy Center together with local regional banks and other parties. The center is a think tank that works to resolve regional issues by leveraging the university's intellectual assets and private-sector network. The center has also begun to provide support to companies from Mie Prefecture looking to expand into the ASEAN market. Going forward, we stand at the ready to provide a wide range of support to the regional revitalization of Mie Prefecture by capitalizing on the strengths of the Nomura Group.
Atsumasa Uchida
President
Mie University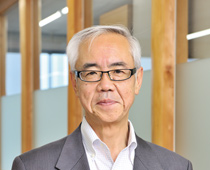 Susumu Yamakawa
General Manager
Economics and Employment Department
Mie Prefectural Government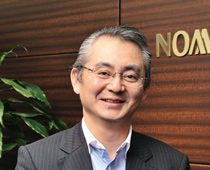 Masamichi Niisato
Managing Director, Tsu Branch Office
Nomura Securities
What do you consider to be tasks for local revitalization in Mie Prefecture?
We must remember that revitalization of the local economy targets the creation of employment opportunities.
Yamakawa:First, I'd like to talk about employment. We have to remember that our efforts to revitalize the local economy and promote industry are aimed at job creation. As an increase in employment opportunities revitalizes the economy, employment is the more important of the two. Until now, Mie Prefecture has put efforts into invigorating local communities and attracting industry to set up operations here. Going forward, our task is to further strengthen these industries and come up with creative solutions for job creation. Given this, Mie Prefecture is now working to strengthen its sales and marketing activities. As the governor said in his policy pledge, Mie Prefecture has launched a Sales and Marketing Department. This department will not act in the conventional way, such as disseminating information equally to unspecified numbers of people, but instead it will serve as a specialized office for corporate clients in the private sector. In other words, we are hoping to foster the same awareness of sales and marketing among public employees as people in the private sector have by installing an office within the prefectural government that specializes in sales and marketing activities geared toward a select few clients we have been involved with in terms of local products, tourism, and geographic location.
It's important to review the role of Mie Prefecture from the perspective of Japanese industry and world markets in order to revive Japanese craftsmanship and manufacturing.
Yamakawa:What should Mie Prefecture market? The answer is simple, "craftsmanship and manufacturing" in the analog world. This is something that cannot be imitated in the digital world. Japanese companies have been known for their strength in manufacturing. However, as a result of digitized production in hopes of increasing efficiency, product designs have become easily reproduced by foreign companies, thereby losing their competitiveness. Consequently, we are now debating whether to re-focus on analog manufacturing and cultivate the export industry once again. Though it may seem like a wild scheme, I believe wholeheartedly that it is plausible, without a doubt. Today, Mie Prefecture's economy is supported by mid-stream industries that serve as materials processing suppliers to major manufacturers, and more of these companies are expanding operations overseas. Therefore, it is crucial to focus on capturing global demand by reconsidering the role of Japan and Mie Prefecture from the perspective of international markets. Accordingly, we have set up support desks to help companies in the prefecture expand into the Chinese and ASEAN markets with the help of the Nomura Group.
Connecting the private sector with local government in developing a think tank that revitalizes the local economy
Uchida:Mie University established the Regional Area Strategy Center because it wanted to tackle and provide solutions to regional issues in earnest. To date, as a regional university we have been actively involved in activities that benefit our local communities, and are one of Japan's leading universities in terms of our joint research with local companies. However, previously we have worked with local governments and companies individually on individual issues, so these efforts had yet to sprout into comprehensive initiatives that resolved regional issues. As a result, we decided to create the Regional Area Strategy Center as a legitimate regional think tank that helps local governments and companies with policy planning across a variety of fields, such as regional development and healthcare. Mie University plans to leverage its accumulated knowledge for local revitalization and will serve as a coordinator that links residents, companies and local governments. Thus, we decided to invite the Nomura Group, which has a nationwide network and strength in research, to take part in our efforts.
Currently, the center is undertaking 16 projects with a focus on projects received from the prefectural government. For example, the center is contracted to commercialize citrus fruit production aimed at revitalizing the southern part of the prefecture, which was originally carried out by the prefectural government, and made the project a reality. Unlike a private-sector think tank, having a university take on the job of a prefectural government is a forward-thinking scheme that serves as a model case for local revitalization through collaboration between private industry and educational institutions. Furthermore, we aim to involve ourselves proactively not only in prefectural affairs but also in project planning for local cities and towns. In particular, the southern part of the prefecture lacks human resources and budget allocations. As a result, we also aim to promote lateral collaboration by having the Regional Area Strategy Center act as a go-between.
Mie Prefecture is making great strides with its initiatives. Do you feel that Nomura is providing added value to your efforts?
'Collaborative innovation' rather than a go-at-it-alone approach
Yamakawa:Actually, I think the prefectural government still has a ways to go. In this respect, 'collaborative innovation' is an important pillar for our vision for the prefecture. This phrase means that we'll work together to create new initiatives, instead of taking a go-at-it-alone approach. Creating something from scratch takes a great deal of time, a luxury we don't have at the moment. I believe the prefectural government needs to focus on what it does best. In turn, for places where we need assistance, we can work together with securities firms, banks and trading companies to leverage their strengths. We hope that the Nomura Group will provide professional, globally-minded support to help companies in Mie Prefecture expand their operations overseas and access funding.
What kind of role would you like universities to play in regional revitalization?
A university's neutral position will play an important role in the revitalization of the regional economy
Uchida:A university maintains a neutral position and profitability is not its top priority. Being a conscious and intellectual entity, a university provides a sense of ease and can move forward with a variety of different partnerships smoothly. Once people realize that is a university's core strength we will be able to provide even greater contributions to society.
What kind of expectations does Mie University have toward the Nomura Group in terms of achieving these contributions to society?
I'd like to globalize Mie Prefecture's economy through our relationship with the Nomura Group
Uchida:Mie University and local companies know a great detail about their local communities and markets. Yet, in order to obtain information on other parts of Japan and other countries, we need to borrow the strengths of a multinational company like the Nomura Group, which has a presence throughout Japan and the world. It will also be important to consider how we can leverage this information for the benefit of Mie Prefecture. Global trends will be of particular importance going forward. For example, having access to this information will enable us to examine which regions around the world match with our strengths as we look to expand our reach globally together with the region. I believe that our partnership with the Nomura Group will give us access to the latest trends in Japan and abroad, enabling us to make greater progress with local revitalization.
Response to Stakeholder Dialogue
Contributing to the revitalization of regional industries through initiatives directly related to our core business
Niisato:We are providing a wide range of support aimed at regional economic revitalization in Mie Prefecture. This includes support to the prefecture's only national university through our involvement in the Regional Area Strategy Center and to its government by helping companies in the prefecture to expand into the ASEAN market. We believe that assisting regional initiatives and helping to revitalize the local economy are integral to the growth of our own core business as well as to fulfilling our social responsibility. While this process is expected to require some time, we expect that our competitiveness will also be enhanced over the long term as a result.
Using our nationwide network of 178 head and branch offices, we will continually identify the needs of our clients locally and provide solutions to key issues by combining information obtained through these ventures with our group's vast global network.