Our Stakeholders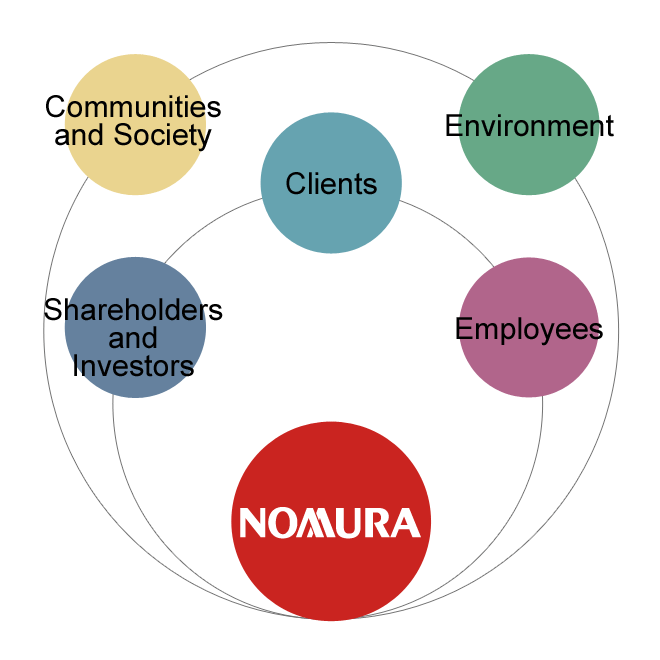 Clients
Our clients include individual investors, institutional investors, and private and public-sector organizations which participate in the capital markets and with whom we do business. We generate value for clients by delivering world-class products in response to their needs.
Shareholders and Investors
Individual shareholders, institutional investors, and creditors provide the group with operating capital. We generate value for shareholders and investors by ensuring the proper and timely disclosure of corporate information and generating returns by pursuing sustainable business growth.
Employees
Our employees work in offices around the world and add value to the Nomura group. We create working environments that optimize the potential of this diverse workforce, and opportunities for personal development, while providing appropriate remuneration for their services.
Communities and Society
We conduct business as a member of the community and of society as a whole. We understand social needs through dialogue with NGOs, NPOs, government agencies and the local communities where we operate. In addition, we contribute to sustainable development through such activities that address social challenges and public-interest policies.
Our Approach to Donations
Donations to various groups and organizations are determined on the basis of their relative impact on accomplishing the Nomura Group's initiatives on material issues, such as contributing to sound and sustainable capital markets and the Group's social responsibility as well as to the development of a sustainable society. They are extended through a stringent screening process in accordance with internal regulations.
Environment
Our operations directly and indirectly impact the global environment. In addition to reducing the direct environmental impact caused by our consumption of resources and energy, we help protect the global environment by considering the indirect impacts of our finance business and participating in projects that address environmental issues.
Suppliers
To ensure that we manage our suppliers appropriately, we have in place procurement regulations to guide our transactions with external vendors. In selecting suppliers, we confirm their suitability as transaction partners, and conduct prior screening based on prescribed procedures.
We have developed a set of Supplier CSR Guidelines, which outlines our CSR requirements when doing business with suppliers. These guidelines are consistent with the global standard embodied in the UN Global Compact, the UN Guiding Principles on Business and Human Rights, and the OECD Guidelines for Multinational Enterprises.
Suppliers who provide products and services to the Nomura Group are expected to understand and share our philosophy on preventing corruption, child labor and respecting human rights as expressed in our CSR Supplier Guidelines, as well as adhere to the Nomura Group Code of Conduct. Suppliers are also required to sign our Supplier CSR Guidelines. In addition, Nomura reviews its procurement policy and relationship with suppliers periodically and makes improvements as necessary.