Advisory and Financing

Nomura Group believes that the social mission of the financial services sector is to contribute to economic growth and sustainable social development by facilitating the appropriate flow of funds in the capital markets through products and services that meet the needs of customers. In addition, to fulfill our responsibility as a company that operates globally, we offer financial services that contribute to addressing climate change and social issues and promote initiatives aimed at achieving the Sustainable Development Goals (SDGs).
Highlights
Value of Sustainable Finance We Support
Attention to green bonds, social bonds, and sustainability bonds as means to address climate change and social issues is increasing, and the issuance amount of these SDG bonds is growing rapidly around the world. Nomura Group has assigned personnel in Japan and overseas offices dedicated to ESG-related work, and we are building up our underwriting track record for SDG bonds.
As of March 31, 2020
¥1,270.8 Billion / 72 Deals
We support SDG Bonds (Green, Social, Sustainability bonds) in which Nomura Group is involved
The Banker Investment
Banking Awards 2020
Nomura named Investment Bank of the Year for Sustainable Corporate Finance for its unwavering commitment to sustainable finance.

Addressing Environmental and Social Issues through Financing Support
Through underwriting SDG bonds, Nomura serves as a bridge between investors who want to contribute to society and projects with capital needs that aim to resolve social issues such as climate change. Nomura Group is engaged in sustainable finance in Japan and overseas, and is contributing to the achievement of SDGs using capital markets.
In 2017, Nomura Securities established a team dedicated to working on ESG bonds in the Debt Capital Markets Dept., and in 2018 the team got stronger by establishing a global structure. Utilizing a platform built in Europe, the Americas, Asia, and around the world, it delivers optimal solutions overseas for ESG bond issuance.
In Japan, Nomura Securities underwrote Sustainability Bonds issued by Obayashi Corporation and Japan Railway Construction, Transport and Technology Agency, and Green Bonds issued by Shimizu Corporation and the Japan Housing Finance Agency in 2019, and Green Bonds issued by Asahi Kasei Corporation and NTT Finance Corporation in 2020. Nomura Securities actively underwrite SDG bonds not only in Japan but also overseas to share market conditions and provide customers with useful information and proposals.
Nomura Securities was allotted the world's first Sustainable FITs (stock acquisition rights). Airtech Japan's stock acquisition rights are the first in the world in the form of equity financing to receive a second opinion from an evaluation organization from the perspective of ESG and SDGs, in the belief that the use and significance of the funds will contribute to the reduction of environmental impact through energy conservation and the resolution of social problems such as infectious disease countermeasures.
Track Records in Sustainable Finance
Japan Housing Finance Agency
JICA
Social Bond
February 2020
Tokyo Metropolitan Government
European Investment Bank
Climate Awareness Bond
July 2020
Nederlandse Waterschapsbank
IBRD
Sustainable Development Bond
May 2020
Inter-American Development Bank
Sustainable Development Bond
April 2020
Japan Housing Finance Agency
JICA
Social Bond
February 2020
Tokyo Metropolitan Government
European Investment Bank
Climate Awareness Bond
July 2020
Nederlandse Waterschapsbank
IBRD
Sustainable Development Bond
May 2020
Inter-American Development Bank
Sustainable Development Bond
April 2020
Strengthening Sustainability-Related Advisory and Financing Services
Nomura will provide solutions in sustainability-related fields in light of growing demand for sustainable products and social needs. We will continue to invest in growth areas and help our clients address their new needs.
Nomura Greentech

In April 2020, Nomura Group completed the acquisition of Greentech Capital Advisors, a leading boutique investment banking firm focused on supporting clients across sustainable technology and infrastructure. Under the rebranded Nomura Greentech, we will connect companies working to create sustainable technologies with investors and clients across different geographies to help them incorporate innovation into energy, transportation, food, water and waste infrastructure systems.
Working to Advance Sustainable Finance
Aiming to advance sustainable finance, we carry out a variety of initiatives, including promoting the establishment of international standards and holding seminars on the topic.
Promoting the Establishment of International Standards
SDG Bonds Issuance Amount (Involving Nomura Group)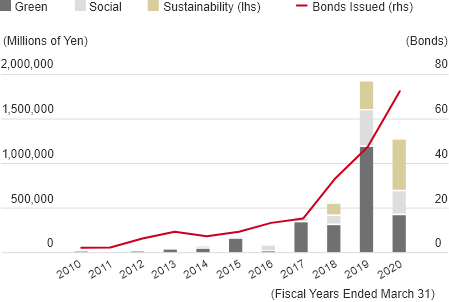 Our team of professionals collaborates across divisions and geographic borders to gather knowledge, monitor market and regulatory trends and expand our lineup of sustainable financial products and services.
Nomura was selected to join the Advisory Council to the Green Bond Principles and Social Bond Principles Executive Committee (GBP SBP Executive Committee) of the International Capital Market Association (ICMA) in October 2019. ICMA is a not-for-profit membership association that provides a wide range of services to member firms in global capital markets. Its more than 570 members include banks and securities houses, investors and capital market infrastructure providers. As a member of the 2019-2020 Council, Nomura provided key insights as a global investment bank and worked with other stakeholders to create a framework for global SDG bond standards, as well as growing the SDG market.
Enhancing ESG Literacy Through Seminars and Other Efforts
Nomura Group is holding many seminars led by experts in a series about sustainable finance. We are working to expand sustainable finance by providing cutting-edge information to a wide range of clients, including institutional investors and non-financial companies. We are also actively participating in external initiatives aimed at developing the market, such as presenting at international conferences on green bonds. We are also working to disseminate information to a wide range of people in all regions, such as by holding online seminars and conferences.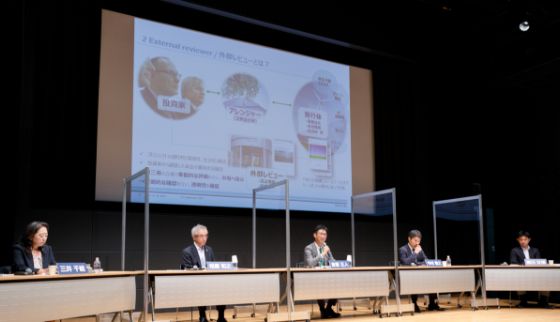 "Sustainable Finance Seminar" at Nikkei SDGs Festival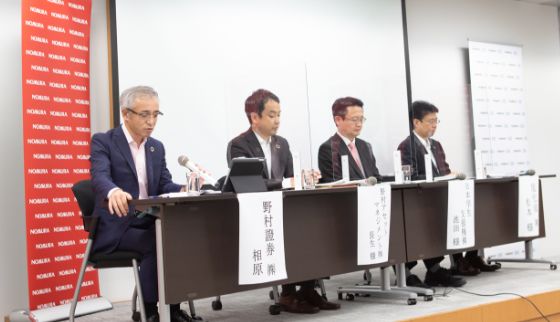 Nomura holds "The post-coronavirus world and the new SDG era" seminar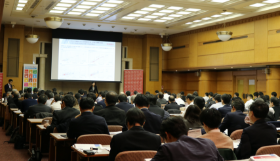 Nomura holds "SDGs Bond Market expansion and NOMURA-BPI SDGs" seminar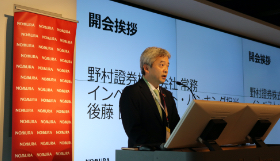 Nomura holds "The Age of Sustainable Finance - ESG/SDGs and Bond Markets" seminar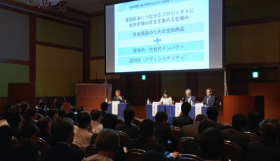 Nikkei SDGs/ESG summit 2019 "Nikkei SDGs/ESG Conference"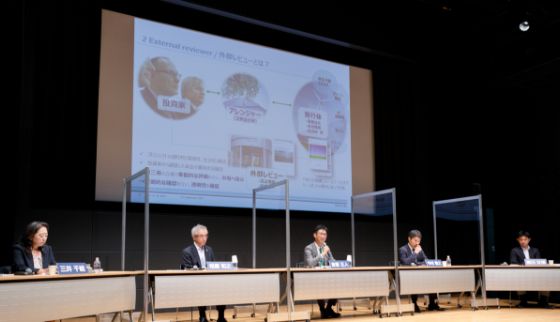 "Sustainable Finance Seminar" at Nikkei SDGs Festival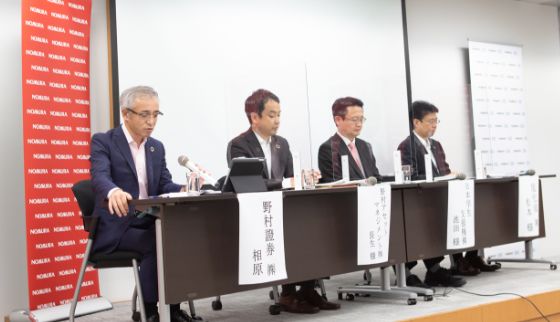 Nomura holds "The post-coronavirus world and the new SDG era" seminar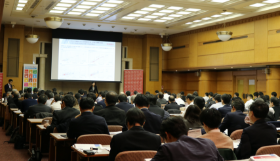 Nomura holds "SDGs Bond Market expansion and NOMURA-BPI SDGs" seminar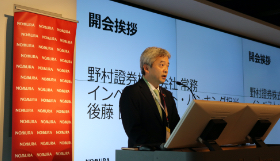 Nomura holds "The Age of Sustainable Finance - ESG/SDGs and Bond Markets" seminar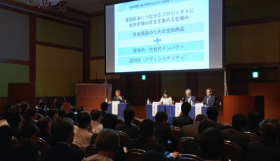 Nikkei SDGs/ESG summit 2019 "Nikkei SDGs/ESG Conference"