About Our Founder Tokushichi Nomura | 17. Incorporation of Nomura Securities Co., Ltd.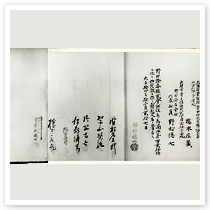 Over the next few years, Osaka Nomura Bank's involvement in the bond market deepened and securities transactions began to account for a progressively greater portion of overall revenues. With other parts of the bank's business also growing, it gradually became clear that it would be impossible to give adequate attention to securities if they were treated as simply one aspect of the banking business. As early as 1922, it was recognized that there was a need to establish the Securities Department as a separate organization.
Upon his return to Japan, Kataoka consolidated his plans for the new venture. Throughout 1924 and 1925, construction of a new office in Osaka went ahead. On November 27, 1925, a meeting was held at Nomura & Co. to draw up articles of incorporation and decide terms of subscription for its stock. There was some discussion on the name to be adopted, with "Nomura Securities Department, Inc." and "Nomura Bond House" finally rejected in favor of "The Nomura Securities Co., Ltd." Article 2 (Business Objectives) listed the firm's activities as, (1) "the underwriting and distribution of public bonds, corporate bonds, and stocks," and (2) "the buying and selling of public and corporate bonds." It was decided the new company would be capitalized at ¥5 million with 100,000 shares. Four days later, ¥2.5 million was paid in and a founding meeting held. It was formally resolved that The Nomura Securities Co., Ltd. would be established at 2-61, Azuchi, Higashi-ku, Osaka.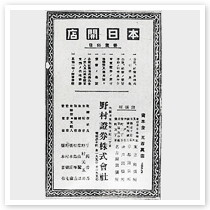 With Tokushichi now overseeing the general development of the Nomura enterprises, Otogo Kataoka was elected president of The Nomura Securities Co., Ltd. and all other founding members became directors. Ownership of the stock at this time was dominated by Nomura & Co., the parent company, with 98,000 shares. The remaining 2,000 shares were held by seven individuals involved in the new company's foundation. With all preparations completed, the new company was registered and The Nomura Securities Co., Ltd. was officially born. The date was December 25, 1925.