Corporate Design Partners Co., Ltd.
Company Outline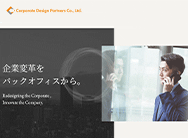 President
Hidekazu Tanaka
Address
Urbannet Otemachi Building 5F, 2-2-2 Otemachi, Chiyoda-ku, Tokyo 100-8130, Japan
URL
https://cdps.co.jp
(Only available in Japanese)
Capital
100 million yen
Corporate Design Partners was established in August 2019 to drive Nomura's initiatives to consolidate the finance and accounting functions of group companies and standardize business operations.
With business standardization as our core area of expertise, we are working to create a leading-edge cloud accounting system, as well as harnessing various technologies to develop a finance and accounting operating model that allows for minimal human involvement.
We will leverage Nomura's expertise in business consolidation and standardization to provide consulting services to help our clients build their businesses and deliver comprehensive BPO (Business Process Outsourcing) services.