Nomura Holdings, Inc. | Advisory Board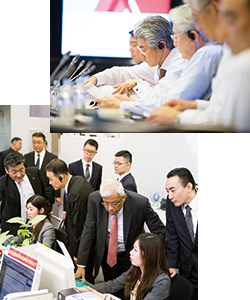 Nomura Holdings formed its Advisory Board in 2001 to advise the firm's Executive Management Board, which is responsible for making decisions on business executions.
In 2015, Nomura newly appointed four preeminent Asian leaders as Advisory Board members and up until March 2019 held seven meetings in Tokyo, Singapore and other cities. Nomura Executives were in attendance at each meeting and received advice from a variety of perspectives on matters including Nomura's business development in Asia, effective running of business operations and ways to foster human resources.
In 2020, Nomura is pleased to welcome the first non-Asian member to the Advisory Board to help advise management from a more global perspective.
Mr. Chartsiri Sophonpanich
President of Bangkok Bank Public Company Limited
He held various senior management positions in Bangkok Bank before being appointed President in December 1994 and has been a member of the Board of Executive Directors since 1992.
Advisory Board member since September 2019
Lord Hammond of Runnymede
Former Member of Parliament and Chancellor of the Exchequer
He served in the UK Cabinet for nine years, holding the post of Chancellor of the Exchequer from 2016 to 2019, Foreign Secretary from 2014 to 2016, Defense Secretary from 2011 to 2014, and Transport Secretary from 2010 to 2011. He was a Member of Parliament from 1997 to 2019 and was awarded a Life Peerage by HM The Queen in July 2020.
Advisory Board member from July 2020