Nomura Business Services Co., Ltd.
Company Outline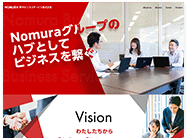 President
Kimimori Yano
Address
2-2-1 Toyosu, Koto-ku, Tokyo, 135-0061, Japan
Telephone
81 (0)3-6741-5000
URL
http://www.nomura-bs.co.jp/
(Only available in Japanese)
Capital
300 million yen
Nomura Business Services Co., Ltd. (NBS) was established in November 1985, and provides a wide range of back-office services for Nomura Group companies. These services range from stock and investment trust-related transactions to the administration of system products like employee stock ownership plans and "Zaikei" savings accounts (a government-sponsored savings plan for employees).
Our mission is to provide low-cost, high-quality back office services by developing efficient systems through exacting business flow analysis. With our proven track record, we are determined to remain a pioneer as a back-office function outsourcing company, improving on our already advanced services to support Nomura Group.