Nomura Funds Research and Technologies Co., Ltd.
Company Outline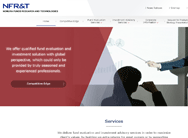 President
Akikazu Matsuda
Address
Nihonbashi Hamacho F-tower 16F,
3-21-1 Nihonbashi Hama-cho, Chuo-ku, Tokyo 103-0007, Japan
Telephone
81 (0)3-6367-3260
URL
https://www.nfrt.co.jp/nfr-t/en/
Capital
400 million yen
Nomura Funds Research and Technologies Co., Ltd. (NFR&T) offers tailor-made fund evaluation and investment advisory services to help clients meet their investment objectives. We leverage our strong global network and unmatched expertise in research and analysis to deliver solutions.
Led by our team of seasoned professionals and driven by our commitment to help clients achieve superior investment performance, we take advantage of innovative technologies to provide sophisticated products. Our strength lies in the unique synergy between our fund research and investment advisory teams, and our people's dedication to delivering consistently high quality services.
We continue to evolve and align our business strategy with the ever-changing needs of our clients, and strive to be a leader in the gatekeeping business in Japan.
Our aim is to maximize value for our clients and contribute to the continued growth of society.