Message from the Group Co-COO

Working toward 2020 Management Vision
With two years remaining to realize management's Vision C&C for the fiscal year ending March 2020, Nomura is fulfilling various initiatives and programs that are aligned with the vision and the Road to 2020.
As technology continues to evolve and the political and economic landscape around the globe reaches a historic turning point, we anticipate the business models of financial institutions will change more rapidly than ever before. Under these circumstances, we continue to challenge ourselves and pursue our philosophy of "placing clients at the heart of everything we do." We have dedicated ourselves to accomplishing the two main strategic goals of "business model transformation in Japan" and "improvement of profitability of our international businesses." With these goals at our core, we believe we are poised to steadily progress toward our management goal for 2020 of EPS of ¥100.
Management target (EPS*) and its progress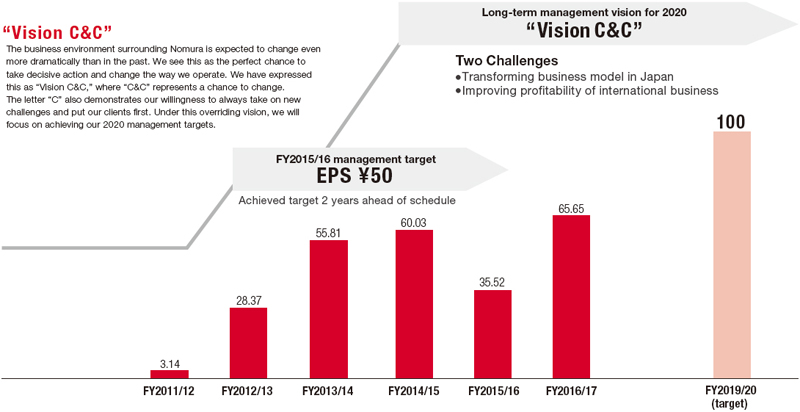 Net income attributable to Nomura Holdings shareholders per share
Performance and initiatives in each business
Below is an explanation of each division's initiatives to help us progress toward our March 2020 goals.
The Retail Division remains focused on achieving ¥150 trillion of clients assets by 2020, one of our key performance indicators (KPIs). To facilitate this asset growth, the structure of the Retail Division has been changed to allow more frequent and more effective touch points with clients. Also, as part of the structural change, heads of retail branches across Japan have been given the discretion to make more business decisions to remain flexible and stay closer to clients.
At the same time, within Retail, efforts to promote financial innovation through the introduction of FinTech, etc., will be accelerated.
In the Asset Management Division, we aim to maintain and expand our market share, while also contributing to the development and growth of Japan's asset management industry. As part of our efforts to achieve ¥55 trillion of AuM by 2020, one of our KPIs, we will also further expand our investment advisory business overseas by deepening our collaboration with American Century Investments.
The most important theme for the Retail Division and the Asset Management Division is to help address Japan's national challenge of expanding risk assets and increasing the flow of money from cash to securities and other investments. With regard to the recently reconfirmed "Customer-Oriented Business Conduct," both divisions are aiming to resolve any issues and improve performance by retaining the de facto standards of a leading company.
The Wholesale Division will continue to expand our Origination and Emerging Market businesses to meet clients' needs by deepening the collaboration between Global Markets and Investment Banking. Also, we will continue to focus on cross-border businesses by promoting and developing relationships across regions. Lastly, we will continue to balance prudent risk management and efficient resource allocation to establish a more stable business model that is not easily influenced by market fluctuations.
Key performance indicators (KPIs) to achieve 2020 management target*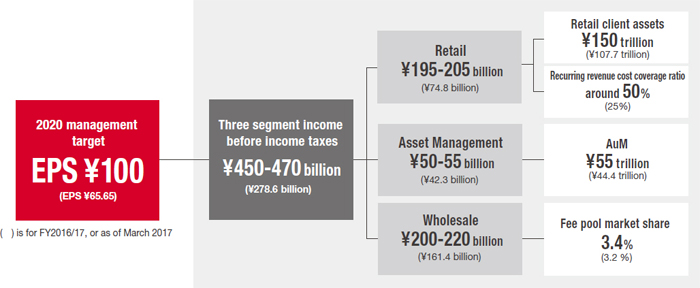 FY2019/20 market assumptions: Nikkei 225 at ¥25,000; USD/JPY rate ¥115; Effective tax rate for Japanese corporates below 30%; Global fee pool annual growth rate of 1%
April, 2018
Toshio Morita, Kentaro Okuda
Group Co-COO