Business
Cutting Edge in Food and Agriculture

The Sustainable Development Goals (SDGs) were adopted by the United Nations General Assembly in 2015. To spread the SDGs to all levels of society and achieve the goals set, the integration of the SDGs into the business strategy of companies is considered vital. This has led to accelerated efforts across various sectors to create a more sustainable future.
Agriculture offers one of the greatest possibilities for change. In recent years, the agriculture industry has been abuzz with terms such as Agri-Tech, smart farming and Agriculture 4.0, and expectations are high that digital transformation coupled with biotechnology will offer opportunities to develop new businesses.
Nomura Agri Planning and Advisory (NAPA) was established in September 2010, before this trend began. NAPA offers consulting in the field of agriculture and helps clients implement agricultural projects with the aim to contribute to regional revitalization and the sustainable growth of the Japanese economy.
Link between the SDGs and Food and Agriculture
The food and agriculture sector is closely linked to everyday social issues. But how does is it relate to the SDGs?
Agriculture has the important role of providing us with food. It is integral to Goal 2 of the SDGs which aims to achieve zero hunger. The world population is projected to increase from 7.7 billion in 2019 to 8.5 billion in 2030 and 9.7 billion in 2050. However, as a result of the gentrification of agricultural lands, extreme weather, and labor shortage, globally we are unable to keep up with the demand for agricultural produce. To ensure access to safe, nutritious and sufficient food for all people worldwide, it is imperative that we establish innovative platforms for agricultural production and distribution.
Outlook for Global Food Demand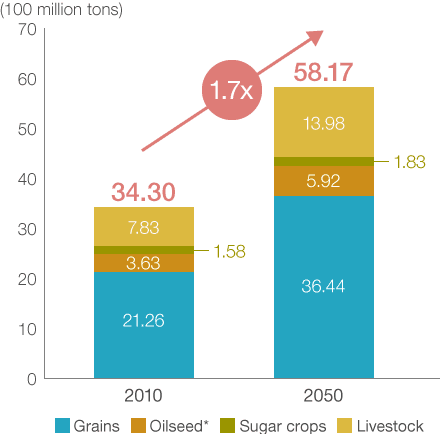 ※Seeds grown primarily for the production of edible oils.
Source:World food supply and demand projections to 2050 (Results by the World Food Supply and Demand Model) , Ministry of Agriculture, Forestry and Fisheries (2019)
In addition to ensuring a safe supply of food, there is a move to create a sustainable food and agriculture ecosystem. Greenhouse gas emissions, which are said to cause global warming, are often associated with such fields as power generation, factories and automobiles. Surprisingly, agriculture and livestock farming produce fairly large amounts of emissions.
An increasing number of young consumers is opting for plant-derived meat substitutes based on ethical considerations such as animal welfare and protection and the burden agricultural production places on the environment. This is related to SDG Goal 12 (Responsible consumption and production), Goal 13 (Climate action) and Goal 15 (Life on land). If we include the primary industry of fishery, it also relates to Goal 14-Life below water.
Emissions of Greenhouse Gases (GHG) from Agriculture, by Source at Global Level

Source:The State of Food and Agriculture 2016-Climate Change, Agriculture and Food Security (Japanese edition) , published by Japan Association for International Collaboration of Agriculture and Forestry (JAICAF) based on a publication by the Food and Agriculture Organization of the United Nations (FAO)
Labor is critical to agriculture. Like other primary industries, the agricultural sector faces an aging workforce and a growing number of youth who are leaving the industry. Cutting-edge technologies are being introduced as a means to resolve these issues. This is closely related to SDG Goal 8 on decent work and economic growth and Goal 9 on industry, innovation and infrastructure.
Three Changes Brought About by Technology
Behind the growing focus on the food and agri business as a growth industry are advances in information technology and biotechnology. Information and communication technology (ICT) and agricultural biotechnology have made the process from production to distribution in the food sector more efficient. Here are three ways in which technological innovation is revolutionizing the food and agri business.
(1) Automation of Agricultural Production
Automated production platforms have made farming and fishing possible without the need for a large number of people. For example, in Almeria, Spain, more than 30,000 hectares of greenhouse covered land is supported by advanced ICT technologies. In Norway, there are salmon farms equipped with monitoring cameras and an automated feeding system. When the salmon grows to a certain size, they are caught and trimmed into fillet by a robot and shipped out. This next-generation platform is not only labor saving, it also allows for large-scale management.
(2) Emergence of Startups Offering Meat Alternatives and Insect Food
Meat substitutes and insect food have emerged as an environmentally-friendly alternative to agriculture and livestock farming, which places a significant strain on the environment due to the large amounts of natural resources, such as water and land, required, and the emission of greenhouse gases. Many startups have turned their attention to developing proteins more cheaply and efficiently, including plant derived meat substitutes similar in taste and texture to real meat, and one company in Japan that has developed a completely automated system for the production and harvesting of edible crickets. In addition, there is increased focus globally on cellular agriculture, the production of food from cell cultures.
(3) D2C Using Social Media and Crowdfunding
D2C (Direct to Consumer) is a strategy in which a company sells its products directly to consumers, bypassing intermediaries. Producers create a community with consumers mainly through social media and workshops. This gives consumers the peace of mind of 'seeing' the manufacturer or producer, and for producers it is an opportunity to market their products directly to the end customer. People in their late 20s to 30s who make up the millennial generation will comprise the core group of consumers going forward. Distribution and marketing is changing to reflect the values of such millennials who want their choices to impact social issues. Crowdfunding has also become more widespread in the food and agri business.
Changing the Future Through Food and Agriculture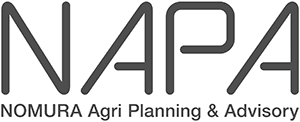 Nomura Agri Planning & Advisory (NAPA) has extensive expertise in food and agriculture built through deep market research and from operating its own farm. NAPA advises corporate clients on food and agriculture, including the latest technologies, and helps them implement a wide range of agricultural projects. In addition, NAPA provides business model proposals to clients looking to enter the agriculture business and advises companies that want to invest in agricultural corporations and startups.
In February 2020, NAPA hosted the Nomura Global Food and Agri Forum 2020 with the support of 18 major corporations, financial institutions and universities. The two-day program was attended by over 400 people who benefited from presentations by people at the forefront of the food and agri business worldwide and panel discussions. Globally, there are many examples of companies that have used advanced technology to expand and optimize production, and that have successfully scaled up sales by transforming branding and distribution. The forum offered companies on the cutting edge of the agri business the opportunity to network and learn from these examples.
Approximately 20 venture companies and corporates took part in a startup pitching event held in parallel to the forum, presenting on new business models, technologies and solutions in the food and agri sector. Manufacturers of insect food, victimless meat and land-based aquaculture received a particularly high level of attention, underpinning strong interest in the sustainable supply of food and achievement of the SDG goals.
In April 2020, NAPA published Food & Agritech in 2030, a Japanese language book on the latest in food and agricultural technology.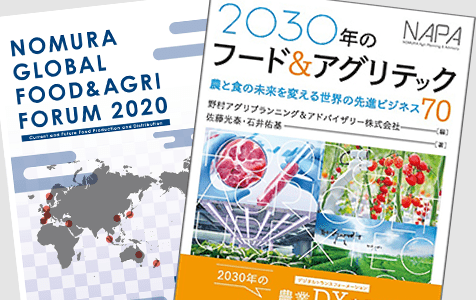 The food and agriculture sector offers tremendous potential for revolutionizing the future. NAPA will continue to build on its initiatives in this sector as part of Nomura Group's commitment to help resolve issues affecting society.
References
Food & Agritech in 2030 , co-authored by Mitsuyasu Sato and Yuuki Ishii, edited by Nomura Agri Planning & Advisory (2020)
World food supply and demand projections to 2050 (Results by the World Food Supply and Demand Model) , Ministry of Agriculture, Forestry and Fisheries (2019)
The State of Food and Agriculture 2016-Climate Change, Agriculture and Food Security (Japanese edition) , published by Japan Association for International Collaboration of Agriculture and Forestry (JAICAF) based on a publication by the Food and Agriculture Organization of the United Nations (FAO)
SDGs Goals
Stories List