Retail | Strategies for Value Creation
Strengths, Challenges, Actions
Strategy (Actions to create value)
Market Conditions and KPI Targets for 2020
Asset management needs are growing as interest rates remain low. Also, advancement of aging society makes our client needs more diversified, such as the needs to prepare for a lifespan of 100 years and for passing down assets to the next generation. Under these conditions, the Retail Division is working to change its business model and aspires to expand the business through enhancing client trust and satisfaction. Our key performance indicator (KPI) targets for FY2019/20 are client assets of ¥150 trillion and recurring revenue of ¥150 billion. Through these targets, we aim to establish a stable revenue stream that is not susceptible to the market.
To meet these targets, we executed an organizational change in accordance with the clients' needs in the last fiscal year. We are also working to enrich different services in order to provide comprehensive solutions for clients'assets, covering not only asset management but also inheritance, business succession, M&A and real estate.
The annual customer satisfaction survey was conducted for the year as well. We will introduce a range of improvements based on clients' wishes in a bid to increase their satisfaction.
Retail Division's KPI targets for achieving the management vision for FY2019/20
| | FY2013/14 | KPIs for FY2019/20 |
| --- | --- | --- |
| Income before income taxes | ¥192 billion | ¥195 billion to ¥205 billion |
| Retail Client Assets | ¥91.7 trillion | ¥150 trillion |
| Recurring revenue | ¥53.9 billion | Approx. ¥150 billion |
| Recurring revenue cost coverage ratio | 17% | Approx. 50% |
Image of revenue composition
Constructing a Revenue Structure Not Susceptible to the Market
-Measures to Increase Recurring Revenue-
Recurring revenue refers to revenue received from ongoing services related to client assets such as investment trust administration fees. The Retail Division will provide investment trust and discretionary investment through consulting services to accumulate recurring revenue and consequently establish a revenue structure that is not susceptible to the market.
To increase recurring revenue, we will continue to broaden the lineup of investment trust products by adding products in areas where rapid growth is expected and in growing medium- and long-term asset building. For discretionary investment, we will enrich related services. From May 2018 onwards, clients are able to have a maximum of eight Nomura Fund Wrap and Nomura SMA accounts in total in accordance with their purpose of using funds.
Actions for Discretionary Investment
2017
Launched the Nomura SMA trust with dividend withdrawal function
2018
Launched the wrap trust
Launched funds for the refund of fixed amounts and times
Changed the amount of reduction from "¥1 million or more" to "¥10,000 or more"
Reduced the minimum contract amount of "SMA(Executive Wrap)" from ¥50 million to ¥30 million
Launched accounts by purpose
Proposing comprehensive solutions for all assets by counseling clients
-For expanding consulting-related revenue-
Consulting-related revenue refers to revenue from insurance, real estate, M&A, underwriting and financial consulting. We provide clients with high value-added services for all their assets in addition to existing services related to securities by taking advantage of the Group function.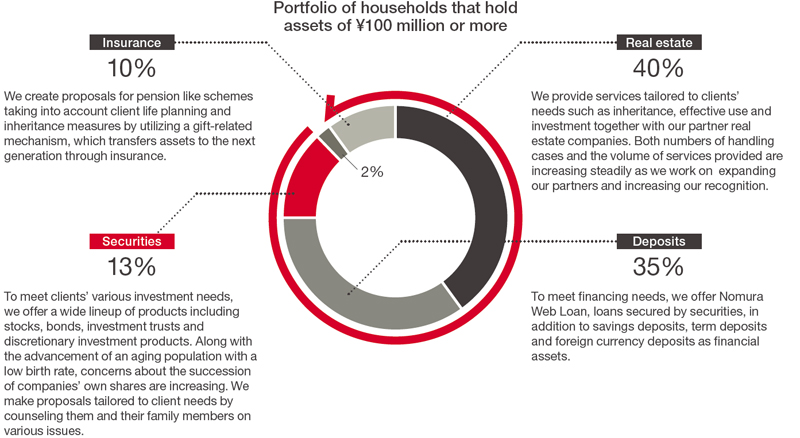 Source: Nomura, Statistics of the Ministry of Internal Affairs and Communications "2014 National Survey of Family Income and Expenditure"
Actions Tailored to Clients' Needs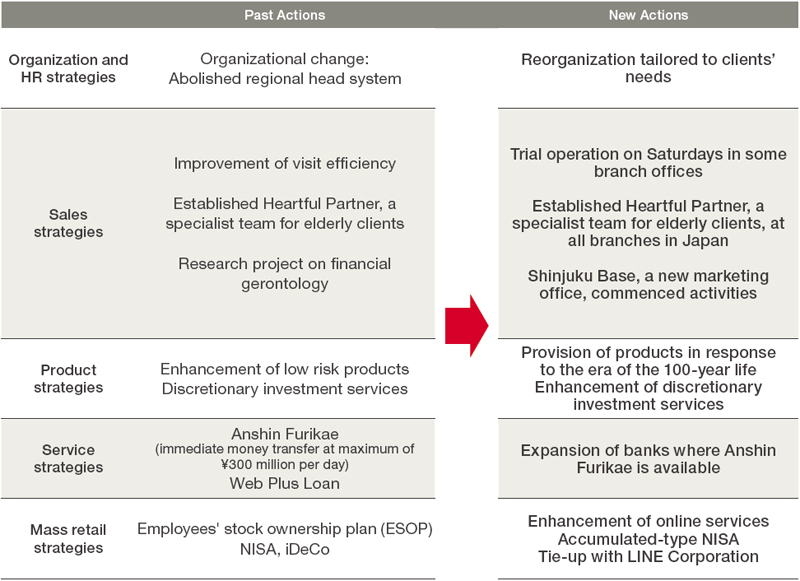 For resolving social issues
Launched the Mago Channel service
In October 2017, we launched the Mago Channel service that provides clients of Nomura Securities with connections to their family members across generations and distance in collaboration with Chikaku Inc. Mago Channel, an IoT product of Chikaku, is a communication tool which users easily share the daily lives of family members and the growth of children and grandchildren by projecting videos and pictures onto a TV screen using a dedicated device and application. The structure of society continues to evolve, driven by fundamental changes such as the aging of the population and a shift away from multi-generation households to nuclear families. Amidst such changes, we remain committed to supporting our clients in achieving their financial goals, as well as seek to develop and introduce new technologies which enrich our clients' lives, bringing them closer together to both their families and society.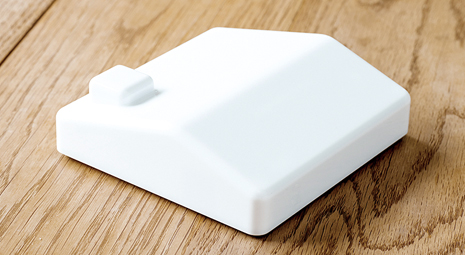 Receiver box of Mago Channel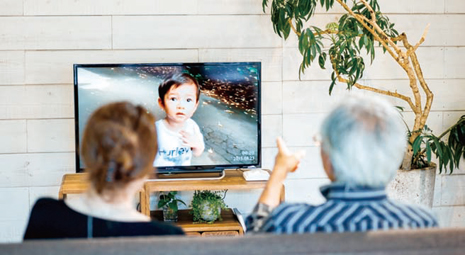 Sample image of Mago Channel
Financial gerontology* research
-Actions from an asset management perspective towards a long-life aging society-
To have a comfortable life in retirement and pass assets on to the next generation in the era of the 100-year life, individuals need to actively engage in the formation and management of financial assets. However, we must acknowledge that physical strength and the judgment necessary for asset management fades with aging. Together with Keio University, Nomura Securities launched a study on how to invest and manage individual financial assets for longevity. Our proposals help ensure that we are a financial institution at the forefront of Japan. The study has led to improvement of our services through Heartful Partner, a specialist team for aged clients.
Financial gerontology is a study of the impact of longevity and aging on economic and financial behaviors.
Launched a joint research on financial gerontology
Comprehensive asset management services to help clients extend asset life while also handling declining cognitive function in aging