Wholesale | Strategies for Value Creation
Strengths, Challenges, Actions
Strategy (Actions to create value)
Market Conditions and KPI Targets for 2020
The operating environment of the Wholesale business has undergone a significant structural shift as evidenced by greater regulation of financial institutions, a transition to passive strategies in the asset management business and growing downward pressure on transaction fees as digitalization continues to penetrate the market and we anticipate the market will continue to experience further structural change. Additionally, a shift in the composition of the Wholesale fee pool has been observed over the past two years, with a reduction in the proportion of traditional sales and trading revenues and a shift toward non-traditional business as corporations seek financing and solutions and our clients increasingly pursue crossborder business opportunities.
Composition of Wholesale fee pool*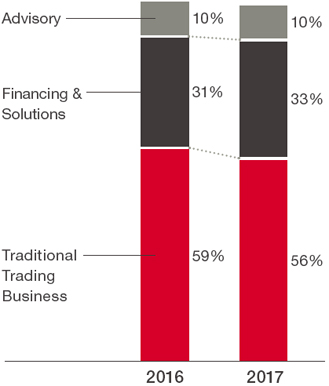 Source: Coalition; Advisory includes M&A, Financing & Solutions includes Traditional & Non-Traditional Financing, and Asset/Liability Derivative Solutions; Traditional Trading Business includes Liquidity & Market Making & Agency businesses across Fixed Income and Equities
The Wholesale Division is engaged in the execution of numerous initiatives to ensure that we optimally adapt to the shifting market environment. In order to meet the evolving needs of our clients, in April 2018, we established the Client Financing & Solutions (CFS)organization within Wholesale, bringing together critical Global Markets and Investment Banking capabilities under a unified organizational structure. Additionally, we continue to pursue the expansion of our client base and increase our capture of cross-border opportunity through efforts such as further establishing our presence in the U.S., the largest market globally from a fee perspective, as well as undertaking strategic investments within the market. We are also deploying technology initiatives such as leveraging the application of machine learning in our trading business in order to ensure we remain at the technological frontier and to maintain step with the rapid pace of technological advancement.
At the same time we continue to place great focus on expense rationalization and risk control and we anticipate these and other efforts to contribute to the achievement of the Wholesale Division's objective to record ¥200-220 billion in FY2019/20.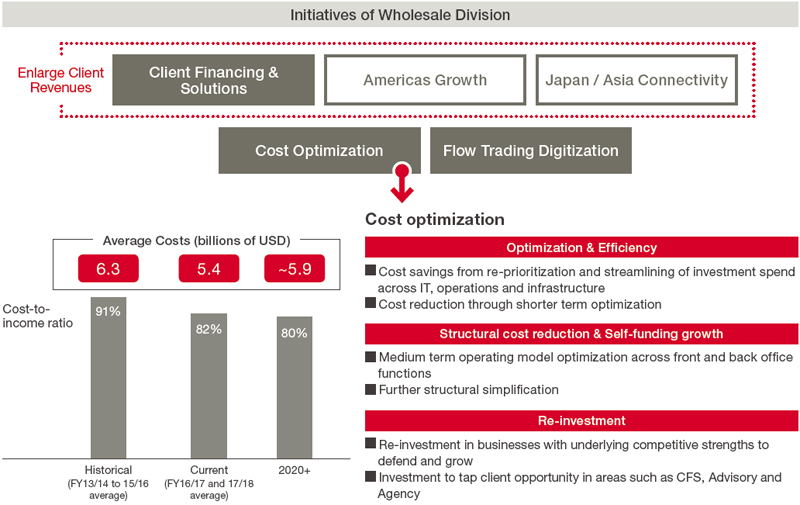 Initiatives through CFS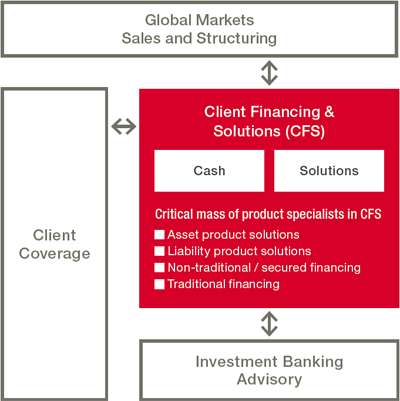 The establishment of the CFS structure has allowed us to realize the integration of the Wholesales Division's financing, structuring & solutions expertise into a single,client-focused hub, which seamlessly partners with various teams across our organization to deploy a uniform client strategy to deliver value to our clients. This centralized structure allows us to concentrate expertise,deepen client penetration and enables the deployment of a unified strategy across Wholesale.
While the shift in our clients' needs toward a broader range of financing, capital and hedging solutions is not without its challenges, we believe it will also be the key driver of Wholesale fee pool growth. Our organization is well positioned to seize upon this opportunity.
Leveraging digitalization
At Nomura, staying at the forefront of digital innovation is a key priority for both the Group as well as the Wholesale business. The emergence of new technologies and digital assets are bringing fundamental transformation to the market and Artificial Intelligence, Machine Learning and Automation offer both revenue and cost opportunities across our business.
In order to drive initiatives in this area we have recently established the Wholesale Digital Office, which will lead the implementation of technological innovation across our platform to support superior price discovery, enhance client services, drive greater productivity and efficiency and build out our footprint in digital assets.Through these and other ongoing initiatives, Nomura ensures it is well placed to leverage digital innovation in reinforcing our competitive position and providing differentiated services to our clients.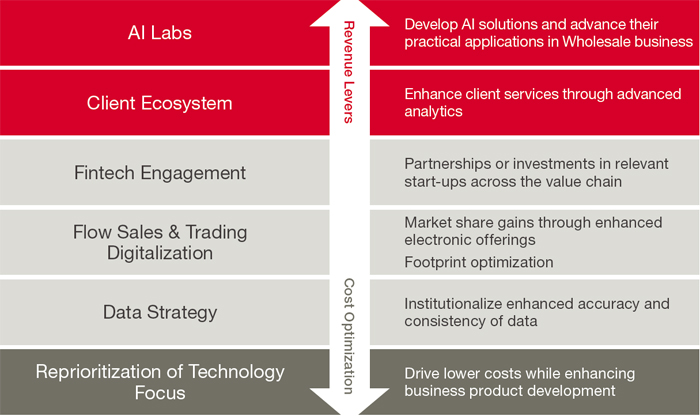 Contributing to the Smooth Operation of Markets
As an active participant in both primary and secondary markets, Nomura's Wholesale business plays a key role in ensuring the flow of capital and liquidity around the globe. Our efforts help connect businesses seeking funding with investors seeking investment opportunities, and our readiness to provide liquidity to investors bolsters confidence in the markets, contributing to the smooth function of the world's capital markets as well as supporting innovation, the creation of jobs and economic development.
Additionally, we offer a range of innovative products and services which enable our clients to flexibly meet the variety of challenges posed by the introduction of the Corporate Governance Code such as the need to dispose of cross shareholdings and accessing funding while minimizing equity dilution.
Fostering the Development of the Green/Social Bond Markets
ESG (Environmental, Social and Governance) investing continues to gain momentum as the importance of social and environmental issues continue to gain traction around the globe and Wholesale is actively engaged in efforts to contribute to the development of these markets.
In Japan the Wholesale Division is actively engaged in the development of the green/social bond markets. In addition to establishing a dedicated ESG bond team in 2017 to better meet client needs, we underwrite various green/social bond issuances such as Japan Railway Construction, Transport and Technology Agency Green Bonds and JICA (social) bonds, provide guidance to prospective issuers of green/social bonds and advise them regarding their own such issuances.
Furthermore, Wholesale seeks to contribute to the accumulation of knowledge and the development of understanding of the green/social bond market by market participants through a variety of educational initiatives, such as participating in a dedicated cross-sector green/social bond research group established by Nomura Research Institute, participating as a panelist in the "Developments in the Green and Social Bond Markets" seminar co-hosted by ICMA and the JSDA in November 2017, and most recently,co-hosting a green bond seminar together with Bloomberg in May 2018.
Global labeled green bond issuance volume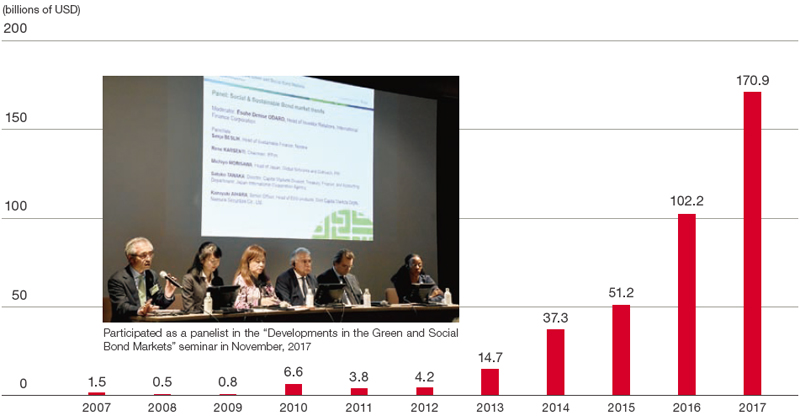 Source: Bloomberg NEF