Wholesale | Strategies for Value Creation
Strengths, Challenges, Actions
Vision and its initiatives
The key focus of Wholesale business is to be at the forefront of developments in the capital markets and seamlessly serve the needs of our clients globally across primary and secondary markets, while ensuring consistent and sustainable contribution to the profitability of the firm. With a momentum gained from the strategic realignment of the business portfolio in April 2019, Wholesale franchise is well positioned to deliver extensive market access and liquidity, differentiated products and services, and tailored-made financing/solutions across market cycles.
There are number of initiatives to reinforce the Wholesale platform and position for further growth and diversification of the portfolio of businesses. Strategic focus is to generate new opportunities pivoting on the strength in our secondary trading platform, scale-up of the Advisory business globally leveraging our unparalleled Japan franchise, develop new revenue streams through digital transformation and build-up of capabilities in digital assets, and realize synergies with Greentech to broaden our presence in the ESG space.

Uncertain impacts such as regulatory changes are not considered at present.
Initiatives in next three years
Our immediate focus is to ensure stability and resilience of the business as the global economy and markets emerge out of the impact caused by coronavirus pandemic, and continue to provide uninterrupted service to our clients while maintaining robust risk management to safeguard from uncertainties ahead. In the medium term, Wholesale is focused on achieving the $1.1bn PTI target, mainly through initiatives shown below.
Point 01: Business strategies
Maintaining core business strengths and deployment of resources to high growth, high return areas
Point 02: Digital transformation
Improved platform efficiency as well as new revenue streams through digitization initiatives
Point 03: ESG initiatives
Further into ESG space leveraging recent Greentech acquisition, etc.
Cost reduction
Delivering on remaining structural cost saves of $0.3 billion by March 2022
Point 01: Business strategies
Our business strategy is mainly focused on continuing momentum in core areas, while capitalizing new growth opportunities and focus on cost efficiency.
Diversification of revenue stream and further expansion of market share in agency execution
Leverage momentum in secondary trading businesses and use of technology for further differentiation and improved productivity in Flow Trading
Further development of structured and solutions offerings
Prudent risk management and improving resource efficiencies through flexible deployment of management resources
Leverage our strengths in the public market to enhance our presence in private markets
Continue to invest in priority areas and strengthen advisory functions to support new customer needs
Pursue new business opportunities through partnerships with third parties and invest to build new digital businesses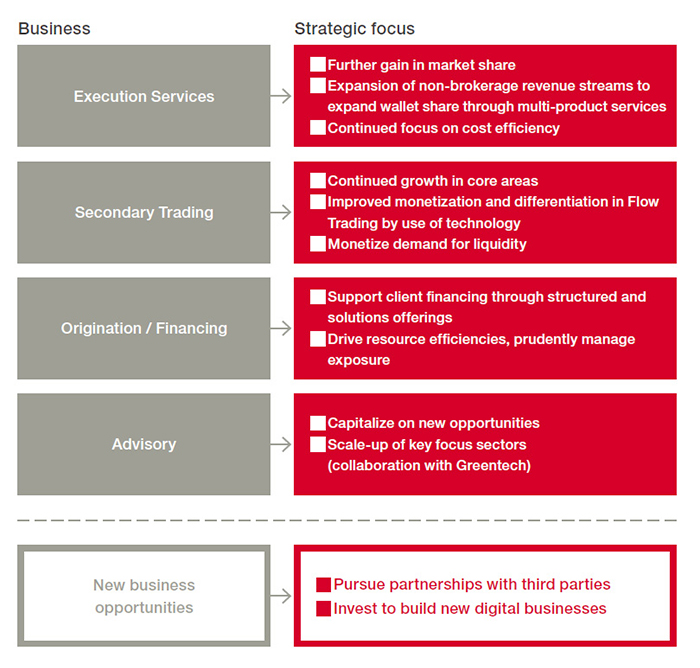 Point 02: Digital transformation
A key lever of our business strategy are digitization initiatives to improve productivity and nurture new revenue streams.
Digitization of existing platform includes advanced analytics, AI tools and execution algorithms for pricing and hedging in eTrading, deployment of AI tools in secondary businesses for pricing, hedging and market making as well as improved efficiency through automation of manual processes and retiring legacy platforms, redundant infrastructure.
Additionally, we intend to explore new business opportunities in the digital space, through recently launched Komainu, a regulated digital asset custody solution for institutional clients, to broaden our digital asset footprint as well as further build on successful underwriting of Japan's first block chain based digital bond leveraging block-chain platform BOOSTRY.
Point 03: ESG initiatives
To accelerate financing and solutions for projects that will support a carbon-free society, we have established the "Wholesale Sustainability Forum" under the ESG Committee, with Head of Wholsale Division as the chair and members from related departments.
The Forum will continue to accumulate relevant expertise, monitor trends in markets and laws and regulations, identify opportunities for financial products and services that contribute to a sustainable society, and actively participate in industry activities.
As part of our ongoing commitment to sustainable finance, Nomura acquired Greentech Capital in April 2020, a leading boutique investment banking firm focused on sustainable technology and infrastructure. This acquisition will help Nomura respond better to diverse client needs with stronger environmental, social and governance-related primary and advisory services, and expand industry expertise.