Respecting Human Rights
We have established various mechanisms to prevent discrimination and harassment, in accordance with the Nomura Group Code of Ethics. Specifically, we set up the Nomura Group Human Rights Committee to debate and determine human rights initiatives as well as to share information across the group from its secretariat.
In addition, we continue to hold human rights training for all Nomura people, including members of the Board of Directors, to create greater awareness about human rights issues and make everyone aware of our consultation contacts for these matters.
All types of consultation contacts are available both within and outside the Company through our Sexual Harassment/Power Harassment Hotline to help prevent all types of harassment in the workplace. In addition, the Human Rights Awareness Office provides similar advisory functions for other human rights issues
Human rights training structure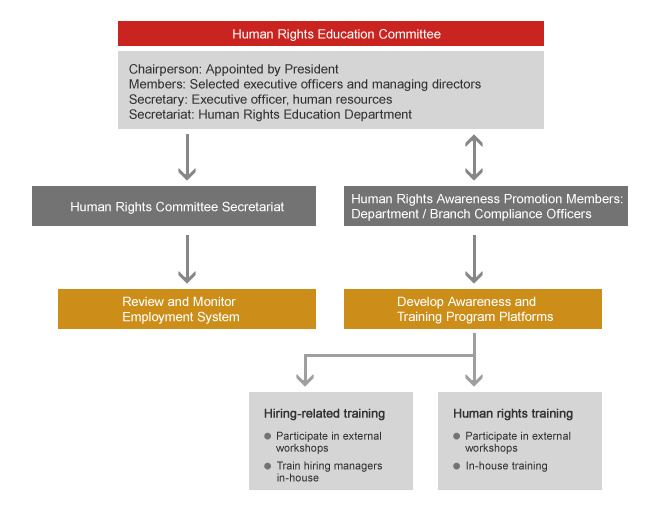 Preventing Sexual Harassment and Power Harassment
To prevent sexual and power harassment, we have compiled the Sexual Harassment and Power Harassment Prevention Guide, set up consultation contacts both internally and externally, and hold training sessions. In 2012, we fully revised the Sexual Harassment and Power Harassment Prevention Guide based on recommendations on workplace bullying and harassment issued by a roundtable set up by the Ministry of Health, Labour and Welfare. We have also set up sexual harassment and power harassment hot lines both inside and outside the company that are able to receive complaints about all forms of harassment in both English and Japanese.
HIV
In April 2006, we revised our existing guidelines on HIV-infected employees first established in 1994, creating the Basic Policy Concerning HIV-infected Employees. This policy clearly stipulates that the Nomura Group will eliminate discrimination and prejudice and work harder to safeguard the human rights of HIV-infected employees.
Basic Policy Concerning HIV-infected Employees in Japan
The Nomura group shall neither dismiss employees on the grounds of HIV infection nor subject them to any other form of discrimination.
The Nomura group shall rigorously safeguard the personal data of HIV-infected employees.
The Nomura group shall not test for HIV in regular employee health checks.
The Nomura group shall strive to ensure that executive officers and employees have a correct understanding of HIV to prevent infection and eliminate prejudice toward those infected with HIV.
The Nomura group shall create workplaces where HIV-infected employees can comfortably work.
Making Efforts to Resolve Human Rights Issues through Multi-stakeholder Dialogue
During the two-year period that in fiscal 2012/13, as part of our human rights initiatives, we have participated in the Nippon CSR Consortium, which approaches human rights through dialogue.
In the Human Rights Due Diligence Workshop, which is one of these initiatives, companies and NGOs are continuing discussions regarding the theme "Human Rights Issues that Companies Should Be Aware of and Consider."
In these discussions companies and various NPOs and NGOs as well as specialists and others assembled to review major human rights issues by industry and determine their importance as well as discuss measures that should be taken. These discussions deepened the understanding of human rights issues. Looking ahead, the Nomura Group will move forward with its initiatives to address human rights issues.