Overview
The Nomura name has been synonymous with research since our founding. We remain dedicated to offering insightful research and analysis, which is ever more important in today's uncertain investment environment. With research hubs in key Asia-Pacific markets, including Tokyo and Hong Kong, and in London and New York, we currently have almost 600 researchers in 15 countries and regions globally. Our researchers collaborate closely across regions and disciplines to track changes and spot future trends in politics, economics, foreign exchange, interest rates, equities, credit and quantitative analysis. This extensive network of intellectual capital provides our clients with timely, actionable information.
Broad Equity Research Coverage
Our research offering is our distinctively broad coverage in equity research. We launched our US coverage in earnest in October 2010 and have extended coverage there to key sectors, which include financial services, telecommunications, technology, and retail. In Southeast Asia, we have broadened our scope to include Indonesia, Malaysia, and the Philippines in tandem with growing business needs. At of the end of March 2012, our global equity research coverage extended to about 2,000 companies across Japan, Europe, Asia and the US.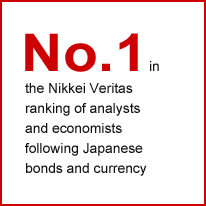 Award-winning Research
Our research consistently receives high industry recognition. In the 2012 equity research rankings announced by Institutional Investor, we again ranked number one overall in Japan, while in overseas regions we ranked first or second in a range of sectors and disciplines including, in Asia ex-Japan, telecommunications, financial services and fixed income strategy. In Japan, we topped the Nikkei Veritas rankings for bond analysts and economists and Japanese equity analysts, while in FinanceAsia's fixed income poll, we jumped to second place overall.
In foreign exchange research, our teams have won high marks around the world, placing top in the Institutional Investor rankings in the US, second in Europe, and third in Asia.
High-quality, Timely Research with a Focus on Global Trends
We offer timely, clearly presented evaluations of global trends and anticipated developments in reports covering such themes as the risk of a collapse in the euro, the practical application of renewable energy, and corporate governance. Our top-level teams in such specialist fields as geopolitics, economics, interest rates, equities and credit work together to coordinate investment opinions and offer investors high-value-added investment ideas.
We observe that the sustainability of companies being considered for investment is increasingly being evaluated in three non-financial areas–environmental, social, and governance (ESG). In North America and Europe, such evaluation is not only a requirement for "responsible investment," but some investors consider ESG to be a standard for valuing a company's long-term performance.
At Nomura, we have started listing companies' ESG ratings along with our fundamental analysts' ratings in research reports with strong environmental themes, such as ones on geothermal power and power grid stabilization measures. We intend to increase the number of ESG-oriented reports and also develop indexes based on ESG information to meet client needs.
ESG rating