Overview
The Retail Division delivers a wide range of financial products and high quality investment advice, consistently enhancing its services in order to respond to the diverse and increasingly sophisticated needs of clients. These services are provided through several channels including a nationwide network of 178 branch offices (as of March 31, 2012) and Nomura Net & Call, which commenced services in October 2011.
We seek to strengthen our consulting-based sales, and deliver top-quality products and services tailored to the needs of each client, so that the Nomura Group can remain a trusted partner to our clients.
Market Environment
Retail investors in Japan face an increasingly uncertain environment both at home and abroad. Domestically, more than a year and a half have passed since the earthquake and tsunami disaster, but Japan continues to face many issues including serious structural challenges that were present prior to the disaster, such as the country's fiscal problem, a dwindling birthrate and an aging population. Internationally, the prolonged European sovereign debt crisis and other geopolitical risks are deepening.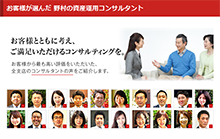 With uncertainty growing due to this complicated mixture of social factors, it has also become difficult to predict the emerging market environment. As a result, our clients are concerned about how they should design their investments for the future, in order to prepare for the likely risks that lie ahead and safely pass on their assets to future generations.
Meanwhile, the evolution of digital information devices and the growth of global communication networks have reduced the disparity that once existed in accessing information. These have enabled anyone to keep abreast of the latest information, and as a result, clients' engagement with the market is changing at an accelerated pace.
Given this environment, clients' financial needs are becoming increasingly diverse and sophisticated. This requires financial institutions to provide even greater levels of service, tailored to the needs of each individual client.
Over half of Japan's personal financial assets continue to remain in savings and deposit accounts. As a result, the role of financial institutions continues to be essential in ensuring a smooth flow of funds into the economy. Moreover, through their services, financial institutions are expected to make contributions to the development of the economy and society.
With a nationwide network of branch offices, call centers and Internet services, we will continue to provide world-class products and services centered on consulting-based sales, and implement a series of strategic initiatives to ensure we remain a trusted partner to our clients.
Looking Forward
The challenging business environment will likely persist in FY2012/13. Nevertheless, Retail will seek ways to expand profitability by promoting a thorough approach to consulting-based sales, while also growing client assets. We will continue to focus on strategic initiatives around our distribution channels, marketing, network of branches, human resources, products and IT technologies, and we will implement various tactical measures aimed at making further strides forward.
In catering to the diverse needs of both retail and corporate clients with face-to face services, we have set up special desks staffed with highly knowledgeable financial professionals at our nationwide network of branch offices. In FY2011/12, an additional four branches were opened in Tottori, Imabari, Shonai and Kamiooka in order to broaden interaction with our clients. We launched Nomura Net & Call last October to provide non face-to-face services via the Internet and call centers. We will continue to enhance our service offerings with the hope of laying the groundwork for addressing the needs of an increasing number of clients going forward. For clients with Japanese-style ESOPs and defined contribution pension funds, we also continue to provide convenient services.
In addition to these structural improvements, Retail recognizes the importance of enhancing client satisfaction by delivering top quality services that meet the various needs of clients better than ever before. We offer our people on-the-job training to help them increase their consulting skills. This practical training is reinforced by head office support given to branch offices. Moreover, we continue to expand our lineup of products and services that accommodate client needs, streamline our operations using IT technologies and focus on enhancing our level of client service. As we build up our capabilities, we remain committed to taking our Retail operations to the next level and creating an organization that contributes to our clients, our regional economies, and our society.