Promoting Industrial Advancement and Innovation

Nomura contributes to creating a sustainable society and industrial advancement by leveraging the Group's global network and high level of expertise to revitalize regional areas, energize various fields including agriculture and healthcare reform, as well as promote innovation.
Regional Revitalization
In Japan, the number of companies is declining as businesses close down due to the aging of business owners and the absence of successors. Ensuring smooth business succession has therefore become a social issue of critical importance to regional revitalization. Nomura Group helps nurture projects promoting the sustainable development of regional areas from a medium- to long-term perspective.
Business Succession Support
In 2015, Nomura Group established the Nomura Institute of Estate Planning, a think tank specializing in business succession and estate planning that comprehensively studies and provides consulting for all aspects related to business succession, including laws and regulations, systems, tax schemes, real estate, financial products, and planning. The institute engages in both
We are a sponsor of take-over, a general incorporated association that promotes venture-style business succession, and support its initiatives focused on young business successors throughout Japan. Venture-style business succession refers to when business successors change a company's business format, launch new businesses or enter new markets, or otherwise strive to create sustainable businesses and generate new value in society by attempting new challenges. Such entrepreneurial energy injects added value to business succession and increases the overall vitality of society.
Sponsoring "Star at Pitch Japan"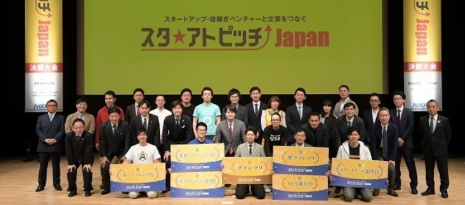 As a special sponsor, Nomura Securities has been supporting the "Star at Pitch Japan" program hosted by Nikkei Inc. since the inaugural year in 2019.
"Star at Pitch Japan" is a pitch event that aims to provide opportunities for startups starting new businesses from scratch and business succession ventures that work to innovate businesses they take over to be recognized and to provides an opportunity to make a leaps forward. By helping start-ups and successor venture companies, Nomura Group is supporting the activities of more companies engaged in innovation, and is revitalizing the Japanese economy.
Supporting the Establishment and Management of Regional Funds
The Nomura Group has been involved in the establishment and management of funds by regional banks, such as Akita Bank's "Akita Regional Revitalization Assistance Fund No. 3" and Yamagata Bank's "Yamagata Regional Growth Fund." Nomura also invests in university startups with superior environmental technologies, growing companies, as well as new local electric companies established for local consumption. We will continue to support businesses that contribute to regional revitalization to help promote regional development.
Helping Revitalize Regional Economies through a Broader Approach to Agribusiness
Agribusiness is the central theme embodied in the first two United Nations Sustainable Development Goals: "No poverty" and "Zero hunger." It encompasses a wide range of critical issues concerning water resources, forestry and marine resource preservation, food waste and the supply chain, as well as consumer spending patterns, making the industry key to realizing a sustainable world. Agribusiness offers a significant opportunity for the revitalization of regional economies in Japan. This is because of the hidden potential it offers as a pillar of Japan's industrial policy for promoting sixth-order industrialization with agriculture, forestry and fisheries industries. The Nomura Group is supporting the growth of community based agricultural industries through Nomura Agri Planning & Advisory Co. Ltd. (NAPA) by leveraging the financial services know-how and information gathering capabilities of Nomura's nationwide branch office network.
Solving Problems in the Healthcare and Nursing Care Fields
The fields of healthcare and nursing care (long-term care), are highly public in nature and important as social infrastructure. These fields are not only indispensable for safe and secure living in each region, but are also attracting attention as fields that contribute to Japan's economic growth. In addition, from a global perspective, medical and health-related problems, including rising medical costs and unknown virus epidemics are universally present, and contributing to solutions to these issues will lead to the achievement of Goal 3 ("Good Health and Well-Being") and other goals of the UN SDGs. Nomura Group aims to contribute to society by further enhancing and solving problems related to healthcare and nursing care.
Nomura Healthcare Support & Advisory utilizes the Nomura Group's network and expertise in Japan and overseas to provide advice through various consulting services. By providing optimal solutions to various needs in the healthcare field such as hospitals and nursing homes, it is contributing to the sustainable development of the healthcare field as a social public infrastructure and the achievement of the SDGs.
Driving Innovation
Nomura is committed to harnessing innovation to provide high value-added services to its clients and enrich society.