Kentaro Okuda, President and Group CEO
Our founder, Tokushichi Nomura, set out a list sayings that we refer to as Our Founder's Principles. One of these principles states that we should always strive to stay one step ahead and standing still is retrogressive.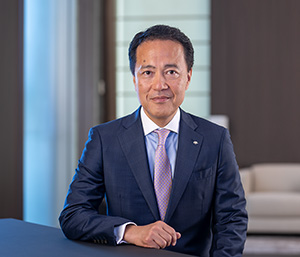 Since I was appointed Group CEO, I have been reiterating that we should take on new challenges as this is part of our DNA. By continuing to do things in the same way, you are not only standing still, but actually losing ground as others around you move forward.
Not all new challenges you take on will succeed. In fact, you may fail more than you succeed. But that's no reason to sit on the sidelines and do nothing for fear of failing. The fact that tomorrow is not a direct reflection of today rings true for the financial services industry as well. As such, it is essential to lay the foundations for the future today in order to achieve sustainable growth, even if it takes time for results to appear.
The key to taking on new challenges is to provide an encouraging environment for your people to do so. Here, one of the most important factors is ensuring diversity. Without diversity, it will be difficult to start new initiatives or take the firm to the next stage. Diversity is also critical for companies to survive. We must recruit and promote people from diverse backgrounds.
However, simply employing diverse talent alone is not enough to energize an organization. Nothing will change unless you have the right culture conducive to everyone being able to bring their full selves to work. Creating that environment is the responsibility of me and the rest of the management team.
One of the key strategies to realize our vision is to expand our business from public into private markets. It is important to note that at Nomura the word 'private' has several meanings. First, there are 'private' financial products such as private equity for the shares of unlisted companies. Then there is also 'private' in the sense of personal or just for you, such as a private jet or a private beach. We aim to provide each client with bespoke services and solutions made just for them.
We have to adapt to provide the right products, services and information according to the client's current situation. We have to deliver all of this in a way the client likes and at the best possible time. Only when these three pillars align with client needs, do we achieve the 'private' service we are aiming for. That is how we stay close to our clients and is essential for them to choose Nomura as their partner.
Our management vision is to achieve sustainable growth by helping solve social issues. Our diverse businesses rely on the trust of our clients and all stakeholders. We recognize that raising our corporate value and ensuring sustainable growth of society as a whole are closely linked together.
Some people take a negative view towards the future of financial institutions. I am confident the future holds boundless opportunities for financial services. As we move forward to this new future, everyone at Nomura will work hard to realize sustainable growth for the firm and society.