Kentaro Okuda, President and Group CEO
The finance industry has seen rapid changes in the business environment, mainly driven by digitalization, the declining birth rate and aging population in Japan, and enhanced global regulations. Nomura is committed to taking the firm to greater heights in order to deliver consistent growth under the changing environment. We will focus efforts on growing our business, earning society's trust and ensuring employee satisfaction.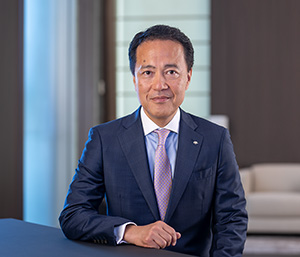 To grow our business, we will increase productivity of existing businesses as well as expand into new areas. We will also work to ensure the increasingly diverse and sophisticated needs of our clients are met, by expanding the scope of our business from public-side services, such as public equity and public and corporate bonds, to private-side products and services, such as private equity and privately placed bonds.
As we actively pursue new areas of business, we remain committed to our enduring mission to enrich society through our expertise in the capital markets. We will strengthen our ESG initiatives while placing continued emphasis on earning society's trust and ensuring our people are happy and fulfilled.
We believe that helping to create a sustainable world through our business will lead to further business growth. By taking advantage of Nomura's collective expertise and strengths, we will expand into new digital areas in light of structural changes to society and the economy.
Earning the trust of our clients and all stakeholders is paramount. In December 2019, we established the Nomura Group Code of Conduct. Guided by the Code, we will continue to uphold our longstanding values of entrepreneurship, teamwork and integrity.
A critical part of my vision for the firm is making sure that our people are happy and excited about what they do, and that we build a company that family and friends can be proud of.
Nomura has approximately 27,000 employees around the world. Our people are a diverse group of about 90 nationalities of different ages and genders. We believe that the synergies born of this diversity better enable us to quickly adapt to changes in society and meet the needs of our clients.
We aim to be a financial services group that society needs and our clients trust. We look forward to your continued support.