Creating a better tomorrow as a trusted partner to our clients
Koji Nagai President and Group CEO
We are working to achieve Vision C&C, our long-term management vision for 2020. This calls for us to create a robust operating platform capable of delivering consistent growth under any conditions. We set earnings per share (EPS) of 100 yen as one of our key goals for 2020, and remain focused on the strategies we have in place to realize Vision C&C.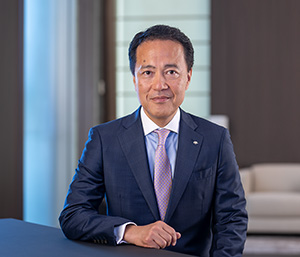 Nomura currently faces some major structural changes: a G-Zero world with a global power vacuum, an aging population and declining birthrate in Japan, and rapid advances in digital innovation. When these types of changes occur, major established players stand to lose the most. Rather than shying away from change, we are determined to become a game changer. Our focus is on creating lasting initiatives that will impact change 10 and 20 years into the future.
For instance, to address Japan's super-aging society, we have assigned specialists called Heartful Partners to retail branches throughout the country to help elderly clients. We are also conducting a joint research project with Keio University on financial gerontology. In addition, we entered into a business partnership with LINE Corporation to provide more opportunities for young people in the asset building phase to invest.
Open innovation plays a critical role in swiftly creating quality products and services for our clients. We have established a dedicated innovation office to guide our efforts and are teaming up with start-ups through our Voyager accelerator program. We are also conducting ongoing research into the latest technologies. I am personally committed to pursuing these initiatives to help us further leverage digital innovation in our business.
In January 2018, we announced our corporate slogan, Delivering a better tomorrow, which captures the essence of the Nomura Group Corporate Philosophy. Our overriding philosophy of placing clients at the heart of everything we do is an indelible part of our DNA and remains unchanged. Our dedication to contributing to society through the capital markets is also unwavering.
We seek to deliver a better tomorrow as a trusted partner to our clients, embodying the values of entrepreneurial leadership, teamwork and integrity.