Message from the Group CEO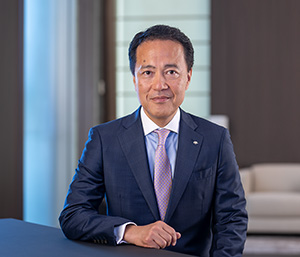 We are facing a major turning point in the global economy and society that will change the way we all do business. Conventional thinking and traditional operating models will not be able to capture the opportunities that arise from this paradigm shift. By taking the initiative to transform ourselves, we aim to deliver added value to our clients and all stakeholders.
My vision as Group CEO is to take Nomura to the next stage, and to do this I have laid out our plan to expand into private markets to complement our public markets businesses.
Our strategy is not about just extending our products and services, client franchise, and delivery methods from public to private markets. By combining these, we aim to provide customized services and solutions for each client. That is the core thinking behind our private markets strategy.
Financial institutions have an active role to play in helping achieve net zero emissions and other sustainability initiatives. As environmental and social issues such as climate change and inequality become more serious, we believe we can help by leveraging our core business to create a sustainable society.
All industries will have to shift to more sustainable technologies, which will require cross-industry collaboration and investment to achieve decarbonization. We are committed to helping our clients and society address sustainability issues by supporting them through the capital markets. This is a major driving force that positions us to contribute to resolving social issues while creating value for Nomura over the long term.
I often talk about taking on new challenges and I believe diversity is an essential element to this. Working with people from different backgrounds opens you up to new expertise, inspiration and ideas. One of the highest priorities for myself and the management team is creating an environment where diverse values and thinking are accepted and where everyone can be themselves. I am committed to bringing not only high levels of expertise, but also diverse backgrounds and different values to group operations.
Our management vision is to achieve sustainable growth by helping resolve social issues. Our diverse businesses rely on the trust of our clients and all stakeholders. We recognize that raising our corporate value is closely linked to ensuring sustainable growth of society as a whole.
I believe the paradigm shift presents boundless opportunities for the future of financial services and for Nomura to contribute to our clients. As we move forward to this new future, everyone at Nomura will work hard to realize sustainable growth for the firm and society.