About Our Founder Tokushichi Nomura | 8. Principle of Putting Customer First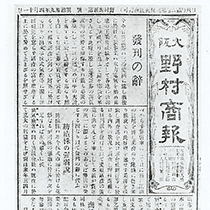 When the newsletter was introduced, Shinnosuke made a statement of intent which must have sounded decidedly novel to the ears of investors: "Customer profits should be considered before the firm's profits." Perhaps just as unusual, he practiced what he preached. The concept of linking the company's gains directly to those of the customer was given wide exposure in the Osaka Nomura Business News, and the findings of the company's research department were published openly. This meant that Nomura and its customers could make decisions from the same standpoint and followed logically from Shinnosuke's belief that "the customer's success is the company's success."
Throughout our more than 90 years history, our Founder's Principles have been handed down and still live on today. From the principles of "putting the customer first" came our unwaving commitment to "Prospering together with our clients", something that we continue to build on today.