Foundation
Nomura Foundation (Japan)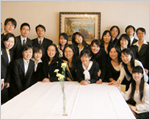 The Nomura Foundation is a public benefit foundation established in April 2010 through the merger of Nomura Foundation for Social Science, The Nomura Cultural Foundation and Tokyo Club Foundation for Global Studies. Its goals are to advance academic research in Japan, the world economy and arts and culture, fostering international talent and encouraging international understanding. The foundation extends grants for the social sciences, awards scholarships to foreign students, and supports global economic research and arts and culture.
The Nomura Charitable Trust (UK)
In 2009, The Nomura Charitable Trust was established to support disadvantaged young people in the local communities in which we operate. The Trust was launched as a partnership between Nomura and Nomura employees across the region, with funds raised from unclaimed assets and generous employee donations. The Nomura Charitable Trust is focused on supporting organizations in the local communities in which we operate in the region. Organizations are funded by suggestions made by Nomura employees.
The Nomura Charitable trust was established to invest in future generations. The Trust does this by funding charities that open up new opportunities for disadvantaged young people living in poverty, deprivation and high risk situations.
Nomura America Foundation (US)
The Nomura America Foundation awards grants to organizations for charitable, scientific, literary and educational purposes. The foundation supports a variety of large and small organizations that promote the arts, cultural awareness, music, science, education, children's welfare and community projects.
In 2011, the foundation established two matching gift programs through which it matches donations made by employees of NHA and certain US affiliates to qualified educational institutions and international relief organizations.