Helping Rebuild in the Aftermath of the Great East Japan Earthquake
In April 2012, Nomura Securities concluded an agreement with Fukushima University to support the reconstruction effort following the devastating earthquake and tsunami that struck in 2011. Fukushima University has been working diligently on reconstruction initiatives in Fukushima Prefecture, which suffered extensive damage from the earthquake, tsunami and nuclear accident at the Fukushima Daiichi Nuclear Power Plant. Through this agreement, Nomura Securities is committed to assisting not only Fukushima University, but also the reconstruction effort across the whole of Fukushima Prefecture as well.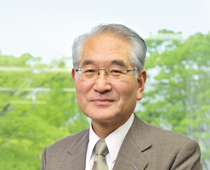 Osamu Nittono
President
Fukushima University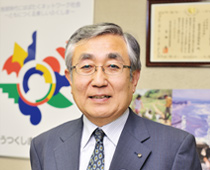 Youichi Nozaki
General Manager
Planning and Coordination Department
Fukushima Prefectural Government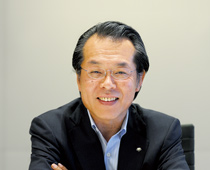 Masaru Omori
Managing Director
Institutional Clients Consulting Department
Nomura Securities
The first question is for Mr. Nittono. What do you believe are the current challenges facing the earthquake reconstruction effort? Why did Fukushima University decide to conclude a formal agreement with Nomura Securities?
Leveraging step-by-step the network and knowledge level that Fukushima University lacks
Nittono:One of Fukushima University's fundamental missions as a regional institution of higher learning is to develop people that will benefit the surrounding region. From the moment the earthquake struck and nuclear accident occurred last year, however, we began to think of ways in which we as a regional university could help beyond this fundamental mission and take action. Initially, we opened facilities on our campus to evacuees and set up a system in which our professors and students worked as volunteers to look after the needs of these individuals. I believe these activities helped us make wide-reaching contributions to most of the prefecture immediately after the earthquake, but the challenges we face today, more than one year after the disaster, are quite different. Going forward, we will need to take measures aimed at real reconstruction initiatives, but we can't do this with the university's information and knowledge alone, so we found that we should capitalize on the network of a private sector company to accomplish this. However, a national university such as ours can't just suddenly enter into an agreement without performing due diligence. Therefore, we found that gradually working with the Nomura Group, which has a solid network and relationships with many different sectors, would enable us to acquire knowledge and information from the private sector that we don't have. We could then use this newfound knowledge to determine what we could do immediately and over the long term to help, and roll out initiatives accordingly. As the next step, we can use the Nomura Group network to approach different companies and financial institutions about partnerships, if a good opportunity presents itself. In this regard, we chose to conclude this agreement so that we could implement measures step by step.
This next question is for Mr. Nozaki. How does the Fukushima Prefectural Government view the agreement between Nomura Securities and Fukushima University?
Taking full advantage of know-how and capabilities not found in local government for the benefit of the reconstruction effort
Nozaki:The Nomura Group has many tools at its disposal. By this, I mean capabilities and know-how. Going forward, I believe we will need to leverage such know-how not found at the local government level. In this regard, I believe undertaking initiatives together with the Nomura Group will be a positive for all of Fukushima Prefecture. I hope that Fukushima University will be able to capitalize on the support provided by Nomura to get more involved with and provide advice to those municipalities in need of reconstruction assistance.
We chose the Nomura Group because of its broad network and involvement in many different sectors
Nittono:The Nomura Group has a very broad network, and this was one of the reasons why we chose it as a partner. We face a mountain of challenges, including how to combat harmful rumors about the prefecture's agricultural products and how to resolve future energy issues, but Nomura is already involved in agriculture, hydroelectric power, energy conservation and smart grids. Nomura is also engaged in many other fields we never imagined, so we have high expectations for our partnership. At the same time, we also have high expectations for its breadth of vision generated from its diverse expertise. The hurdle we face as we engage in reconstruction assistance is the limited intellectual property of university officials. That is, we need to have the breadth of vision to look at things long-term and in that sense discover ways to make the future a brighter place. In reality, however, the university lacks the latitude for this, and tends to only think within the scope of individual research work and the local community. Nomura has also pointed out that we need to broaden our vision, and for that I'm very appreciative.
Omori:So the key is to incorporate diversity to create new things. We hope that our network and perspective as a private sector group and as a corporate citizen can be utilized for the betterment of the reconstruction effort.
What are some of the current challenges faced by the prefectural government?
Employment and healthcare pose the greatest challenges in terms of rebuilding Fukushima
Nozaki:More than one year after the earthquake, there are still many people that live in a world of uncertainty and who are unable to return to their homes. Their one wish is to return to the way things were last March 10. In 2011, the population of Fukushima Prefecture actually declined by more than 40,000 people above and beyond those who were evacuated from the prefecture. Needless to say, this is much more than we would see ordinarily. The reasons for this exodus include changes in the environment, living in temporary housing, or stress. Given this, the prefecture faces the urgent task of supporting evacuees at the same time as it attempts to restore the lives of people remaining in the prefecture to the way they were before the quake. As a result, last year we created a specific vision and plan for the reconstruction effort, and this year we have embarked on specific initiatives collectively as a prefecture. With concerns pointing to an even faster progression in our dwindling birthrate and aging population, going forward I believe it will critical to create an environment in the restored Fukushima Prefecture where the leaders of tomorrow and their children can live in comfort and with peace of mind. First, though, we need to address healthcare and employment issues. In terms of healthcare, we have incorporated a goal into the reconstruction plan to become one of the prefectures with the longest life expectancies in Japan. As for employment, we will provide subsidies, based on the number of jobs created, to companies from outside the prefecture that set up shop and generate employment opportunities in Fukushima Prefecture. This policy will help us to create momentum for attracting companies to the prefecture. We also hope that this policy will help attract the renewable energy sector. In light of the nuclear accident, the reconstruction plan states as one of its philosophies to create a sustainable society free of nuclear power, and therefore we'd also like to add more renewable energy jobs here. Through our various policies and initiatives, we are committed to revitalizing our local communities and rebuilding the entire prefecture.
Omori:The priorities in Fukushima Prefecture's current challenge are quite clear. The only step left is to figure out specific solutions to these challenges and how to work with various parties to achieve results.
Collaborative initiatives involving the entire community are essential to the reconstruction effort
Nozaki:We believe that reconstruction can't be done by local governments alone, and we've clearly stated this philosophy in the reconstruction plan. I've heard that in the wake of the Great Hanshin-Awaji earthquake in 1995 special demand from reconstruction projects was generated initially, but that this demand collapsed after some time had passed. The lesson here is that public sector investments can't be relied upon forever. Private sector companies need to step in and grow sustainably together with the local economy. This is why companies, NPOs, and local residents must come together, or otherwise the reconstruction effort will be fruitless. To that end, we need to find the mechanisms and approaches for incorporating all related parties in this effort.
Nittono:In order to promote these initiatives over the long-term together with Fukushima Prefecture, municipalities, various organizations and NPOs, Fukushima University established the Fukushima Future Center for Regional Revitalization in April 2011. This center will jointly conduct a variety of research on the disaster-affected areas, including the topic of harmful rumors. The key to this research will be aptly incorporating and utilizing the perspectives of both central players from disaster-affected areas and neutral third-parties, like Nomura. We also need to systemize these findings into a new academic field of study so that they can be applied in the event that a new disaster strikes. We'd like to receive assistance to make this a reality.
Omori:Rather than simply providing assistance, Nomura Securities is committed to working closely with relevant parties. In this regard, we are going to say what needs to be said, as there is no time to candy-coat things.
We would like the Nomura Group to share the same strong commitment toward the reconstruction effort
Nozaki:Certainly, governments tend to get defensive when being told what to do by the private sector. In the wake of the earthquake, however, it has become quite clear that we won't be able to rebuild the prefecture without receiving a helping hand from various organizations and everyone working together toward the same goal. In this regard, we'd like the private sector to point out certain shortfalls and what needs to be done. A questionnaire given to high school students in the prefecture during the process of formulating the reconstruction plan showed that a majority wanted to remain in Fukushima Prefecture and contribute to its reemergence. From this I realized that we must develop reconstruction initiatives that won't let them down.
Nittono:Initiatives at Fukushima University won't directly lead to economic benefits right away, but during the reconstruction process money will of course be put to use. Each piece of research should be implemented according to this perspective, I believe. I'd like to incorporate Nomura's wealth of knowledge into the research process that will form the foundation for The Fukushima Future Center for Regional Revitalization's reconstruction initiatives.
Response to Stakeholder Dialogue
Contributing to the reconstruction of Fukushima Prefecture and creating a new future as a corporate citizen intertwined with the local economy
Omori:Our nationwide network of 178 head and branch offices shows that we are a company truly rooted in the local economy. We cannot grow as a company without regional economic growth. As a result, we are committed more than ever before to helping local economies grow, as evidenced by our regional revitalization initiatives implemented in tandem with universities and local governments across Japan.
We have three branch offices located in Fukushima Prefecture, which is in the process of recovering from the Great East Japan Earthquake of 2011. Over the years we have provided information to and held discussions with Fukushima University and Fukushima Prefectural Government. Our agreement with Fukushima University will enable us to leverage our network for the benefit of reconstruction assistance initiatives, which in turn will help Fukushima recover quicker and enable us to create a new future together. Based on this experience, I would like to find solutions to a variety of other issues facing regional economies.