Respecting Human Rights
Fundamental Approach
Nomura has established various mechanisms to prevent discrimination and harassment, in line with the Nomura Group Code of Conduct.
Our standards are aligned with international human rights principles. As a member of the UN Global Compact, we support the Universal Declaration of Human Rights, the OECD Guidelines for Multinational Enterprises, the ILO's international labor standards and the UN Guiding Principles on Business and Human Rights.
Code of Conduct
10. Create a comfortable work environment
We respect each other and foster a positive environment where everyone can contribute and have an active role.
We hold ourselves to a higher standard and do not engage in behavior that can be perceived as harassment.
18. Respect diversity and individual rights
We promote equal opportunity and do not discriminate on grounds such as nationality, race, sex, gender identity, sexual orientation, creed, social status, or existence of or nonexistence of disability.
We respect differences in values and are always sincere.
To meet corporate social responsibility and to ensure the dignity of all employees, we will deliberate our desirable conduct of the firm and our employees based on the philosophy of the Code, and share initiatives among group companies at the Nomura Group Conduct Committee.
In addition, we continue to hold human rights training for all employees and officers, to foster greater awareness of human rights issues.
Our Harassment Hotline helps prevent all forms of harassments in the workplace. Consultations can be made anonymously and are strictly confidential. The Hotline Group in Group Conduct Dept. provides advisory functions for other human rights issues.
Framework to Promote Human Rights Awareness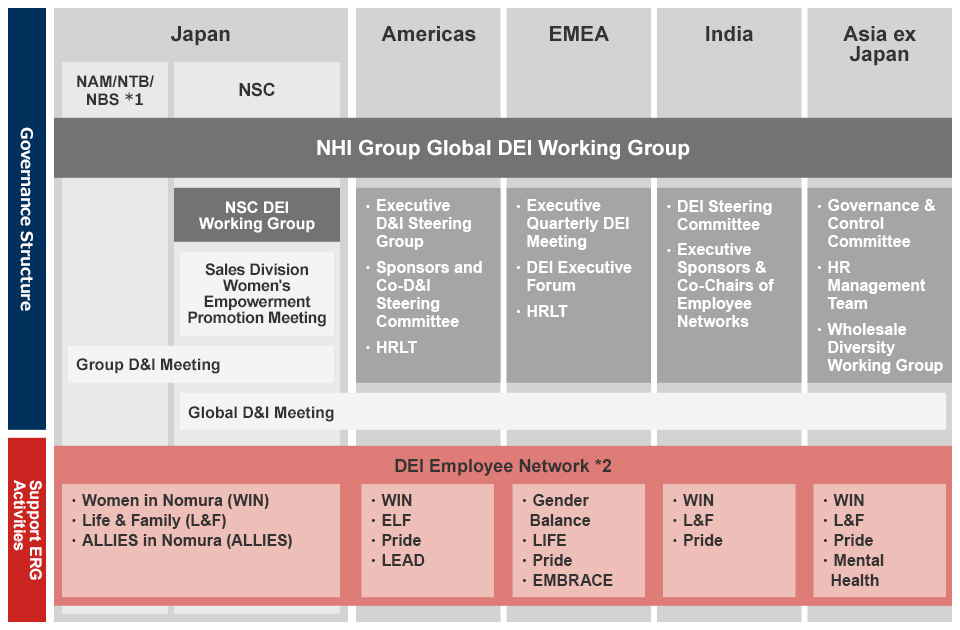 Preventing Harassment in the Workplace
In order to prevent harassment, "Guidelines on the Prevention of Workplace Harassment" is provided for reference. Internal and external consultation avenues are also provided to register any concerns or complaints, and hold regular training sessions.
All employees at Nomura Group can seek advice anonymously from professionals outside the company through our harassment hot lines. We take any report of harassments seriously and have the necessary mechanisms in place to thoroughly investigate and take immediate and appropriate disciplinary action.
Supply Chain and Modern Slavery Act Statements
We publish our Modern Slavery Act Statement annually to ensure that slavery and human trafficking are not taking place in our business or supply chain. This is in accordance with the requirements of the UK Modern Slavery Act.
We also request that outsourced service providers understand and act in line with our Code of Conduct.
Efforts to Resolve Human Rights Issues through Multi-Stakeholder Dialogues
We have been a part of Global Compact Network Japan's Human Rights Due Diligence Working Group since 2016. At the working group, we discuss various themes related to human rights due diligence processes with experts and exchange information with other members.
In addition, we participated in the Nippon CSR Consortium for two years from 2012. The consortium looks at human rights issues through dialogue with a broad range of stakeholders.
We took part in the consortium's Human Rights Due Diligence Workshop, and participated in discussions regarding human rights issues that companies should be aware of and consider addressing.
Together with other companies, NPOs and NGOs, various experts and other stakeholders, we reviewed major human rights issues affecting each industry, and talked about the importance of each issue and what measures need to be taken. These discussions helped deepen our understanding of key human rights issues.
Nomura Group is committed to implementing initiatives to address human rights issues.