Encouraging Employee Initiative
Fundamental Approach
The Nomura Group employs a pool of professional personnel around the world who are capable of providing financial services that meet the diverse needs of its clients and whose career paths within the group and values are unique. We strive to manage our personnel in a flexible and suitable manner so that each and every one of our employees can thrive as they contribute their skills to the workplace.
In addition to providing well-developed education and training programs to support our employees' self-led skill building endeavors, we also evaluate the achievements and skills of each employee and deploy our personnel with an eye on the future career path of each individual.
In this manner, the Nomura Group is able to maximize the skills of each employee and further enhance its client services through personnel management that emphasizes diversity in the workplace.
Personnel Development
We believe that the establishment and ongoing improvement of personnel systems is important for enabling people with diverse career backgrounds and values to demonstrate their talents as part of our global business. We therefore accommodate diverse working styles and utilize a rehiring system that provides more opportunities for all employees to develop their capabilities. We also provide appropriate performance-based assessments and feedback through a merit-based system, diverse education and training programs to help all employees develop their careers.
Reviews of and Improvements in Personnel Development
Through our many internally-developed training programs, we collect participant feedback and make regular improvements to training program content to better meet employees' needs. We endeavor to provide employees with expanded capacity-building opportunities by consistently adding new training areas. To help build up expertise, we also collaborate with stakeholders such as educational institutions and NGOs in various ways, such as participating in extension programs, inviting external experts to hold personal development seminars and jointly developing training programs.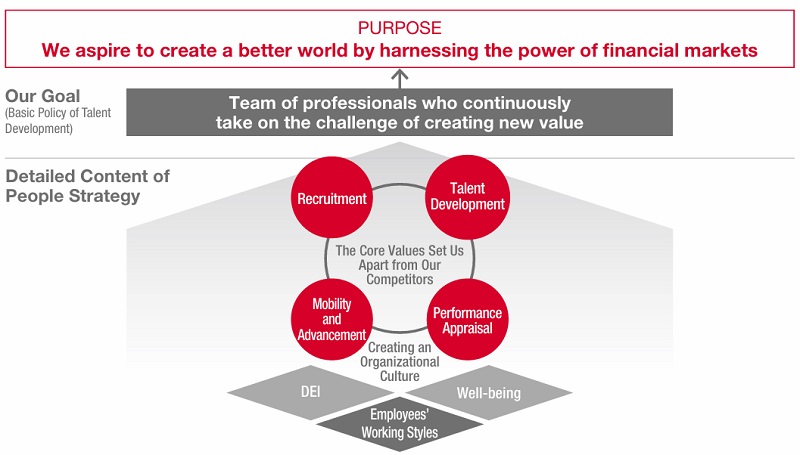 The Retail Division encourages the personal growth of its employees through various educational programs that create a basis of necessary abilities and action requirements to develop capabilities for independent thinking, action, and delivery of results.
The Group provides training for the first three years of employment or at specific career milestones (upon being hired, appointed, or promoted) so employees acquire the knowledge and skills they need, including that related to compliance and the skills required to perform their respective roles. Training for instructors and managerial-level personnel develops their leadership skills, while that for the heads of departments and branches additionally teaches them about organizational development. By not only developing individual skills but also organizational capabilities, we offer each of our employees with various backgrounds an opportunity to advance their performance.
The Wholesale Division provides staff with training programs aimed at nurturing employees who can draw up and implement strategies, respond to changes and lead the diversity and inclusion in workplaces, according to the needs of the division and the Competency Framework, which defines, per corporate title, the behavioral requirements for leaders in the Group's global operations.
From 28 optional skill-development training programs conducted 80 times a year, an employee can select the ones that help them achieve their competency targets set at the beginning of each fiscal year.
Additionally, we have a 10-month leadership program for developing the next generation of leaders, which we offer to select employees based on their performance and potential. The mentoring program, a one-year course, is provided to support female managers so that they may progress. The sponsorship program, which lasts for one year and a half, is designed to nurture female executives for the future. For managerial-level personnel at overseas offices, the global program is conducted once a year at the headquarters in Tokyo.
In addition to Web-based tools and e-learning, practical business training is conducted by individual departments and for each job title as required to effectively upgrade employee competencies. Support systems are in place as well, covering the costs of certification examination fees and other expenses and providing support for employees to voluntarily participate in training programs outside the company and to attend a school or take distance-learning courses associated with learning another language.
We are going to further upgrade programs with new methods and approaches based on employee feedback and survey results.
Miscellaneous Training Programs
Language Training
Language training helps employees working on a global stage to hone their language abilities and strengthen their skills. Employees can choose from private, group or e-learning courses, based on their own individual learning needs and methods.
Certification Support

Securities Broker Representative License
Insurance Broker License
Financial Planner License
Securities Analyst License, etc.

NBA
(Nomura Business Academy)
To enable employees to take the lead in their career development, NBA provides group training programs on weekends, correspondence education, e-learning, assistance for attending language school, and support for taking the TOEIC or GTEC tests. NBA focuses not only on human skills, such as logical communication, self-understanding and understanding of others, but also practical skills such as finance, accounting, legal, tax and life planning matters, and pension planning.
Nomura e-learning Library
The Nomura e-learning Library enables our people to take more than 250 different courses on financial markets and business skills through which they can develop a broad knowledge essential for the financial services industry. Courses on financial markets span from an introductory level to the professional level, including derivatives, futures, and foreign exchange.
Overseas training opportunities
To foster talented people that can perform at a global level, we have established study-abroad programs and overseas training programs where employees themselves determine where they go and what topics they study.
Hiring
Hiring at the Nomura group reflects the diversity of the financial services business. We provide candidates with a sound understanding of our businesses and what to expect when working with us. In our hiring decisions, we place priority on applicants' potential as well as their current abilities.
At Nomura Securities Co., Ltd., for example, new graduates are hired as whole area employees, specific area employees, financial advisors or specified employees, thereby supporting individual work styles. In the same way, mid-career hires are employed on demand by individual business departments as whole area employees, specific area employees, financial advisors, specialist employees or specified employees.
Nomura also focuses on hiring and developing local employees in overseas offices. For further details, please refer to the Careers page.
Proper Evaluation and Compensation
Nomura Group is establishing its status firmly as a globally competitive financial services group. To support this, we recognize that our people are our most valuable asset.
To properly evaluate performance and further the development of its personnel, the Group adopts an integrated personnel evaluation process and all employees in principle participate in this process. Employees set their goals at the beginning of each year, and these are aligned with the Group's strategy and competencies. Employees then meet with their supervisors in the middle and end of the year to have frank discussions regarding goal attainment. This approach enables the Group to evaluate its personnel fairly and identify development opportunities suited to their capabilities and competencies.
For personnel chosen from among those in managerial-level positions, the Group also provides 360-degree evaluation based on feedback from their supervisors, fellow employees, and persons under their supervision.
The Group has established its Compensation Policy for Group management and employees. This policy aims to promote the sustainable growth of the Group and continuing increases its shareholder value in the long term. It also has the objective of contributing to the value-added the Group can offer its customers and realize continued improvement in the Group's evaluation among its clients.
In Japan, Nomura Securities provides all employees an opportunity to have interviews with HR to discuss their careers basically once a year. HR advisors are also available for the staff in the Wholesale Division and some corporate divisions.
Compensation Policy of Nomura Group
The "Compensation Policy of Nomura Group" is as follows.
Nomura Group is establishing its status firmly as a globally competitive financial services group. To support this, we recognize that our people are our most valuable asset. We have therefore developed our Compensation Policy for both executives and employees of Nomura Group to ensure we attract, retain, motivate and develop talent that enables us to achieve sustainable growth, realize a long-term increase in shareholder value, deliver client excellence, compete in a global market and enhance our reputation.
Our Compensation Policy is based around six key themes:
1) Align with Nomura Values and Strategies
Compensation is designed to support delivery against the broader strategic aims of the Group.
Levels and structures of compensation reflect the needs of each business line and allow the Group to effectively compete for key talent in the market.
We develop our staff to support the Nomura values.
2) Reflect Firm, Division and Individual Performance
"Pay for Performance" is our fundamental principle to motivate and reward our key talent regardless of personal background.
We manage compensation on a firm-wide basis, taking into account the performance of the Group and supporting our ethos of sustainable growth, collaboration and client service. This enables us to manage strategic investments and still operate market-competitive compensation practices.
An individual's compensation is determined by properly reflecting the Group, division and individual performance, ensuring that it is aligned with both the business strategy and market considerations.
Individual compensation award decisions are underpinned by valid and rigorous performance management processes and supporting systems.
3) Establish Appropriate Performance Measurement with a Focus on Risk
Compensation is not determined by reference solely to revenues. Risk-adjusted profits are being emphasized in Nomura's management information and performance systems and processes.
In addition, qualitative factors such as cross-divisional collaboration, risk management, alignment with organizational values, and compliance are stressed when evaluating performance.
Performance measurement reflects the business needs, taking account of risk associated with each business. Such risk includes market, credit, operational, and liquidity risk among others.
In assessing and measuring risk for compensation, input and advice is received from the risk management and finance divisions.
4) Align Employee and Shareholder Interests
Compensation of Group executives and higher paid employees should reflect the achievement of targets which are in line with the creation of shareholder value.
For higher paid executives and employees, a part of their compensation is delivered in equity linked awards with appropriate vesting periods to ensure that their interests are closely aligned with those of shareholders.
5) Appropriate Compensation Structures
The compensation structure reflects our desire to grow and develop our talent. It is merit based, reflecting performance and is regularly reviewed to ensure its fairness.
For higher paid executives and employees, a significant portion of compensation is deferred, balancing short-term interests with longer-term stewardship of the Group.
Deferred compensation should be subject to forfeiture or "clawback" in the event of a material restatement of earnings or other significant harm to the business of Nomura.
The percentage of deferral increases as an employee's total compensation increases. A part of deferred compensation is delivered in mid/long-term incentive plans, such as equity linked awards with appropriate vesting periods.
Guarantees of bonus/compensation should be allowed only in limited circumstances such as new hiring or strategic business needs, and multi-year guarantees should not be used as a matter of course.
There should be no special or expensive retirement/severance guarantees for senior executives.
Nomura will respect all areas in which it operates and will seek to ensure pay structures reflect the needs of the organization as well as regulatory and government bodies.
6) Ensure Robust Governance and Control Processes
This Policy and any change hereof must be approved by Nomura Holdings' Compensation Committee, a majority of which consists of non-executive outside directors.
The Compensation Committee of Nomura Holdings decides individual amounts as well as compensation policy for Directors and Executive Officers of Nomura Holdings, in line with this Policy.
Globally, we institute a review and authorization policy for senior or high-level contracts ensuring consistency with this Policy. This is administered by Human Resources, involves Finance, Risk Management and Regional Compensation Committees and is reviewed by the Executive Managing Board.
Compensation for employees of risk management and compliance functions is determined independently of other business divisions.
The Compensation Committee uses market and specialist advisory groups to advice on appropriate compensation structures and levels as necessary.
The following table shows an outline of the Group's compensation system.
Please scroll horizontally to look at table below.
Compensation
Components
Objectives
Specific Elements
Fixed Compensation

Rewards individuals for their knowledge, skills, competencies and experiences
Reflects local labour market standards

Base salary

Reflects practices of local labour markets to deliver allowances as a part of fixed compensation to individuals

Housing allowances
Overtime pay
Variable Compensation

Rewards team and individual performances, and their contribution to results as well as the Company's strategic and future value
Reflects appropriate internal and marketbased peer comparisons
Reflects broad views on compensation, including individual performances, approaches to risk, compliance and cross-divisional cooperation

Cash bonuses
Deferred compensation