Going Paperless and Promoting Recycling

We are making efforts to more effectively use limited natural resources and reduce our environmental impacts to assist in the creation of a recycling-oriented society. As part of our commitment to reducing paper usage we continue to digitize prospectuses, reports, forms, and other documents.
Cutting paper use by distributing digital prospectuses and reports
Nomura Securities takes advantage of the widespread access to online services to increasingly distribute electronic prospectuses and reports to clients, thereby conserving paper and reducing waste.
We began e-mailing prospectus files to clients in 2008. This saves a lot of paper as prospectuses are mandatory for all products and contain many pages of detailed information. By the end of March 2017, clients for about 1,378,000 accounts received such documents electronically. In August 2008, we enabled investment trust and other clients to request promotional brochures by e-mail instead of by post. We are also bolstering our Home Trade Service, which enables clients to check the status of transactions online. We are also continuing to expand the range of documents that are distributed electronically for our Nomura Home Trade service. During FY2016/17, a total of approximately 11.6 million documents were delivered electronically.
We offer Nomura Eco Discounts on account management fees and stock brokerage fees for clients who subscribe to these services.
Reducing office paper consumption
We are digitizing internal paper forms and reports through our application and approval system, which we launched in July 2008. Beginning in 2012, we provided all of our sales staff tablet devices featuring digitized sales and marketing tools to enhance the quality of our services and further reduce paper usage at the same time. We also use these devices for human resource training and internal meetings.
We are working to raise employee awareness of the amount of copy paper they use as part of our campaign to reduce paper consumption. In FY2016/17, Nomura Securities used about 914 metric tons of copy paper.(5% reduction from the previous year)
We plan to continue with our copy paper reduction initiatives and ensure that all employees are aware of the amount of copy paper they use.
Our business sites in EMEA have also committed to reducing office paper consumption. At our offices in London, with the use of advanced MFD technology, we were able to reduce paper consumption by over 4 tons over the last year.
Green purchasing
We are promoting green purchasing in which we strive to minimize the environmental impact of the goods and services we purchase.
Nomura Securities has adopted procurement standards for paper in order to help conserve woodlands. Our office supplies request system includes designated firm's FSC or PEFC certified copy paper as environment-friendly products and we strongly encourage the use of this type of paper as opposed to other types.
In June 2013, we expanded our office supplies request system coverage to include other Nomura Group companies. We will continue to collect and disclose group-wide environmental information and strive to raise awareness of responsible procurement across the entire group.
Promoting recycling activities
The Nomura Group is deeply committed to recycling. In FY2016/17, the Nihonbashi head office of Nomura Securities recycled 100% of the copy paper used and the waste recycling ratio was 93.9%.
Our business sites in EMEA also committed to waste management. We encourage them to use renewable resources and raise recycling rates to reduce the environmental footprint.
The eco-cap campaign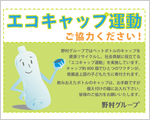 The Nomura Group in Japan has collected and resold plastic bottle caps to recycling companies since 2007. The proceeds are donated to the eco-cap campaign run by the non-profit Japan Committee Vaccines for the World's Children.
Raising Awareness about the Environment as Part of Recycle Week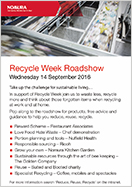 At our offices in London, we have initiated a program to encourage employees to get more involved in environmental initiatives. This program has spawned a number of employee-led waste-reduction and recycling activities. Personnel were encouraged to participate in Recycle Week to take up the challenge for sustainable living.
The aim was to think about the items that can be recycled and to highlight the environmental impact their actions could have. Free advice, guidance and products were provided to help reduce, reuse and recycle.
Related Links