Growth x Exploration
We live in a global economy and that is our stage. At Nomura, we have teams of diverse backgrounds and skills that help you discover a new set of standards and values.
Voices from Nomura's Global Team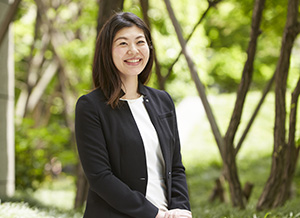 Close communication is key to strong global collaboration
Sayaka Azuma
Trading Services Dept.
After joining the firm, I worked in institutional equity sales in Tokyo, Hong Kong and London. Since 2017, I have been involved in securities lending in Tokyo. When I was working overseas, I sometimes felt there was a time lag in receiving information from our home market Japan. Since returning to Japan, I have made an effort to share information in a timely manner with our overseas offices. I also feel it is very important to provide any relevant background information to help colleagues overseas strengthen their relationship with clients.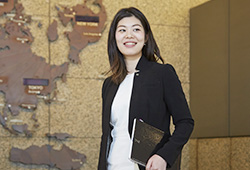 Maintaining close communication is essential to carrying out effective day-to-day operations across time zones between Tokyo, London, and New York. I am constantly aware of the needs of our overseas offices, and I work to build trust with colleagues in other regions to ensure that they are confident of Tokyo's full support with respect to Japanese stocks.
When I worked in our international offices, I was particularly impressed by the fact that we all worked as a team to achieve the same goals under the same manager, but each of us was able to work flexibly based on our individual lifestyles. To work and collaborate effectively as part of a global team, I believe it is important to understand the diverse ways in which people work.
It is a tremendous asset to have wide ranging knowledge and different perspectives.
Brian Doyle
Wholesale IT Dept.
I joined Lehman Brothers in 2006 and then Nomura in 2008 as the Global HR Advisor for Technology, based in Tokyo. Currently, I work in the Wholesale Technology Division as the Global Head of IT Business Management.
Nomura has a diverse workforce. Just in Wholesale IT Japan alone we have staff from 26 countries, and globally that number is approximately 50. That is a lot of people with different cultural backgrounds, experience and expectations. I think people sometimes are surprised at those numbers, but it underscores the global nature of our company. It is a tremendous asset to have wide ranging knowledge and different perspectives and if we continue to leverage that in the right way, it should help us succeed further with our business goals.
Connecting with people in a way they understand is essential to success. Being able to communicate successfully across cultures and locations requires clarity and consistency of message, but also an awareness of how that message is received or understood.
The satisfaction of achieving a common goal with a global team.
Wataru Nishino
Rates Trading Dept.
I joined Nomura in 2006 and worked to develop and support our derivative models. I worked in London for two years in 2007. I returned to Japan in December of 2009, and have been working at the trading desk in Tokyo. In London, I met new colleagues due to the acquisition of Lehman Brothers and worked with members from various countries.
From that experience, I learned that the most important thing is that everyone in the team must understand that we are working under one company and working towards a common goal. I still communicate with my colleagues in London exchanging ideas and opinions. I believe communication is a key when our cultures and values are different, and such communication is done through both at work and during personal time, such as playing sports with them.
Our Initiatives
Nomura's Global Business
Nomura Holdings currently have business hubs in over 30 countries with 20% of non-Japanese Directors. We believe diversity of values and ideas continues to expand our business and leads to our aim to be the best partner for our stakeholders as a global investment bank.
We Offer Opportunities to Learn Overseas
Number of study abroad, Overseas Training Program, Cities (Countries/Regions)
In the past 55 years, over 550 employees have studied at business schools or law schools in over 20 countries. These pioneers have utilized their experiences and have been contributing greatly all over the world.
Since the establishment of the Overseas Training Program in 2013, fourth year employees of General Career have opportunities to further develop their skills and knowledge in the program to contribute in Nomura's pursuit to become a global investment bank.
Diversity Network: Multi-Culture Value Network (MCV)
MCV is an employee network focusing on the variety of cultures within our organization such as race, nationality, religion, age, sexual orientation and so on to understand more of the behavioral principles attached to each and to raise awareness so we may leverage the strengths each brings to the firm. To facilitate such understanding by hosting networking events and seminars inviting specialists in these fields.