Career x Life Styles
Our employees today have many choices when considering about their career and life styles. The Nomura Group supports those who work hard to achieve those career visions.
Path to Achievement - Their stories
Support and encouragement from people around me allows me to be an independent adult.
Anna Aoyama
Group Strategy & Executive Office
I joined Nomura in 2002, and in 2006 I enrolled in a Law School in the U.S. through our company's study abroad program. Since coming back to Tokyo, I have been working in Group Strategy & Executive Office in which I took maternity leave for about two years. I was quite afraid about not being able to return to work before taking maternity leave, but my manager was always supportive.
After returning from maternity leave, people around me have been understanding and supportive and that has allowed me to keep working while maintaining my work-life balance. Work-life balance is about being creative and organized, and such balance has developed me as an individual. I hope to continue to utilize my skills and knowledge as I advance my career path in the many businesses Nomura offers.
I aim to be a person who gives a positive influence to the people around me without forgetting gratitude.
Hiroko Watanabe
Yokohama Branch
Since joining Nomura Securities in 2009, I have been in Sales for non-corporate accounts. When my clients tell me "I feel assured because Ms. Watanabe is my account executive", I feel very grateful.
Currently, I am involved in training newly joined recruits. I feel the connection among people is what leads to success and happiness. Such connection of course involves clients, but also between superiors, senior staffs, and team members. Nomura's commitment in encouraging women to advance their careers offers me and my co-workers the opportunity to pursue my goals.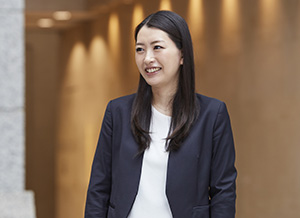 My mentor's words of "Balance your family and work" helped me get this far.
Yoriko Yamamoto
Client Relations Management Dept.
After graduating university, I joined a Japanese securities firm working as a sales representative for institutional investors. After giving birth, I joined Lehman Brothers thinking that a foreign firm is better fit for someone like me who wants to have a work-life balance. With the acquisition in 2008, I joined Nomura and currently am in charge of arranging IR meetings. My manager always encouraged me to "keep a good balance between work and family".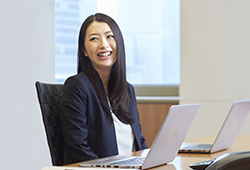 At the Diversity Employees Network (Women in Nomura event), I met with various employees who were under similar circumstances. There, I learned and was encouraged by the many employees who had achieved such balance between working and caring for a child. I am determined to maintain that balance but at the same time aiming for perfection in the quality of work I do.
Our Initiatives
More women are advancing
40% of employees at Nomura Group are women (as at the end of March, 2017). We will continue to support such trends by introducing re-employment for employees and a new relocation policy that allows General Career Type B Employees (who are not subject to regular relocation) to be able to transfer locations depending on their personal situations. Furthermore, Nomura offers a one-year, one-on-one mentoring program for women in management positions to help lay out their future career plans (Data: Nomura Securities, Co., Ltd.).
Ratio of female managers
Data: Nomura Securities Co., Ltd.
Average length of employment
Data: Nomura Securities, Co., Ltd.
We support work-life balance for employees
Use of childcare support plans
Data: Nomura Securities Co., Ltd.
In fiscal year 2016, 305 employees took parental leave, and 530 employees took childcare leave. These numbers are growing annually, and over 90% of the employees on these leave return to office. Nomura has prepared various measures to help our employees pursue their career development while balancing work and parenting. In our career training programs, we work together with our employees to draw their career path in line with personal goals and responsibilities so that they can pursue their career goals with self-confidence (Data: Nomura Securities, Co., Ltd.).
Diversity Employee Network: Women In Nomura (WIN) and Life & Family (L&F)
WIN is an employee network with the goal of promoting gender balance and expanding opportunities for women. We feel that our commitment to empowering women will lead to the company's, clients', and eventually society's change in common values.
L & F is another employee network with the concept that "fulfillment in life leads to better work results." L & F aims to involve employees to communicate and share ways in enriching their lives, at the same time inviting specialists to speak to them about creative ways in achieving personal fulfillment.