Nomura Asset Management Co., Ltd.
Company Outline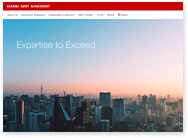 Nomura Asset Management Co., Ltd. (NAM) was established in 1959. As one of Japan's largest asset management companies, we provide asset management services for investment trusts, ETFs and institutional investors.
We deliver investment strategies across traditional assets such as stocks and bonds, and provide asset management solutions through alternative investments, to a wide range of clients, from domestic individual investors to overseas institutional investors such as public pension funds.
In recent years, we have established the Innovation Laboratory, an organization dedicated to research and development of cutting-edge technologies for high-quality, advanced asset management solutions, the Responsible Investment Department, Japan's first department specializing in ESG (Environment, Society and Governance) investment, and the Nomura Asset Management Asset Management Research Center, which disseminates information and conducts research and studies on asset management.
As a responsible investor and manager of our clients' assets, we are committed to delivering solid investment returns and actively engaging in medium- to long-term sustainability. Our goal is to contribute to society and become the asset management company of choice for clients around the world.
Financial Information
* Please scroll horizontally to look at table below.