Nomura Securities Co., Ltd. | Company Outline
Company Outline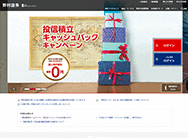 President
Kentaro Okuda
Address
1-13-1 Nihonbashi, Chuo-ku, Tokyo 103-8011, Japan
Telephone
81 (0)3-3211-1811
URL
https://www.nomura.co.jp/
(Only available in Japanese)
Capital
10,000 million yen
Nomura Securities Co., Ltd. (NSC) plays the central role in the Group's core securities business. As the leading securities and investment banking company in Japan, we provide individual investors and corporate clients with a broad range of services, including investment advisory services and securities underwriting.
We provide individual clients with wealth management services meeting their individual long-term needs and risk tolerance. Our clients also enjoy access to a variety of services through our online service, the Nomura Call Center, and other IT-related customer services.
We provide corporate clients with a wide array of specialized services based on our strong research and solution-delivering capabilities. These include investment management support for institutional investors, M&A financial advisory services for raising company shareholder value, and underwriting stock and bond issues to procure funds from the capital markets.
By providing clients with high value-added products and services, we aim to both expand on our leading position in, and contribute to the continued growth of Japan's securities industry.
Quarterly Financial Information
* Please scroll horizontally to look at table below.